Many people meet their significant other while they are studying at Birmingham. Here are a few stories of campus romances.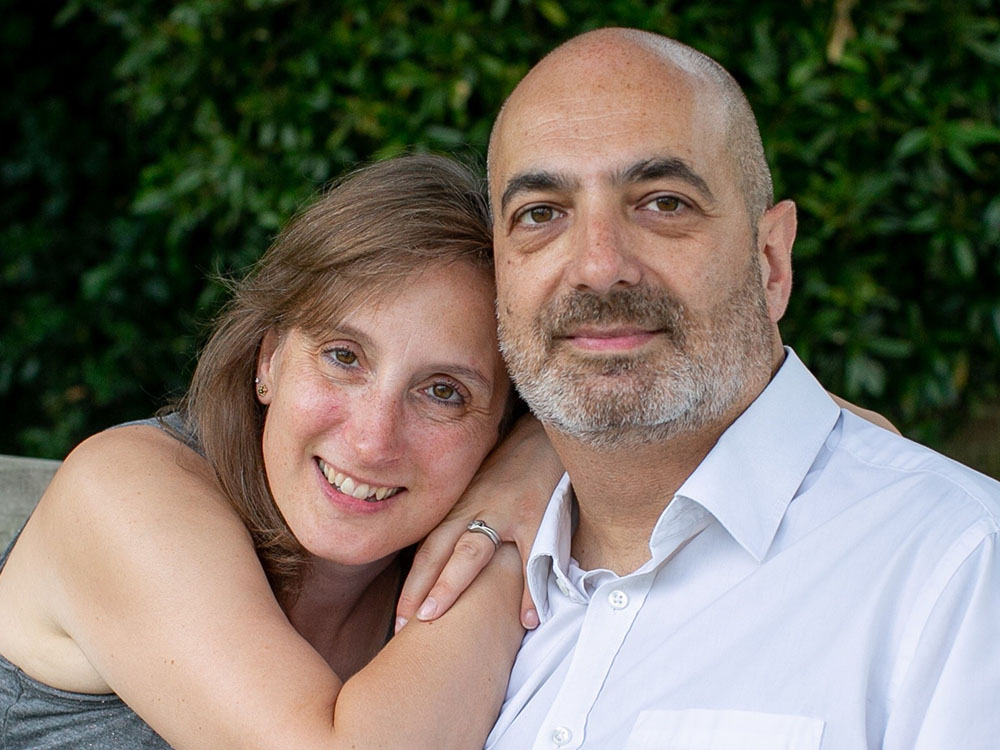 Simon Herman (BEng and BCom Manufacturing Engineering and Economics, 1992) and Joanna Nightingale (BSc Biochemistry with Biotechnology, 1992)
'Joanna and I knew each other through mutual friends at Birmingham, but only started going out after a chance encounter at the Old Gym on 6 November, shortly after we graduated.
I was visiting a friend near Birmingham and decided to pop into the university Karate club on the Friday evening. Joanna was setting up with the Archery club as we finished. I suggested we should go for a drink and Joanna asked me what I was doing on the Saturday night. We went to a bonfire party and have been together ever since. We married in 2001 and have three boys.
We've been back to the University a couple of times with the boys to show them where their parents met, but they were more impressed with the dinosaurs at the Lapworth museum on campus.' –Simon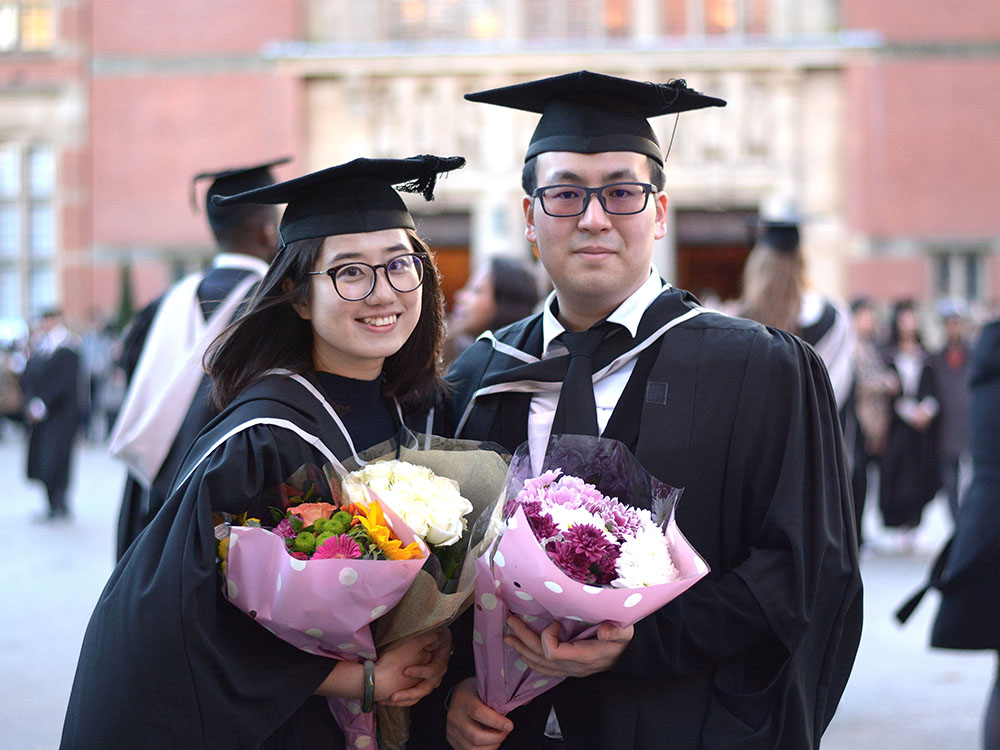 Narongkorn Petchamarat (MSc Strategic Marketing and Consulting, 2016) and Shuainan Li (MSc Strategic Marketing and Consulting, 2016)
'We met and fell in love during our time at the University of Birmingham as we were on the same course, MSc Strategic Marketing and Consulting. It became obvious when we had team building activities together. I am Thai while my wife is Chinese. During our studies we travelled to a lot of countries. We went through a lot together during our years of studying as well as after we graduated. Last November we got married in Bangkok. We hope to return to visit the University in the future.' -Narongkorn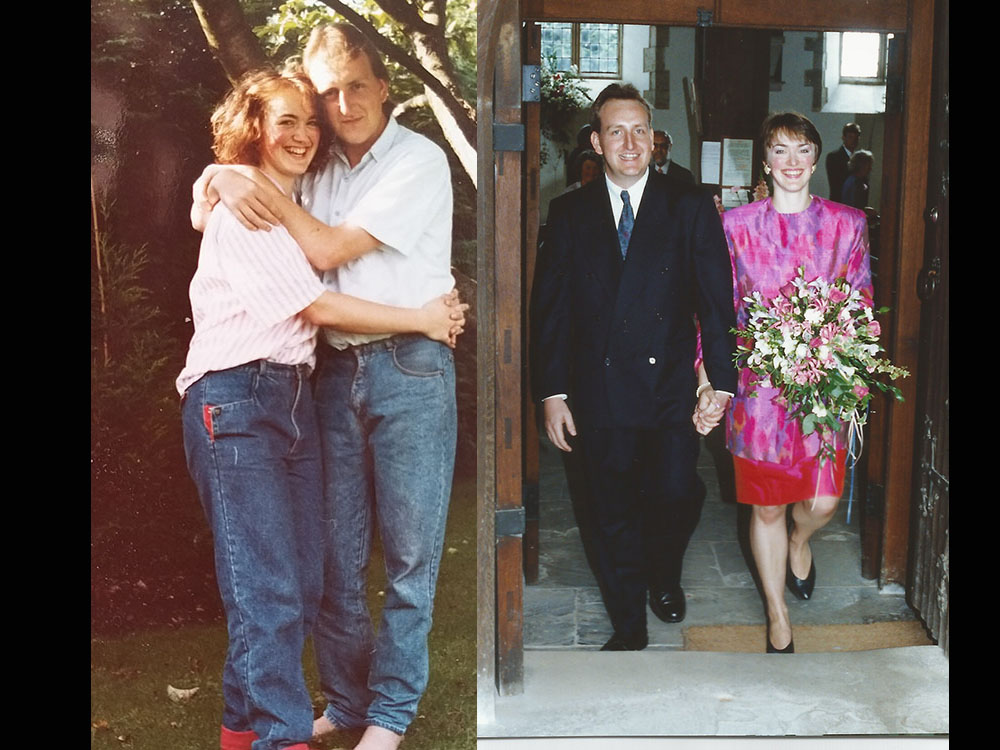 Astrid Davies (BA Medieval and Modern History, 1987) and Dr Paul Bridgen (BA Medieval and Modern History, 1987)
'We met on our very first day. We were doing the same course and living in the same Hall (Mason). We've been together since 1985 and married since 1991. After graduating, Paul went on to gain his MSc from the London School of Economics and his PhD from University of London. For the past 20 years he has been a lecturer at The University of Southampton. He is currently an Associate Professor. I went on to gain an MA from London Metropolitan University and chartered as a Librarian. I worked in both private and public sectors after graduating. I trained as an Executive Coach in 1997 and now run my own company. We have two children, one interested in coming to Birmingham!' - Astrid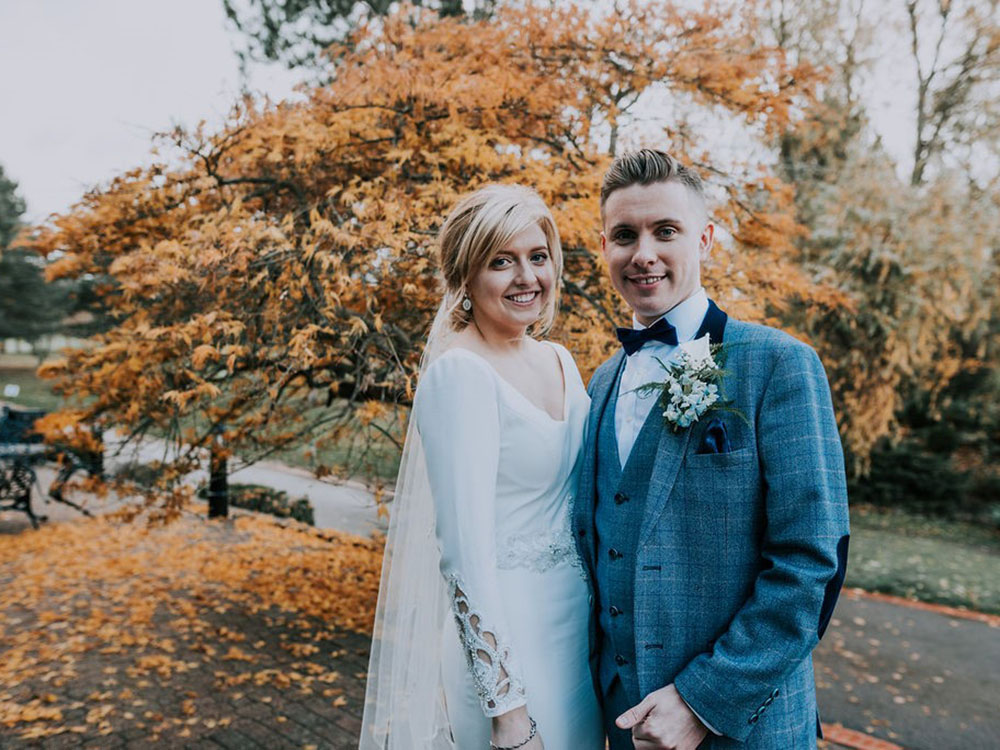 Natasha Federici (BA Honours Music and Drama, 2015) and Paolo Federici (BA Honours Italian Studies, 2013)
'I was in first year and he was in his final year. We met in Gatecrasher on a night where it was snowing! Paolo said 'we'll be together a long time' and six years later we are about to celebrate our first wedding anniversary. We loved Birmingham so much we lived there until recently, when we moved down south ready to buy a house and start a family.' – Natasha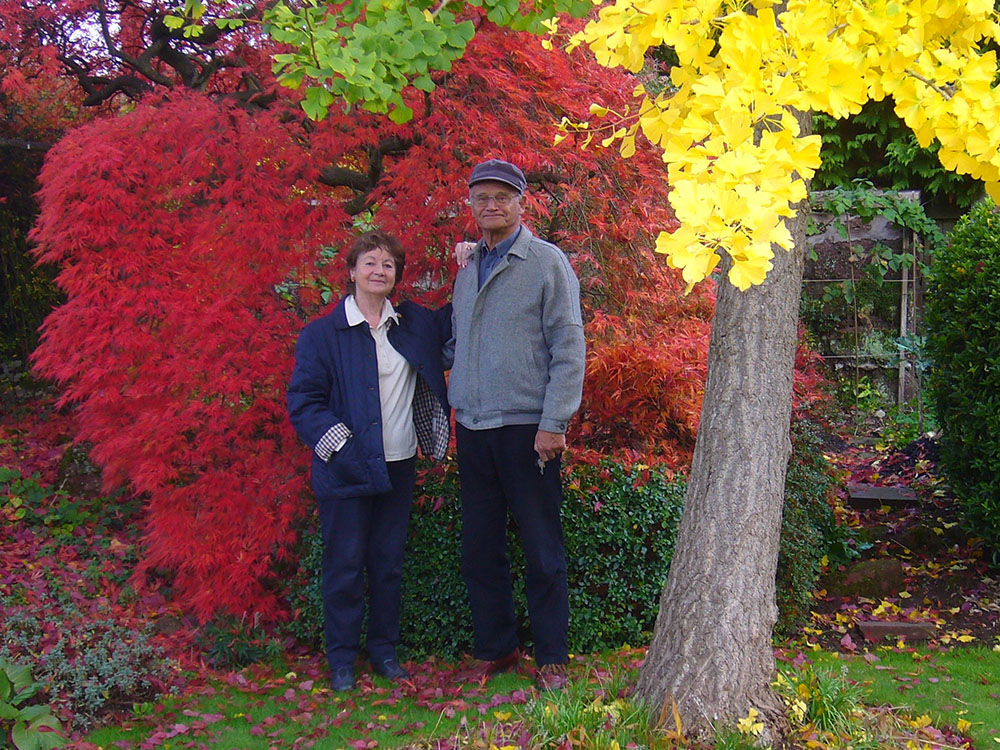 Gerald 'Gerry' Wallen (MB 1957) and Janette Kay (BA French and Spanish, 1955)
'Janette and I first met at the Fresher's Ball and we saw increasingly more of each other. She lived at Winterbourne and University House and I was at Chancellor's Hall where I became President. We had lovely times together, with me spending a lot of time at athletics and rugby, and got married after her graduation in 1955. Janette looked after me during my final two years at University and has done so ever since.
After house jobs at QEH and Nottingham I was in the RAF for five years, then took up psychiatry and Janette became a teacher, eventually moving to Exeter in 1972. It's a great joy when former pupils come up and give her a big kiss.
We're now well retired, variously studying with the Open University and advising at the CAB and have two fine sons and splendid twin grandsons. We've revisited Birmingham many times, usually for our medical reunions every five years. We have been together for 64 years - amazing!' –Gerry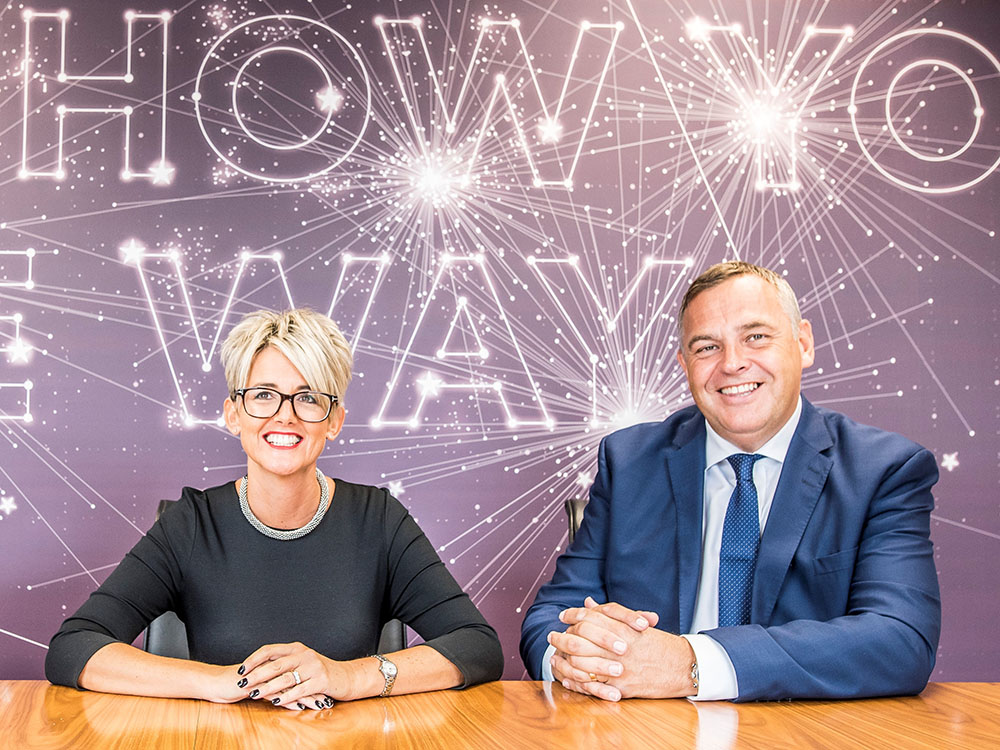 Rob Jupp (B.Soc Sci Public Policymaking and Administration, 1992) and Clare Jupp (BA English and Media/Cultural Studies, 1992)
'Clare and I met at Birmingham in 1991 and we both graduated in 1992. Clare was Overseas Officer at the Guild of Students and won the 1992 'Vice Chancellors' Prize' for being the most outstanding all-round graduate of the year. I have worked in Financial Services for almost 30 years, whilst Clare was a qualified Secondary Headteacher and worked in education for 16 years. Today we run a fast moving financial services business together and are proud to say that in 2019 we won the Sunday Times Best Small Company to Work for.
Our days at Birmingham were absolutely fantastic and we recently took our two boys (James, 15 and Henry, 12) back to Birmingham to see the fabulous campus and of course Old Joe, the Guild of Students, the Vale, our student houses in Selly Oak and the famous 'OVT' pub; venue for many a great night back in the day.
These days we enjoy watching our boys play sport and worldwide travel as a family, particularly cruising, which has taken us to all corners of the globe. –Rob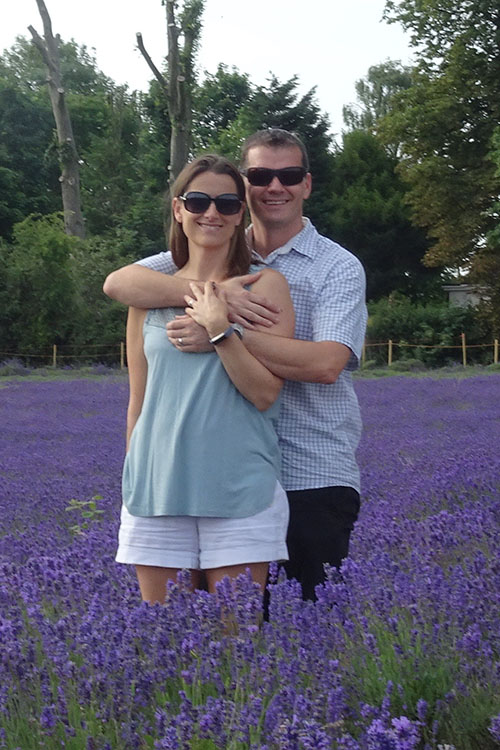 Alex Webb (nee Springy) (BA Sport and Recreation Studies, 1995) and Peter Webb (BSc Sport Science, 1996)
'My husband and I met at the University in 1993. We both studied the same course and were a year apart. Socialising in similar circles, mainly around the sports teams, we spent many a Sports Ball on the dance floor! Although we didn't get together at University, we met again just over ten years later in 2004 at a joint University friends 30th birthday. Within five months, Pete had moved into my flat in Merton and we were married in December 2006 with over thirty University friends celebrating with us.' -Alex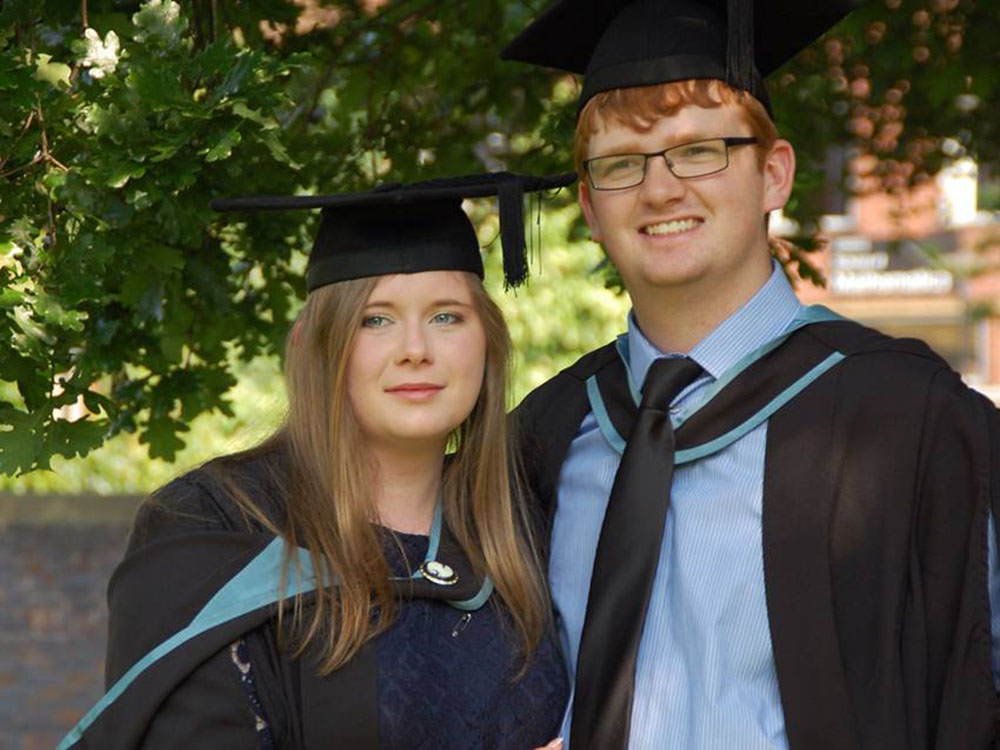 Rhea Smith (née Price) (BA English and American Literature, 2013) and Peter Smith (BA Ancient History, 2013)
'We met at the University in 2010 when we were both placed in Pritchatts House. I was studying English and American literature and Peter was studying Ancient History. We have been together eight years, married for three, and have one son called Francis and another on the way! We are grateful every day that we both chose the University of Birmingham.'- Rhea
Did you meet your significant other on campus? Share your story by email or on social media and tag in @birminghamalum.
Read stories of campus romance in previous editions: Spring 2019 edition, Autumn 2018 edition, Spring 2018 edition, Autumn 2017 edition, Spring 2017 edition, Spring 2016 edition