Kerrine Bryan (MEng Electronic and Electrical Engineering with Languages, 2005) combines working as an electrical engineer with publishing children's books aimed at changing misconceptions about different careers.
'There's no such thing as a man's job or a woman's job. Any job is for everyone.'
That was Kerrine Bryan's answer when she visited a primary school to talk about her role as an engineer and a young boy asked: "What made you think that you can do a man's job?"
Misconceptions like this and the skills gap in science, technology, engineering and maths (STEM) inspired Kerrine to establish Butterfly Books in 2015. My Mummy is an Engineer was followed by more titles, with the latest in the series including My Mummy is a Firefighter and My Daddy is a Nurse.
'I would hate for someone to miss out on a rewarding career just because they didn't really know what it involved,' she says.
'Boys and girls should know that they can be an engineer or scientist or nurse, and they should have an idea of what the jobs involve, so they can make more informed decisions.'
A passion for publishing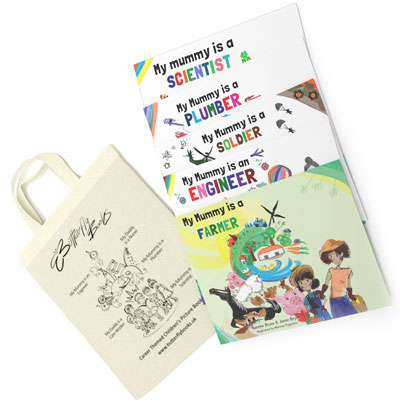 Kerrine works on Butterfly Books with her brother in her spare time, often during her commute and after her daughters are in bed. To get the details in the stories correct, they have collaborated with different professional organisations including the British Army, Nursing Now England and the London Fire Brigade.
'We're really excited and proud of our growth since starting up, especially with our small team and working schedule,' she says. 'It can be tough as a self-publisher but we have a great team who are passionate about our product and cause which I think is a big factor in our success.
'Moving forwards we would like to partner with other organisations to broaden our reach within the UK and internationally. This will definitely help us to achieve our mission of improving diversity and reducing national skills gaps.'
Studying engineering
Kerrine first became aware of engineering through a university taster scheme for STEM careers when she was in her late teens. She had chosen her A-Levels, but had been steered away from studying science subjects after being told they were "too difficult". Her A-Level grades weren't what she expected and her family didn't have much experience of higher education, so she took a foundation year at Birmingham before starting her degree.
'University not only changed my life but also the lives of people around me by inspiring other members of my family to study,' she says. 'Scholarships are important because a lot of people won't have access to a foundation year due to the costs involved. There's a huge skills gap in STEM disciplines and this can be addressed by encouraging people from all backgrounds to consider roles in STEM.'
Studying at Birmingham was the start of an exciting career for Kerrine, who worked in London in the oil and gas industry for 12 years winning accolades including being named as a Fellow of the Institute of Engineering and Technology.
She now lives in New York with her husband Mwansa Kafwembe (MA Computer and Communication Systems Engineering, 2005), who she met on her degree course, and their two daughters. As a lead electrical engineer for WSP, a global engineering consultancy, she is focused on power generation projects including energy saving studies and renewable power.
To find out more about Butterfly Books, visit the website.
Learn how you can support STEM foundation year scholarships.
Win a set of Kerrine's books
For a chance to win a set of Butterfly Books, answer this question:
What does the acronym STEM stand for?
For your chance to win, send us the answer by 30 April 2020.
Usual Terms and Conditions apply.