One year ago, Birmingham resolved to make an even bigger difference in the world. Birmingham In Action draws together the expertise and passions of researchers, alumni, students and supporters to tackle some of the world's greatest challenges: education, cancer, youth mental health, protecting the environment and helping refugees.
The pandemic has made this work even more important. Young people have spent months unable to enter a classroom. Grief, fear and isolation have affected our mental health. Masks and plastic protection are adding to waste in landfills and rivers. Cancer patients have had their treatments delayed. Refugees living in tents have been unable to social distance.
COVID-19 won't stop us helping others. This year alone, 9,286 supporters made a gift and 3,689 volunteered their time. Together, as a force for change, we can turn research into life-changing solutions and ensure young people are not held back by their circumstances.
Were you a part of the launch in October 2019?
Birmingham In This Together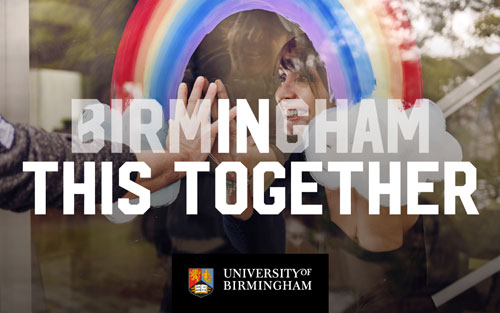 When the world faced a new challenge, we drew on our expertise in previous epidemics (including Ebola and Zika) to create real solutions quickly. We worked together to develop virus tests, make PPE, identify new drugs and help students facing unexpected hardship.
Thank you to the more than 400 supporters whose generosity is helping develop better virus tests and preventing students who have lost their part-time jobs from having to drop out. Find out more about Birmingham In This Together.
One year on: What have you helped achieve?
Three ways you can join in
DONATE: A regular gift supports students throughout their studies or helps our researchers find solutions for the world's big challenges.
GIVE TIME: Become a mentor or offer a (virtual) internship to help students get vital experience, or share your expertise with our researchers.
SPREAD THE WORD: Tell us what education or research means to you, by email or on social media, using the hashtag #BirminghamAction