Investigating murders as a detective with the Singapore Police Force isn't the usual career path for a Business Management graduate, but Agnes Leong is determined to fight crime.
Like the detectives in the crime novels she loves to read, Agnes Leong (BSc Business Management, 2011) is used to seeing the hidden side of humanity. In an extremely challenging job, her main focus is homicide.
'We're often put in a life and death situation that is time critical. Every single decision-making process is challenging and will impact on a person's life,' she says. 'Each case I deal with is unique, which gives me the drive to find out what happened. I always believe that the living can lie, but the deceased cannot. So what you see is what you get. When I face a murder victim, for example, I try to understand the deceased and establish a connection that will enable me to discover the truth.'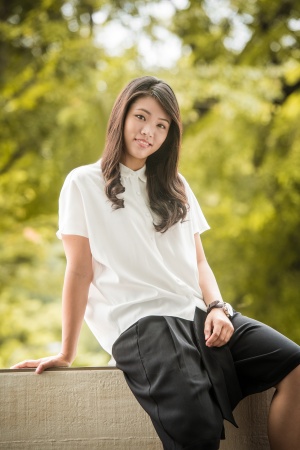 Agnes was in the first group of students taught through Birmingham Business School's partnership with the Singapore Institute of Management. She uses the skills she learned from Birmingham academics to this day, but has never visited the campus in Edgbaston. 'My impression of it is that it's a place of history and boundless knowledge. I would be in awe and revel in the beauty of it if I get the chance to visit it someday,' she says.
Agnes always wanted a job that would help people. She chose to become a police officer rather than a social worker because she wanted to prevent crime, rather than wait for its consequences. Agnes's career ambition is to influence policy-making and implement the solutions in battling crime to help all Singaporeans. She's about to take a year out from work to study for a Schwarzman Scholarship, a once-in-a-lifetime opportunity to learn more about becoming a global leader. She had only two weeks' notice to apply for a place on the highly competitive programme, and believes that her motivation and taking on feedback from others got her through the rigorous selection process.
The programme gives the world's best and brightest students the chance to develop their leadership skills and professional networks through a one-year Masters degree at Tsinghua University in Beijing. Launched in 2016, it was created to respond to the geopolitical landscape of the 21st century and develop future leaders with an understanding of China's role in global trends.
'Leaders appear in all walks of life,' Agnes says. 'The programme offers boundless opportunities to work with China and immerse myself into a universe of like-minded individuals who are attuned to making the world a secure and peaceful one to live in.'
As someone with an unconventional working week who is about to return to study, what does Agnes do to relax? She goes back to her detective novels. And her recommendations to Old Joe readers are Malice or The Devotion of Suspect X by Higashino Keigo. 'I often find myself flipping to the earlier pages to reaffirm a fact that was revealed at the end,' she says.
Learn more about studying with Birmingham Business School in Singapore or Schwarzman Scholarships.