Returning to where it all began, nine friends who first met in halls of residence in 1971 reunited in 2023 to celebrate their 70th birthdays on Edgbaston campus.
The first four friends met in Wyddrington Hall (opened in 1965-6 and later combined with Lake Hall to form Shackleton Hall), living together on "the purple corridor" before the group gradually expanded through shared courses and partners.
Firm friends by second year, everyone moved into private accommodation on Tiverton Road in Selly Oak and rapidly bonded with the local community.
Memories of Selly Oak
Their house had no heating or running hot water, and they spent the winter scraping ice off the windows. With just one gas fire and no fridge, the group had to buy their food on a daily basis.
One option for a good value meal was the Danish Food Centre. Opened by members of the Danish Royal Family in 1971, the Centre provided an all you could eat buffet. The group would dive in – and also make sure they took food home for later.
The sense of community in Selly Oak was special, as Sue explains: 'On the first day we moved in, I went to find a corner shop to get some bread and milk.
'As I wandered around the area I met a little boy named Rajinder who was playing on the street. He was very friendly and guided me to a shop. His family lived in one of the back to back houses in Selly Oak.
'His dad worked at Cadbury's and because he couldn't always be around due to night shifts, Rajinder used to invite us to his school plays and parents' evenings.'
The group eventually lost touch with Rajinder after graduating but at one of their early reunions, decided to try and find him. Adverts were posted in the Birmingham Mail and the Birmingham City Council newspaper and some months later, a business card landed on Sue's doorstep. Sue was thrilled to be at the wedding of Rajinder's daughter.
Hitchhiking through a civil war
We hitchhiked the entire holiday and camped most of the time, carrying all our stuff in rucksacks.
Caroline Halle
The late 1960s and early 1970s saw significant changes to culture and society, with the group recalling student protests on campus. For Rag Week, Teresa and Caroline (known to everyone as Halle) took part in a charity challenge to hitchhike from Birmingham to John O'Groats and then to Land's End. They completed the challenge in just 76 hours, which put them in The Guinness Book of Records.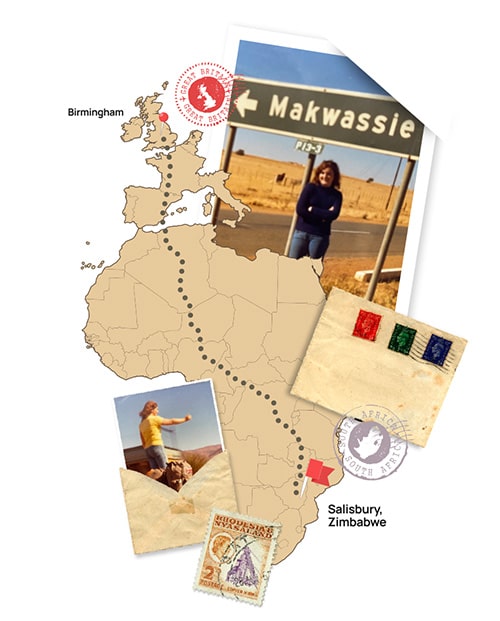 The pair were so comfortable with hitchhiking that in the summer of 1973, they decided to tour around South Africa and visit Sue at her family home in Salisbury, Zimbabwe (known as Rhodesia at the time) by hitching lifts across the country – all during civil war.
Halle says: 'We hitchhiked the entire holiday and camped most of the time, carrying all our stuff in rucksacks. Being young (I had my 20th birthday there) we didn't worry too much about safety!
'I wasn't aware of the civil war but seeing the apartheid system was shocking from the moment we landed in Johannesburg, with different exits according to the colour of one's skin.'
Reunions begin
Over the years the group would visit each other during holidays, squeezing into each other's houses even while bringing up families – with several children also going on to attend Birmingham for their degrees.
Formal reunions began 25 years ago and the group eventually decided to arrange week long annual holidays. In recent years they have chased the sun in Croatia, France, Mallorca, Menorca, mainland Italy, Sicily and Corsica, as well as stays in the Cotswolds and Yorkshire.
The tradition has become that an "AGM" is held near the end of each vacation, with the group discussing where they would like to go next and one couple being nominated to arrange the following year's holiday.
For 2023, with many celebrating their 70th birthdays with their own families, it was decided to keep things more low-key, with a special return to the University's Edgbaston campus for the first time since 2011.
There they made a donation towards sanctuary scholarships, having seen another group of friends offer their support to students in similar fashion in the spring 2022 edition of Old Joe.
Mary says: 'We thought it was a lovely thing to do given the lifelong friendships we have formed thanks to the University. We researched the different kinds of scholarships available and chose sanctuary scholarships after putting it to a vote.'
In the top image: Roger Hawkes (MBChB Medicine, 1976), David Beavers (BSocSci West African Studies, 1974), Mary Hawkes née Derbyshire (BA Music and Physical Education, 1974), Teresa Cornwell (BA Music and French, 1975), Julian Bowden (BSocSci Russian Studies, 1974; MSocSci Political Science and International Studies, 1977), Sue Knott enbelt (BSocSci West African Studies, 1974), Maggie Bowden née Everson (BA Russian Language and Literature, 1975), Tom Stenhouse (MBChB Medicine, 1976) and Caroline Halle (MBChB Medicine, 1976).