Can star power be transformed into social impact? Comic Relief talent lead Luke Harris (BA English and Drama, 2011) explores the importance of pop culture in bringing about social change, as recently shared in Birmingham's inaugural Arts Matters Lecture.
Famously the brainchild of script writer and producer Richard Curtis and comedian Lenny Henry with charity worker Jane Tewson in response to the famine in Ethiopia, Comic Relief has become a cornerstone of British television and entertainment culture. Anyone who is anyone in showbiz has worked with Comic Relief, from Judi Dench to French and Saunders, Rowan Atkinson to Andy Murray, to drive positive change through the power of entertainment.
Why are the arts so successful in tackling poverty and injustice?
The arts help reach a huge audience through a perfect balance of substance and silliness.
Luke says: 'Comedy and popular culture have the power to bring people together. Comic Relief's sweet spot will always be doing this in a way that engages and sparks emotion. We stir the heart and inspire the belief in a better future for all.'
Comically large noses, incongruous cameos and a healthy amount of innuendo and witty wordplay help draw attention to difficult issues, including famine, domestic violence, homelessness and addiction.
Luke says: 'Popular culture is just that – popular. We believe in making change happen by working with others, with wide appeal.'
How do you get celebrities to agree to be involved?
Luke's favourite motto is: 'If you don't ask, you don't get'. Charming cheekiness is an important ingredient, and if in doubt, Luke asks Richard Curtis (award winning screenwriter of films from Four Weddings and a Funeral to Love Actually) to send the email!
Perhaps the real genius of Comic Relief is that it has created a safe, fun and heart-warming place for people's generosity to go. Comic Relief creates silliness that is kind, never cruel. Luke stresses that comedy is never created at the expense of someone; all celebrity cameos are carefully created to appeal to their humour, their funny side, but within their comfort zone.
Can pop culture change the world
If you give people the chance to be generous and kind, they usually will.
Luke Harris
Pop culture demonstrates its power to create social and political change by gently encouraging the public to assess their perception.
The 2017 "Riding the Waves" report, written by Alice Sachrajda and Esme Peach for Unbound Philanthropy, found that: 'Culture moves issues into the mainstream and provokes us to think about how we view the world. It may not write the legislation, but culture can create the conditions for political change to become inevitable.'
There are countless examples of this throughout the British zeitgeist, from EastEnders' HIV storyline to Planet Earth's focus on climate change. Luke says: 'If you give people the chance to be generous and kind, they usually will. And that kindness is a ripple effect that can create so much good in the world.'
Why the arts matter just as much as the sciences
Speaking to alumni and guests at the inaugural Arts Matters Lecture, Luke said: 'The title of this lecture series is a really important one, especially at a time when we've seen the value of the arts debated and, in my opinion, severely underfunded and under-prioritised. The UK is a phenomenal leader of the arts with some of the finest, bravest and boldest talent.
'We should be doing everything we can to unleash and unlock this potential. It's something that needs to be nurtured, taught and encouraged. While STEM graduates may be the ones to develop cures for cancer, it will be arts graduates that give us so much joy and meaning in our lives. Art lifts us up; we would be nothing without the arts.'
The impact of a Birmingham arts degree
Luke credits his arts degree for a whole range of skills that he uses every day, from his ability to think creatively and communicate fluidly, to being perceptive and astute to challenges that arise and assessing and adapting projects accordingly.
His University of Birmingham education has led him to a fulfilling and challenging job that has taken him all over the world and equipped him with dinner party anecdotes for life – including meeting Dame Judi Dench and putting sun cream on Nick Grimshaw's legs.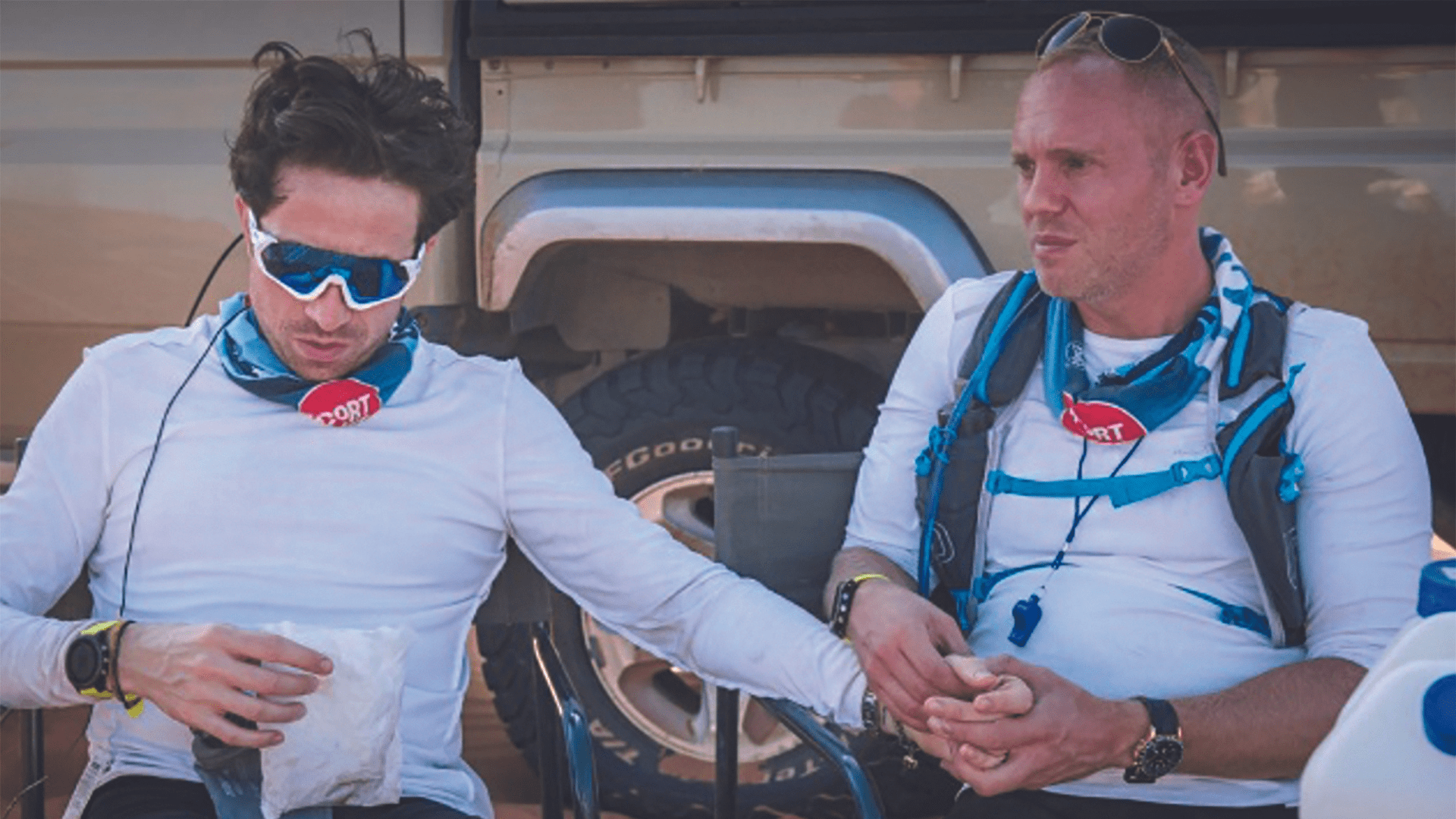 Nick Grimshaw (TV and radio presenter) and Rob Rinder (ITV's Judge Rinder) during their gruelling 100-mile expedition across the Namib Desert in aid of Sport Relief in 2020.