I've had the privilege over the last year to meet with alumni around the world and see the huge difference you are making in your communities.
In May, I met with alumni and friends at a joyful event in London to celebrate our Birmingham In Action campaign. Since 2019, you have collectively made gifts totalling £366million and volunteered nearly a million hours of your time to support students and life-changing research. To see the difference that philanthropy makes, read more about Lamyea Ahmed (who is supported by the Pathways to Birmingham programme). I invite you to look at our website to see if there are ways you might be able to support our ground-breaking and life-changing campaign.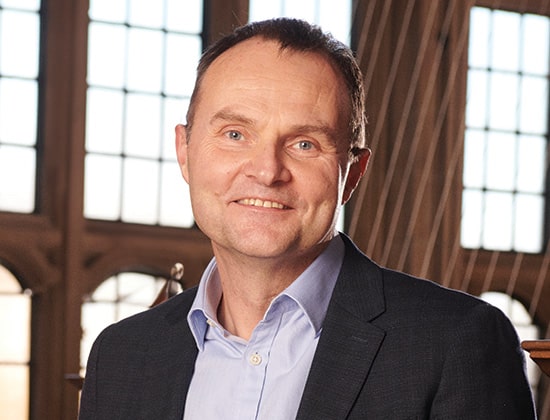 During June, I made my first visit to Hong Kong; nowhere else in the world has a group of alumni come together to form a foundation to support students and research, and I was proud to meet the alumni who helped create the Hong Kong Foundation. In addition to many scholarships, alumni are supporting research into microplastics in the region's rivers, improving the physical and mental health of schoolchildren and much more. Amongst the hundred guests, I met a (just) retired 82-year-old doctor, who gained his MBChB at Birmingham in the early 1960s, and heard from the impressive students supported to visit Hong Kong for a month to learn about leadership and understand the rhythms of a different society.
Travelling then to China, I was pleased to be part of the first in-person degree ceremony for students who have studied a dual degree maths programme with Birmingham and Jinan University. Although this is the third cohort of graduates, because of COVID-19 it is the first time that we've been able to celebrate the graduations in-person. A little bit of the Great Hall came to Guangzhou in a spectacular ceremony for 180 of this year's graduates. I was pleased to be able to meet them and their family and friends to share in their joy at their achievements.
It was wonderful to meet alumni who continue to share that Birmingham spirit and drive to support future generations.
Professor Adam Tickell
In September, I visited the US to celebrate the end of the US wide tour of the Shakespeare Institute's Moroccan Ambassador portrait. The painting's journey has been shared with alumni from New York to San Francisco via Cincinnati and I was delighted to meet supporters and friends at the tour's final stop; the Legion of Honor. I am always struck by the creativity and entrepreneurial fervour of our students and it was wonderful to meet alumni who continue to share that Birmingham spirit and drive to support future generations.
I was delighted to host Honorary Visiting Professor, General David Petraeus and senior alumni and friends for dinner in Washington DC, where we discussed the valuable role of international diplomacy in addressing global challenges.
It means so much to meet with alumni, to hear what matters to you about Birmingham and what you want to see in our future. As the guardian of your alma mater, I want to ensure the University of Birmingham works for everyone.
Thank you for having me!
Professor Adam Tickell
Vice-Chancellor and Principal