Only around 2% of cancer research funding in the UK is spent on research that is fully dedicated to childhood and young adult cancer. Although cases are rare, the brightest young researchers are needed to find kinder, more effective and personalised treatments. Charities, kind-hearted donors and families who have experienced the heartbreak of losing a loved one are working with pioneering student researchers to help this take place.
The Professor's view: what PhD students make possible
For Associate Professor Susanne Gatz, PhD students and researchers are at the heart of any lab. Her team includes PhD student Neal Sheth (PhD Cancer and Genomics) and postdoctoral researcher Dr Joseph Wragg (PhD Cancer Research, 2016). Their work is funded by the charity Alice's Arc, doing ground-breaking work to improve treatment for children with rhabdomyosarcoma (RMS), a soft tissue cancer.
'Charitable support is a cornerstone of any lab. These students are early in their career, are excited and even a bit more open-minded,' says Professor Gatz. 'Funding for research into rare cancers such as childhood sarcomas is hard to find, so charitable support is a cornerstone of any lab. In these unusual cancers, where we don't yet have the answers, it's so important that we can take risks to see if we can discover something truly ground-breaking. This model of working in collaboration with charities is unlocking new potential.'
Alice's Arc was founded by Sara and David Wakeling while their daughter was battling childhood cancer, working with other families affected to raise money for rhabdomyosarcoma research. After losing their daughter Alice in 2019 they have continued to fund and support vital research.
For Professor Gatz their support is key: 'It's so important to have this funding for people in the lab dedicated to RMS. These students will then carry with them this dedication and knowledge, and be the foundation for future childhood cancer research. They are the key to make this research happen.'
The Supporters' view: we need fearless new thinkers
'We are so proud to be funding the Azaylia Childhood Cancer PhD Fund,' says Azaylia Foundation CEO Cristian Parrino. 'The busy cancer experts we work with – those who see first-hand the devastating realities faced by young cancer patients – have insights and ideas they aren't always able to take into the laboratory themselves.
'By fully funding two clinicians to do PhDs in paediatric oncology, we can take the next steps in research, and build a team of specialists who can take their results back into practice.'
The Azaylia PhD Scholarships will produce new leaders and a brighter future for children with cancer.
Cristian Parrino
The Azaylia Foundation was set up in 2021 in memory of Azaylia Diamond Cain, daughter of former Coventry City footballer Ashley Cain and Safiyya Vorajee. The first of two PhD projects will start early next year, looking at B cell lymphomas - cancers that start in the immune system, which can have a low survival rate for those resistant to treatment or who relapse.
For Christian, this is a crucial opportunity to make a real difference: 'Because childhood cancer is systemically underfunded, there's no new talent gong into the space, which means there's no new research across prevention, diagnosis and treatment. The Azaylia PhD Scholarships are going to bring new leaders into the space, not only to research, but to treat and create a brighter future for children with cancer.'
The PhD student's view: research creates a ripple effect that could benefit us all
Dr Silvia Panetti (PhD Immunology and Immunotherapy 2023) says: 'My project explored novel ways of engineering T cells to recognise and fight cancer cells.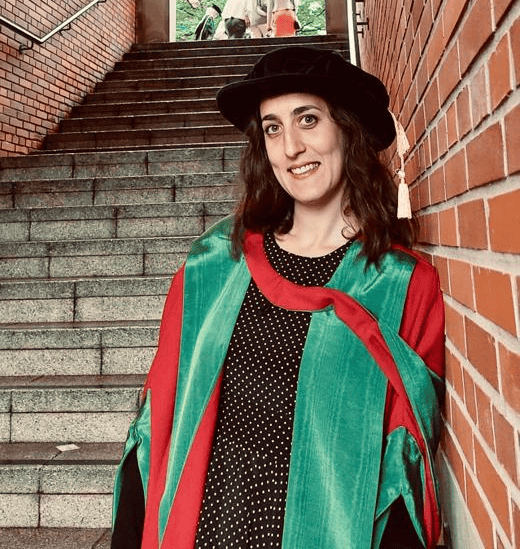 'These cells called CAR-T cells were modified to improve their metabolism and be more efficient once near the tumour. It has been an incredible scientific journey, in which I tried to expand our knowledge on CAR-T cell immunotherapy for childhood cancers, as well as adult.
'I was mentored and supported by my supervisors, Dr De Santo and Dr Mussai, and other leading academics here at Birmingham, all the way to publication in a major peer-reviewed journal, which was extremely rewarding.
My PhD work was made possible thanks to the incredible generosity of the Martin family.
Dr Silvia Panetti
'Overall, the University of Birmingham has prepared me so well for a future in cancer research that I could not have asked for anything more. I received invaluable scientific training, honest and constructive peer-review and incredible moral support. My PhD work was made possible thanks to the incredible generosity of the Martin family, and I am so grateful to them for giving me the opportunity to be where I am now.
'I will now continue my journey in cancer research and hope one day to be able to nurture the next generation of researchers in the same way I have been nurtured here. I am and I will always be a "Martins Fellow", and I am so thankful for the opportunity to be where I am now.'
Silvia's supporters
Robert and Sarah Martin have been supporting cancer research at the University since 2017, and were delighted to support Silvia's cutting-edge research investigating novel immunology treatments of the future, which has helped launch a new clinical trial for child and adult patients among other successes.
'Like many others, we have seen the effects of cancer first-hand. We have been able to support two PhD students and a Post-Doc scientist, and have enjoyed being able to visit and meet the students. It's so rewarding to hear the work Silvia and the team are doing is already making a difference, and we are proud to have been able to help in this way.'