Whether you meet in halls of residence, lectures, societies or nights out, University is a place to make friends for life.
Friendship groups share their stories of meeting and the impact of their friendship.
Maple Bank mates
Mark Bruns (BA International Relations and Russian Studies, 2010) says: 'The six of us started University in 2006 and met at Maple Bank. We were excited to be at Maple Bank since it was right between Broad Street and campus. Maple Bank itself had lots of fun events including open air concerts and speed dating nights. We loved the community feel and three of our flatmates joined the Maple Bank football team. Whilst we all studied on different courses, we had plenty of time to socialise, meet new friends and enjoy everything Birmingham had to offer.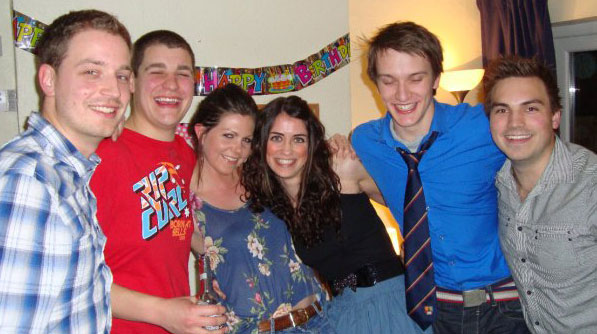 Pictured: Mark Bruns (BA International Relations and Russian Studies, 2010), Matthew Wedge (BA Medieval and Modern History, 2009; MA British First World War Studies, 2011), Hannah Wright (BA Modern Languages, 2010), Paula Perry (née Gloger) (BA Modern Languages with Psychology, 2010), Luke Wilkinson (BA Classics and Archaeology, 2009) and Stephen Potter (BA Geology and Geography, 2009).
'After Maple Bank, we moved into a six bedroom house on Selly Hill Road. Whilst space was a premium, we made sure to get out and about as much as possible. We loved going out for baltis in Selly Oak or for a big fry up after a night out at Café Face.
'Ten years later we all met for a reunion at Matthew's house who still lives close to Birmingham. He organised a lovely dinner party and went all in with his cooking skills. All of us were able to make it apart from Paula. It was lovely to catch up, speak about the things we loved doing, what people were up to now and how we are all doing in our new lives. Whilst we now all have our own families, jobs and live in different cities, it was lovely to spend time reminiscing about the times when the most difficult decision we had to make was which pub we'd go to on a students' night and how we were supposed to make it to the 9am lecture the next morning.'
The ripple effect: a career in memory of a best friend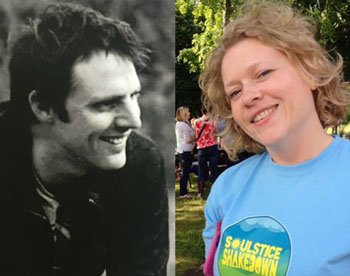 Clare Abbotts (BSc Psychology and Sports Science, 2000) says of Matt Kendall (BSc Psychology and Sports Science, 2000): 'From the first day Matt and I met in 1997 in Tennis Courts, we immediately hit it off. I didn't know then what an impact he would make on my life. There were times throughout our studies that we pulled each other through and we stayed really good friends for more than 20 years after University.
'After graduating, Matt stayed in Birmingham and dedicated his time to making a difference in his community. Around 10 years ago he was diagnosed with oesophageal cancer, and bravely fought against it for years. But eventually we had the worst news. Three weeks before he passed away, he got a group of us together to set up the Matt Kendall Foundation to help young people overcome financial disadvantage and find jobs in Birmingham, something he was very passionate about. In that short time we raised £60,000.
'His was one of those golden friendships. I have never met anybody stronger, more compassionate and full of hope. He taught me what was important in life and in addition to becoming the trustee of the foundation, I also started to train as a bereavement counsellor. I currently volunteer at Katharine House Hospice in Stafford as part of my training. The impact he made on me is now rippling out to so many others and I can't even imagine how many more he must have inspired.
'If I ever come across a situation I can't cope with I think to myself, "What would Matt have done?" and that always helps me to find the answer.'