Professor Sir David Eastwood DL, Vice-Chancellor and Principal of the University, shares his reflections on 12 years of bringing Birmingham to the world.
'As many of you will know, this year is to be my final year as Vice-Chancellor of the University of Birmingham before I hand over to Professor Adam Tickell. Over the last 12 years, leading this great University has been the highlight of my career.
During this time, we have been met with challenges and recently perhaps the greatest challenge in living memory, but through them all we have still achieved and shown the nation and the world why universities like ours are so vital.
As I prepare to close my chapter in the University's history, it seems apt to reflect on the achievements of the last 12 years. The University of Birmingham has always been a great university, from our founding civic mission to create a university open to all, regardless of class, race or gender, we have sought to put our exceptional students and research at the heart of our endeavours. In the last 12 years, we have succeeded in our efforts to transform the University on both accounts, realise its potential, and make the University of Birmingham known across the world.
There are many things that make me deeply proud of the University of Birmingham and I would like to share with you some of my highlights.
Our academic quality and reputation has been transformed. Achieving the University's ambitions depends on people, and this is the single biggest investment that the University has made in recent years. We have significantly expanded our academic staff numbers, including world-class researchers and teachers, leading early-career academics, and Interdisciplinary Professorial Fellows. Birmingham is now seen as a truly exciting place to be, and we have developed an enviable reputation for attracting some of the finest minds in the world to teach and research here.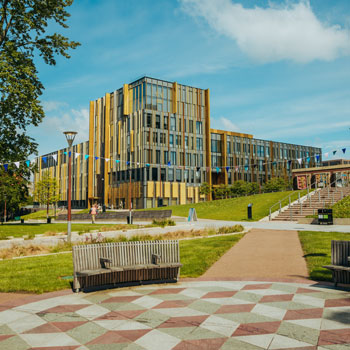 We have a campus unrivalled in the UK. Alongside our investments in people, during the last 12 years we have transformed our campus through investing in our facilities which benefit our students, staff, and local community. We have opened a new library, a world-class Sport & Fitness centre and the Green Heart parkland in the centre of our campus. Facilities such as our new Collaborative Teaching Laboratory and School of Engineering provide opportunities for cutting-edge research and teaching to take place jointly, and catalyse collaboration between academia and industry. If you have not returned to Birmingham recently, do come – I am sure you will be delighted with the ways in which we have developed and improved the campus.
We have opened up the University of Birmingham to more students than ever. Since 2008 we have grown our student community by over 20%, growing our alumni community across nearly every country in the world and opening up more places to students from diverse backgrounds. I am proud to have met so many students whose lives have been changed through programmes like our Pathways to Birmingham, where we engage with over 200 schools and colleges in the West Midlands to broaden access to our University and others in the Russell Group. About one in five of our 35,000 students now comes from a widening participation background and applicants to these programmes keep growing; in 2020 we had the largest number of applicants ever.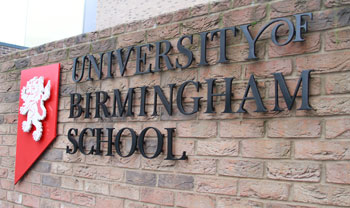 We are contributing to education across Birmingham in new and substantial ways. I am especially proud that in 2015 we became the only university in the country to open our own secondary school and sixth form. The University of Birmingham School gives young people of all backgrounds and abilities from across the city unrivalled access to the University's world-class resources, research, and people, and has gone from strength to strength. In 2021 we took another important step by bringing into the University group the National College for Advanced Transport and Infrastructure. Drawing on the internationally-recognised rail expertise at the University, the College will create new pathways in further and higher education, training experts for our region and nation.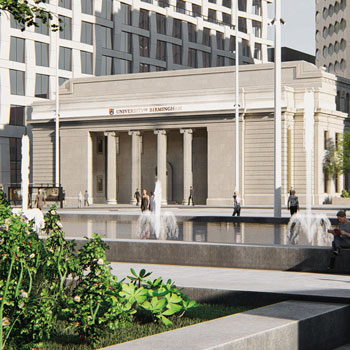 We have reinvigorated our partnerships with our local community, government and industry. Our role as England's first civic university, anchored in our city, is at the heart of the University, and we have strengthened our commitment to the region even further in recent years through a wide range of social, creative, economic, and scientific contributions. Our new city centre hub, The Exchange, symbolises this focus, providing a physical presence at the heart of the city for our research, and facilitating student entrepreneurship. Through Birmingham Health Partners, we collaborate with our local NHS partners to create innovations in healthcare and take them through to clinical application. Next year, we are looking forward to playing our part as a key partner in the Birmingham 2022 Commonwealth Games, hosting events on campus as well as accommodating competitors in our Athletes Village.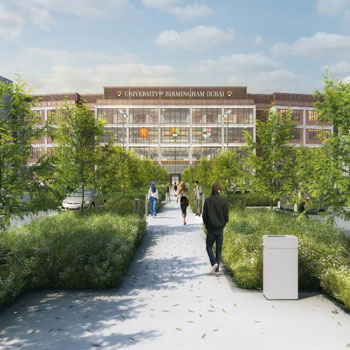 We are finding new expressions of our civic mission globally. The University's global outlook is exemplified in our new campus in Dubai. The campus allows us to bring Birmingham's world-leading research-intensive education to the UAE. Our first graduates are already using their education to identify pneumonia from x-rays, keep us safe online, assist children with learning difficulties, and much more. In China, our dual degrees with Jinan University are enabling students to study applied mathematics in Guangzhou and receive a dual degree from both universities. In the US, our BRIDGE research partnership with the University of Illinois has brought together thinking across borders, including research to unlock the secrets of the body and brain, from maternal health to traumatic brain injury.
These transformations were hard won, and the achievements of the whole University community. They mean that Birmingham is now a University of real ambition, innovation, and commitment to quality, recognised nationally and internationally.
Our wonderful alumni community have played an important role in this, and I am hugely grateful for the support that so many of you have shown for Birmingham In Action, our fundraising and volunteering campaign. As a charity and as a civic university, we have a key opportunity to use our knowledge to improve our world, addressing the global problems that affect us locally. Alumni and friends like you are giving bright minds from the most vulnerable backgrounds the means to study at Birmingham, complete their degree, and fulfil their potential against all the odds.
You are also accelerating our ground-breaking research to tackle the great challenges of our time: cancer, youth mental health, the environment, migration, and COVID-19. Together we are developing life-changing, life-saving solutions for those who need them most, all around the world.
Let me urge you to join me in continuing to support the University of Birmingham as we enter into our next chapter – it is an extraordinary institution, and one which can look forward to an extraordinary future.'