Meet three students and alumni who are at the forefront of the University sports community and looking forward to the Birmingham 2022 Commonwealth Games; a once in a generation opportunity to showcase the brilliance of the city and region.
Overcoming an injury that could have ended her career
Laura Keates
(BSc Zoology, 2010; Fourth year, BDS Dentistry)
England rugby player
Captain of the England Women's Under-19 team, Laura was part of the senior XV that won the 2014 Women's Rugby World Cup. She was preparing for the 2017 World Cup when she injured her Achilles tendon, and only returned to international action in November 2020. Away from sport, she's also finishing her Dentistry degree at Birmingham.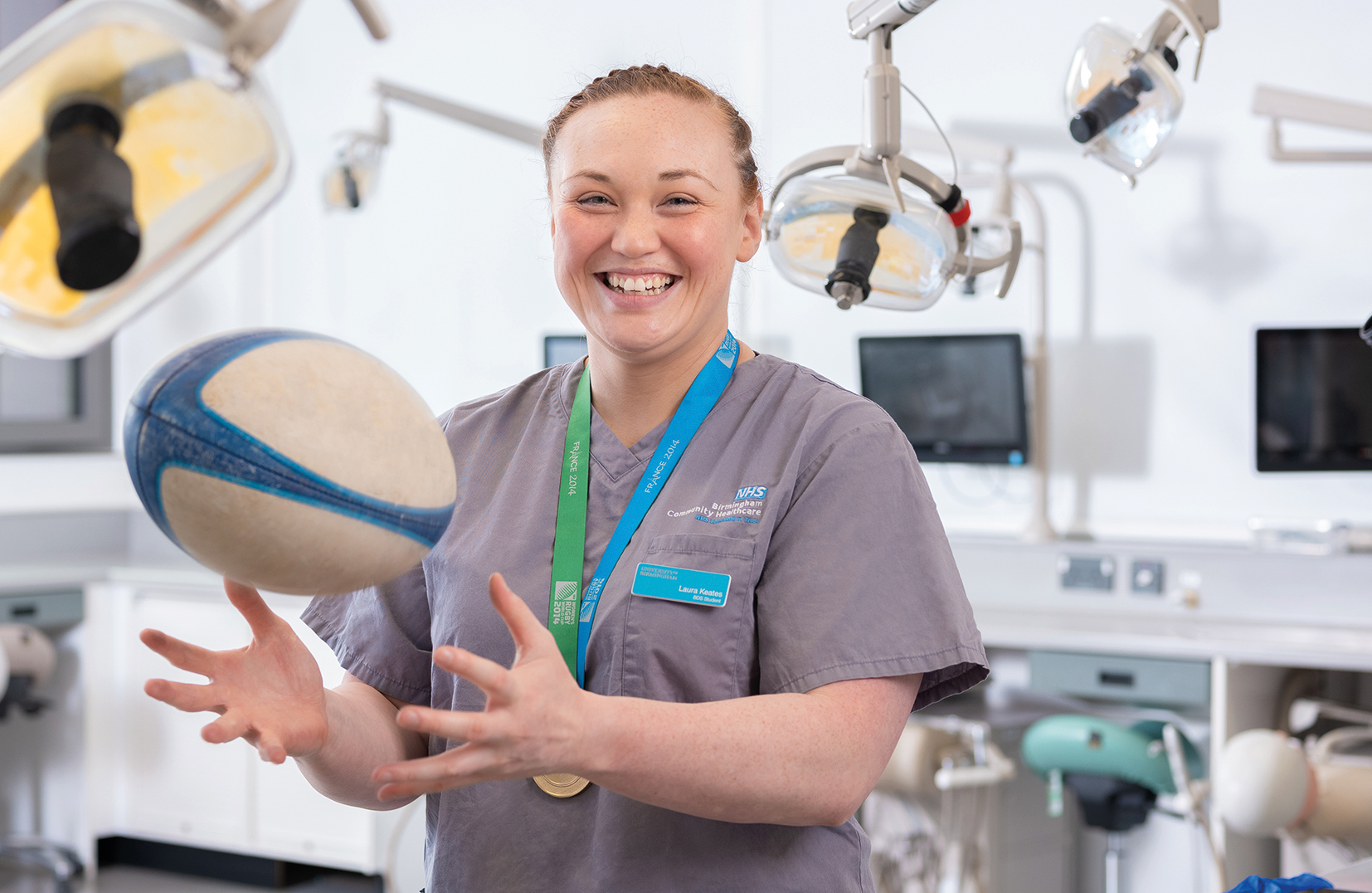 'I was fortunate to receive a sports scholarship during my first degree and that allowed me to balance playing with my studies. After graduation, I worked as a lifeguard and on reception at the Munrow Sports Centre. The rugby team went full-time for eight months as preparation for the 2014 World Cup and the University gave me full backing to do that.
'The help from the sports scholarship programme and staff at the new Sport & Fitness centre meant I could return to international rugby after rupturing my Achilles. They have got me fitter, stronger, and more robust after a potential career-ending injury. It was really rewarding to train in such an elite environment.
'I've always focused on rugby, and it has been at the forefront of everything I did. But I wanted a career. My Mum suggested some work experience; I gave it a go and really enjoyed the work. I think it uses similar skills to rugby – teamwork, dedication, communication, and creativity.'
Competing while coaching others
Luke Gunn
(BSc Sports and Material Science, 2006)
Head of Athletics, University of Birmingham
A four-time winner of the British 3,000m steeplechase, Luke also competed in the event for England at the Commonwealth Games in 2006, 2010, and 2014. He began coaching in 2010 and has seen numerous athletes from the University progress to international honours.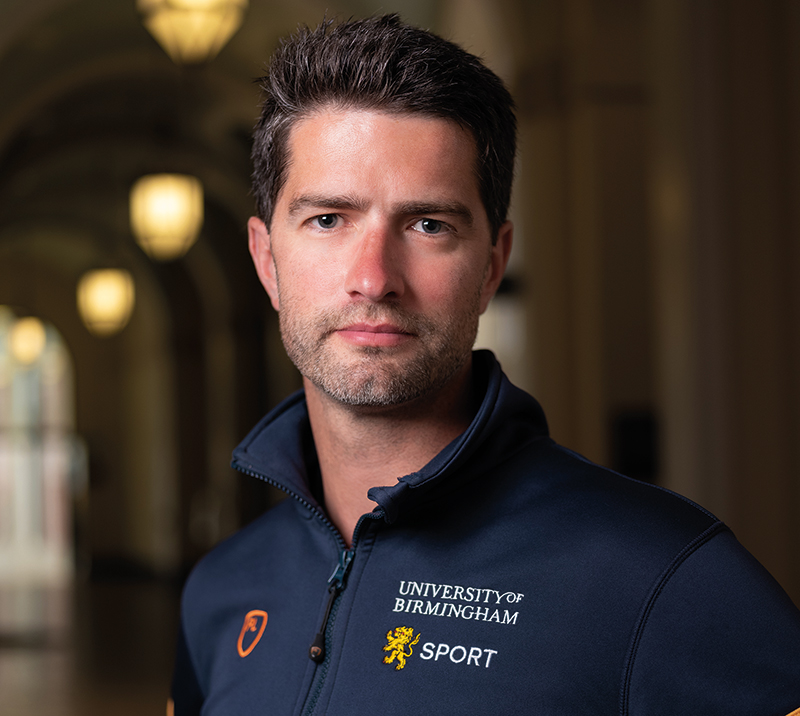 'Being the Head of Athletics at the University of Birmingham is an immense honour. I never thought the job would come up at such a young age, while I was finishing my own athletic career. I feel very fortunate to be heading up a team of coaches at my alma mater.
'As an athlete, and a coach for the Birmingham Games, I want the England team to be sweeping all the medals. As an adopted Brummie, I just want us to put on an amazing show for everybody. We've all been through it during the pandemic and hopefully this will be the first major championships without any restrictions, in which everyone can celebrate sport and the city, all at the same time.
'Having competed in three Games myself (Melbourne, Delhi and Glasgow) the atmosphere for each was electric. Birmingham will be a place where people want to book off the whole month and absorb it all when the Games are here.'
A scholarship as a springboard to great heights
Laura Zialor
(Third year, BSc Sports, Physical Education and Coaching Science)
High jumper
Laura was a triple jumper as recently as 2019, switching to compete in the high jump after trying it out in training. She's been making big leaps upwards ever since, coming fourth in the British Championships only six months later, rapidly reaching the qualification standard for Birmingham 2022 and leaping 1.90m in June this year – the 23rd best of all time for a UK athlete.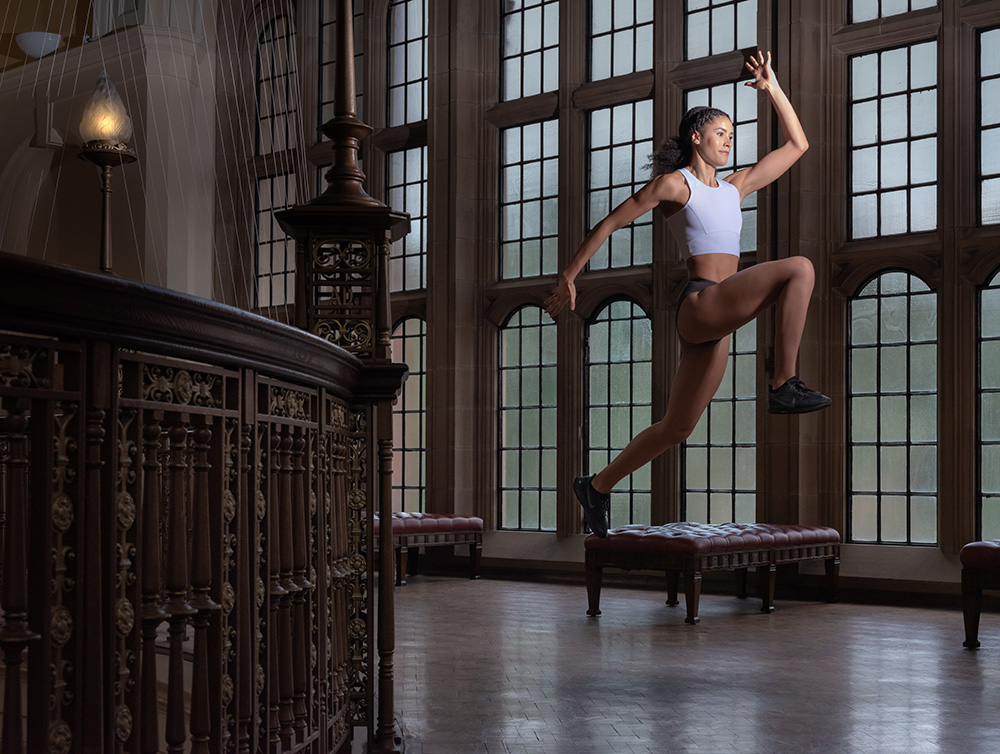 'My parents are my biggest fans and funded me for many years. Mum would drive me to London from our home in Milton Keynes twice a week. I received support from SportsAid and then from the University as a scholar, which has taken the pressure off my family.
'I was recognised on the talent identification programme in my first year at the University, a Club scholarship in my second year and a full scholarship in third year.
'Trying to take on both the triple and high jump was a little bit much for me, as both are very technical. I really enjoyed the high jump and decided to make the switch - which was the best decision of my life. I've excelled and done more than I could have imagined in this. Now I want to keep progressing and win medals for England and Great Britain in the major championships.'
Want to see more young people with sporting talent fulfil both their athletic and academic potential? You can donate to our alumni-funded sports scholarship programme, or fund your own scholars like alumnus Robert Moyle (BSc Civil Engineering, 1973) has done for the last 15 years. He says: 'I have been so proud to see the students I supported compete, knowing I was helping them build a lifelong career at the same time.' Email us to start a conversation.