The Birmingham 2022 Commonwealth Games will be a great draw for many in the University community, including one family of Birmingham graduates. Andy Bough shares his memories of Birmingham and his passion for languages, sport and the Games.
As the son of former BBC sports and current affairs presenter Frank Bough, Andy Bough (BA French, 1989) inherited a strong interest in sport and languages. The two subjects have become a passion amongst his family of Birmingham graduates: wife Wendy (BA English and French, 1989), son Robert (BA German with Spanish, 2018) and youngest daughter Catherine (Third year, German and History).
Studies versus socialising
The thrill of sport kept luring Andy away from his French studies at the University, and he acknowledges it took awhile for him to balance his social and study time.
He explains: 'I wasn't initially the best student and enjoyed Birmingham so much I ended up taking an extra year to do my degree, so combined with my year abroad I had the pleasure of a five-year stint at Birmingham.
'The final year was memorable for many reasons. Having found the maturity to balance studying properly with my social life, my life changed when I met Wendy. We did a couple of courses together and the first time we really spent any time together was at the French Christmas party, which was held at the Birmingham Repertory Theatre in Centenary Square.'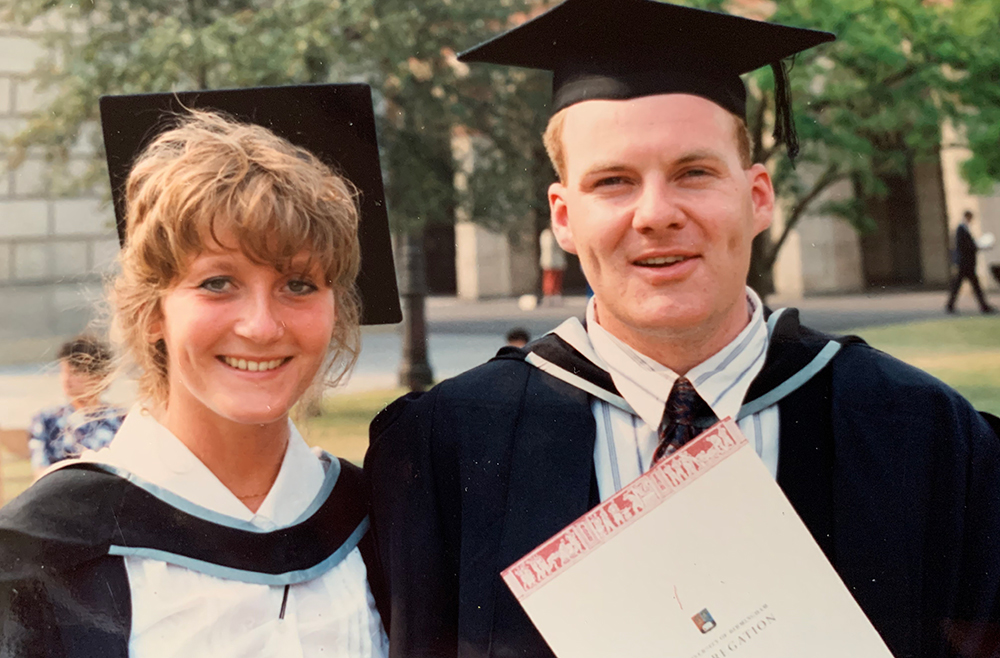 Sporting success and studying abroad
'I thoroughly enjoyed the courses and lectures and also captained the University hockey team to the UAU (University Athletic Union) outdoor and indoor championships – a great personal triumph for me and my team-mates.'
Andy is still in touch with many of his friends, including his best man Will MacIver (BA French and Russian, 1988), with whom he shared many trips to see Liverpool FC in action, Martin Constable (BA English and German, 1989; PGCertEd, 1990), and various members of the French department.
He adds: 'There's a special connection between people who have done language degrees and had that experience of a year abroad.'
Like for many people, going to University was a seminal time in my life. I think the thing I loved the most was probably meeting different people. I came from a little village in the south of England, very much part of the commuter belt in the Home Counties. Meeting people from a different background and with different life experiences really opened my eyes to see the world from a different perspective.'
The next generation return to Birmingham
After graduating, Andy and Wendy enjoyed four years working in Hong Kong before settling in Edinburgh where children Isabelle, Robert and Catherine were brought up, and the family still live today.
With Robert and Catherine both also choosing to study at Birmingham, Andy has had the chance to revisit Edgbaston in recent years and says: 'It does feel a bit like you're walking amongst the memories and people you knew there, but it's always a pleasure to go back.'