The first graduates from the University's new Dubai campus joined our global alumni community in December 2019.
The inaugural cohort of postgraduates to cross the stage included:
Ahmad Khouli, who is helping identify pneumonia from x-ray images using artificial intelligence
Amira Tukur who is exploring the representation of female leaders in the Boardroom
Mohammed Alyassi, whose expertise in cybersecurity will help tackle malicious web activity
Surya Kosajaru, who developed a game to assist children with learning difficulties

Neelay Deshmukh, who volunteered to share his professional experience with his fellow students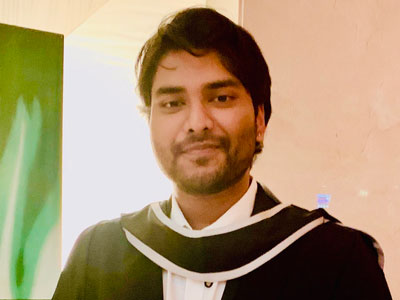 Surya says: 'My proudest achievement is getting a job before I graduated. My plans after graduation are to keep learning and to make an impact in any industry I work in. My advice to future graduates is don't be afraid to dream and apply for a job that you think you won't get.'
The ceremony bore many of the hallmarks of the great graduation days at our Edgbaston campus. Vice-Chancellor Professor Sir David Eastwood presided, processions were joined by the Guild of Students, our time-honoured mace bearers, and accompanied by distinguished guest speakers, which included two alumni of the University, Leonard Stall (BSocSci Economic & Social History, 1982) and Christopher Bromham (BSc Mathematics and Sports Science, 1999), principal of a local Dubai school.
The first graduation followed the ground breaking ceremony in November, beginning 18 months of building work to create a purpose-built campus in Dubai's Academic City.
Speaking at the graduation, Vice-Chancellor Professor Sir David Eastwood said: 'Our new campus will offer us the opportunity to continue to build our undergraduate and postgraduate-taught student community and ensure that they are joined by a community of postgraduate researchers. It will also provide even greater scope for developing further the government and industry partnerships needed to continue to develop the research rich environment that characterises a university like ours.'
Find out more about studying in Dubai.