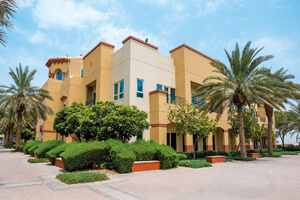 The first cohort of students at the flagship University of Birmingham Dubai campus has been busy attending lectures since September. Subjects include Business, Economics, Computer Science, Mechanical Engineering and teacher training degrees.
Based in the Dubai International Academic City (DIAC) international education hub, the campus is also home to 35 members of staff, many of who relocated from Edgbaston to oversee the launch of the historic facility. The new campus is the first to be created by a global top 100 and UK Russell Group university in Dubai.
Old Joe spoke to four of the Dubai team to get a better understanding of how it feels to work and live in the Middle East.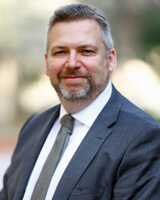 Glyn Watson, Provost
Describe your role
Officially, my role is to oversee the management and development of the campus. However, what this means in practice can be very elastic. One day I might be reviewing the business case for a new suite of programmes or meeting a new senior government official, the next I might find myself supporting a student preparing for their exam.
Why did you take up the position?
The challenge. Looking back over the last few years I have held a wide variety of different roles, including being a Head of School, Director of Education, Deputy Head of College and Head of College. None of these roles have been straightforward and all of them have stretched me. But going into the Dubai role, I knew I was taking on a whole new level of personal challenge. Obviously this was a daunting prospect, but I was being offered a once in a career opportunity to help establish a new campus, from scratch. And this was exciting.
What difference do you see your work and the campus making to the lives of students in the region?
This is the first time that a world-class university like Birmingham has set up a campus in Dubai. This in itself represents a significant departure for the country, and one which the local regulators have made much of. It's the first time that students have been able to access a Russell Group-style degree on their doorstep, without having to travel outside of the region (which, for a whole host of reasons, is often impractical).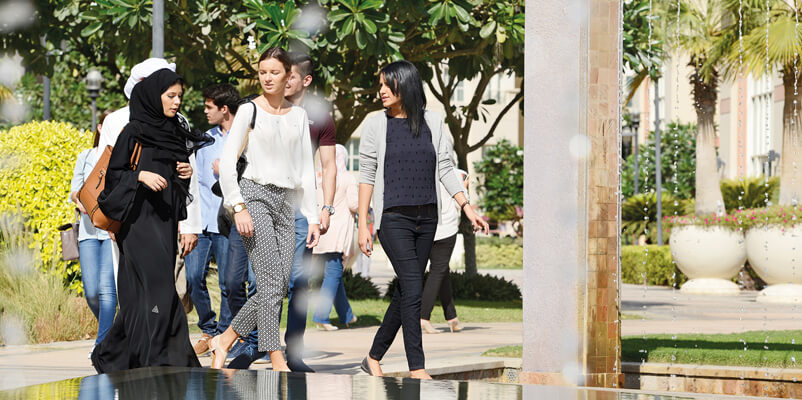 Students at the University of Birmingham Dubai campus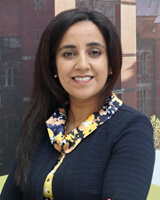 Sanam Yaqub, School Partnership Strategies Manager
Describe your role
My focus is to ensure that the School of Education's flagship Initial Teacher Education (ITE) and continuing professional development (CPD) programmes are successfully introduced and delivered in the United Arab Emirates. I work with senior leaders and visionaries from schools, government agencies and the University to ensure that our students are embarking upon highly relevant and rigorous programmes and have the opportunity to complete their ITE practice at schools that excel in outstanding teaching and learning practice.
What has surprised you about the job, and living in the region?
I have lived in the region for more than a decade and almost every day is still a surprise, from the speed at which the country continues to develop and expand to the enormous steps Dubai has taken in establishing itself as a 'smart city' and regional centre for culture. The emerging and highly diverse education sectors certainly bring challenges that you would not normally experience in the UK – there are approximately 200 schools offering 17 different curriculums in the UAE. It's highly important to have an understanding and affinity with the history and culture of the region in order to develop a successful approach that is in the interests of the University and in harmony with the host country.
What is the best part of your job?
The variety and breadth of the role are immensely rewarding as the focus on student outcomes remains at the forefront. Working alongside colleagues from the various schools and colleges provides an opportunity to collaborate, share practice and influence policy. In some ways, however, the best is yet to come with the development of the new purpose built campus scheduled for completion in 2021. More immediately, I'm looking forward to the graduation of our pioneer PGCE students at the end of this academic year. I know that the day when they step up to collect their scrolls will be a proud one for me and the School of Education.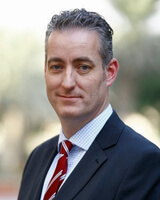 Ben Bailey, Campus Director
Describe your role
My role involves leading the breadth of Professional Services support required in Dubai to enable the delivery of our academic mission. I lead a relatively small but excellent team who operate in very broad roles. Establishing a campus operation overseas involves thinking flexibly, collaborating constantly and focusing on continual tight turnaround and delivery. It touches on everything from programme administration, human resources, student recruitment, and marketing, through to operating a building.
Does Dubai's climate have any impact on your work/day to day life?
Dubai's climate most often has the liberating effect of not having to consider what the weather is going to do. I don't have to think about whether I need a coat, scarf, umbrella or heavy or light clothing. It is usually quite predictable and when it is not, it is notable. For some months in the summer, you adapt to a greater indoor lifestyle due to the heat, humidity and sunshine as opposed to the cold, wet and ice in the winter in Birmingham. You look for air-conditioning and a cold drink as opposed to central heating and a bowl of soup.
What is the best part of your job?
People! Universities for me are about people, the opportunities we have studying and working with people. In this job, working at this scale at the start of the life of the University of Birmingham Dubai, you see the impact that your work has very directly. We know every student and every member of staff by name and we see each other daily.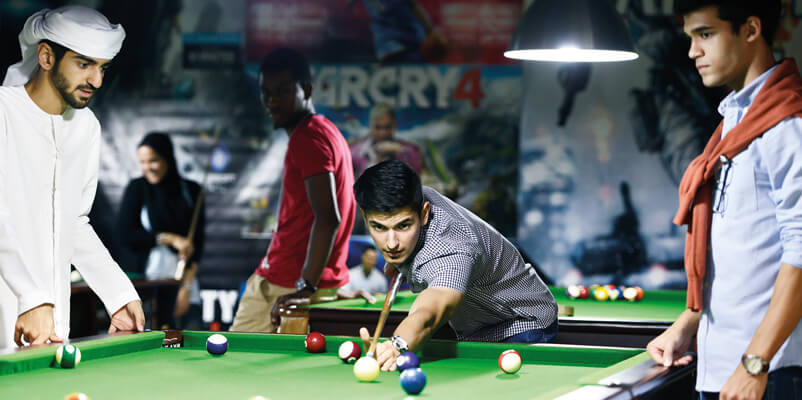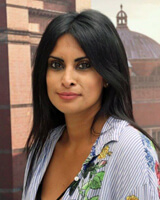 Roshni Barot, Employer and Business Engagement Manager
Describe your role
I lead on developing business relationships so that we work with industry to develop the professional behaviours of students' studying in Dubai. The work that I do also involves collaborating with academic colleagues, so that employability is carefully designed into the curriculum. At the University the message we would like to send out in the region is that the commitment to improving the employability prospects of our students is at the heart of their learning and teaching experience.
What has surprised you about living in the region?
Although I was already familiar with the region, what has surprised me most is the inclusivity and acceptance of all cultures. There are so many nationalities within Dubai that live, work and socialise with each other, it is one of the most culturally diverse places that I have ever lived.
What has been the biggest challenge?
I miss my family and friends. I left behind a 'settled life' and when first landing in the UAE last July, things felt unfamiliar. For the first few months I felt incredibly homesick. Almost a year into living in Dubai, I now feel that I have started to make a solid friendship group. Because everyone has been in the same situation as you, people are more open to welcoming you into their circle and bonds are formed quickly. I am really starting to enjoy 'Dubai living'. The family and friends that I have left behind in the UK have already booked or plan to book their holidays here, to share this unique experience with me.