2020 is a year of recognising Birmingham's longstanding relationship with Hong Kong. Launched with a spectacular gala reception in October 2019, special guest Honourable Chief Justice Geoffrey Ma (LLB Law, 1977; LLD 2011) was honoured with the inaugural University of Birmingham Hong Kong Medal.
The special event was hosted by Professor Sir David Eastwood, Vice-Chancellor and Principal of the University at the picturesque setting of the Asia Society Hong Kong Center.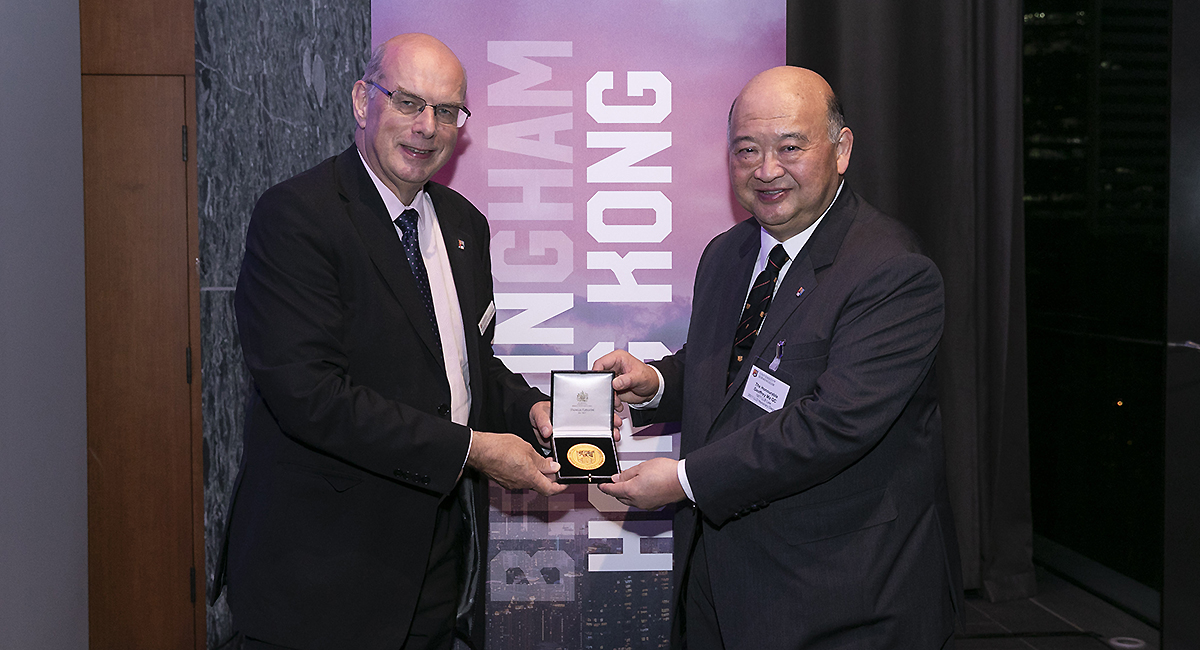 In what was the biggest alumni event ever in Hong Kong, almost 150 alumni and supporters saw the Vice-Chancellor bestow a new special award to guest of honour, the Honourable Chief Justice Geoffrey Ma (LLB Law, 1977; LLD 2011).
Geoffrey was the first recipient of the University of Birmingham Hong Kong Medal, reflecting his continuing links to the University as well as his contribution to civic society in Hong Kong.
A prestigious career
After graduating in Law in 1977, he was called to the Bar in England and Wales the following year, going on to be called to the Bar in Hong Kong, the state of Victoria in Australia and Singapore. He was appointed Queen's Counsel in 1993.
Since 2010 he has served as the Chief Justice of the Hong Kong Court of Final Appeal; the highest position in the Hong Kong judicial system and the apex of a highly prestigious career. He was presented with his honorary degree at Birmingham in 2011 and recently announced his intention to step down from his position as Chief Justice in January 2021.
Speaking at the event after receiving his medal, Geoffrey said: 'I am greatly honoured by being awarded the University of Birmingham Hong Kong Medal. But for me, the greater honour is being associated with an institution that strives to make an impact for the greater good.
'Relevance is the key to the University's activities here in Hong Kong and in the region. Coupled with the wish to be relevant is the practical implementation of this wish. The University does this by playing to its strengths. Thus, we see how the University has utilised its specialisation in healthcare to deliver training to healthcare providers in the region.
For me, the greater honour is being associated with an institution that strives to make an impact for the greater good.
Geoffrey Ma
'The University is also well known for its railway research and the Birmingham Centre for Railway Research and Education has developed significant partnerships. There are other areas in which Birmingham is an established leader and it is to those strengths that it can tap into in order to make itself relevant and tuned into what is needed.'
The University of Birmingham Hong Kong Medal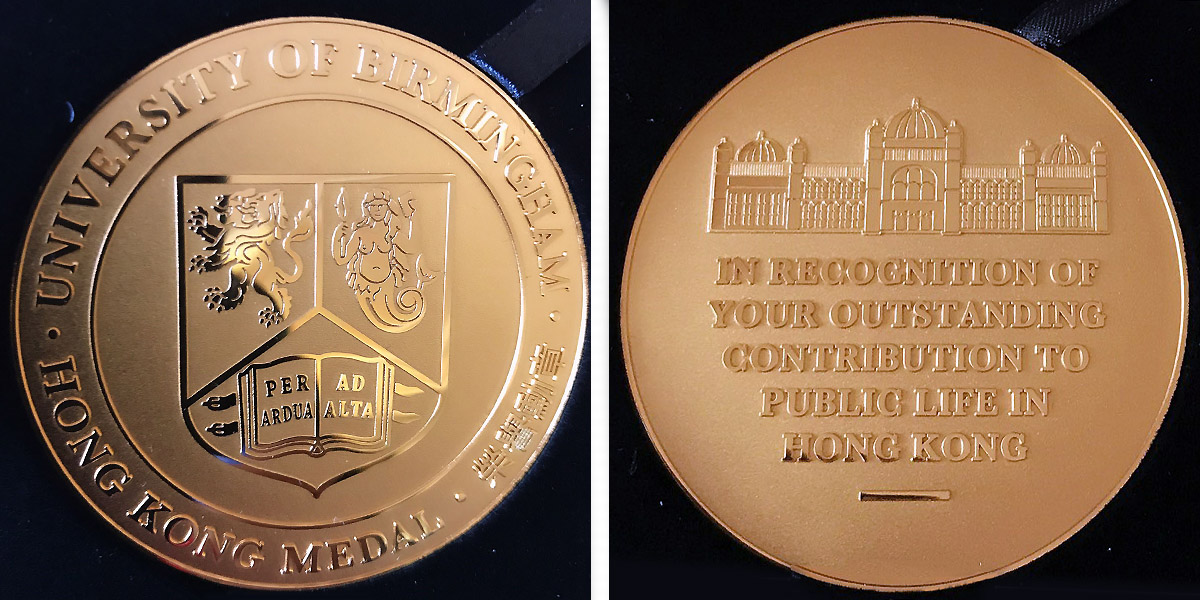 The University of Birmingham Hong Kong Medal represents the University's highest honour for alumni and supporters from Hong Kong. It will be awarded to those who have made an outstanding contribution to public life in Hong Kong, and only when there is a strong case to do so.
If you know of a Birmingham graduate living in Hong Kong (or a Hong Kong alumni of the past) who you think would be worthy of receiving this honour, please let us know.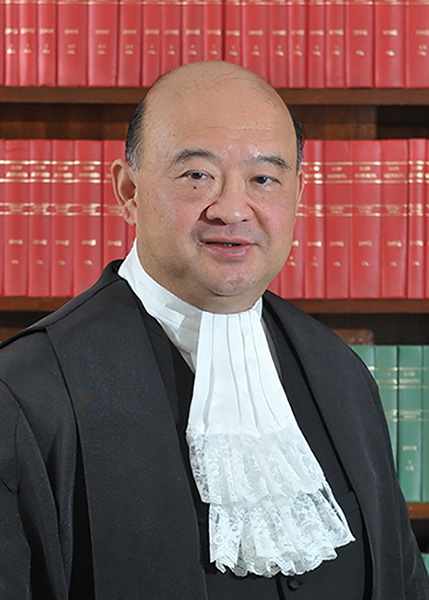 Ongoing connections
Geoffrey has often spoken of his warm memories of his time as a student at the University. He believes Birmingham must have "one of the most beautiful university campuses in the world" and acknowledges the "professional stepping stone" it provided to his professional career.
He has also noted the high quality of his lecturers and tutors, including Professor Gordon Borrie, Professor Robert Pennington, Professor Ian Scott and Graeme Sneath QC, who taught Criminal Law having previously been Solicitor-General in Hong Kong from 1967-1973.
Geoffrey has maintained his connections with the University, meeting alumni and current students in Hong Kong at events and returning to campus in 2016 as a guest lecturer.
He adds: 'In recent years, I have been honoured to have been part of the University's work in reconnecting with its alumni in Hong Kong.
'The University is not only relevant to the people who happen to be studying there at any given time, it continues to take an interest in all of its students - past, present and future - with a particular interest in the contribution to the community made by alumni. I have always felt a deep sense of belonging to the University of Birmingham and am glad that more alumni now feel the same.'
Professor Sir David Eastwood says: 'Geoffrey has been a long and proud advocate of his University and he has kindly supported Birmingham in many ways. He has hosted alumni dinners, has met with students and has given lectures on campus.
'It was a great honour to award him with the first ever University of Birmingham Hong Kong Medal, to recognise his achievements in Hong Kong and his service to the University.'