Inspired by their dog Zeus, graduate Hannah Osei (BA Political Science and International Relations, 2020) and her two siblings founded Destination Dog, an online shop selling sustainable, organic products for dogs, with support from the University's entrepreneurship programme.
From problem pads to perfect paws
Zeus the Labrador loves the outdoors, but it does not always love him back. The inspiration for Destination Dog came from the family's pet dog, whose various allergies include grass and trees, which made finding products to help his sore feet challenging. Many standard treatments contain steroids, which can cause other problems.
Following extensive research into what ingredients would help dogs like Zeus, Hannah and her siblings Naomi and Matthew formulated a paw balm named "Perfect Paws". They have gone on to create "Vanity Fur" cologne and "Ruff Day" shampoo bars. Hannah says: 'His skin has improved massively since using natural organic treatments.'
Scaling up with support from the University
Hannah is one of 30 recent graduates and students taking part in UoB Elevate, receiving mentoring, business planning support and specialist workshops. She also received a Start-Up Scholarship worth £15,000, funded by donations, exclusively awarded to a number of those enrolled in UoB Elevate to help them develop their high-potential ideas and scale-up their business.
Hannah explains how this support has helped: 'The programme has really rallied behind us and encouraged us to pursue big milestones for Destination Dog that we perhaps wouldn't have thought about until year two or three. Talking with other businesses on the programme has helped resolve issues before we experienced them; for example, when we approached manufacturers, we had a list of questions prepared. Our place on the incubator programme is perhaps our biggest asset.'
Graduate helping graduate
Dr Nigel Evans, a fellow Birmingham graduate, is a leading supporter of the Start-Up Scholarships, along with his wife Chris. Hannah says: 'Nigel's advice was invaluable. Having talked through various ideas, we went away and essentially changed the entire business with new and innovative ideas we hoped would propel us forward, including his idea for a monthly subscription model.'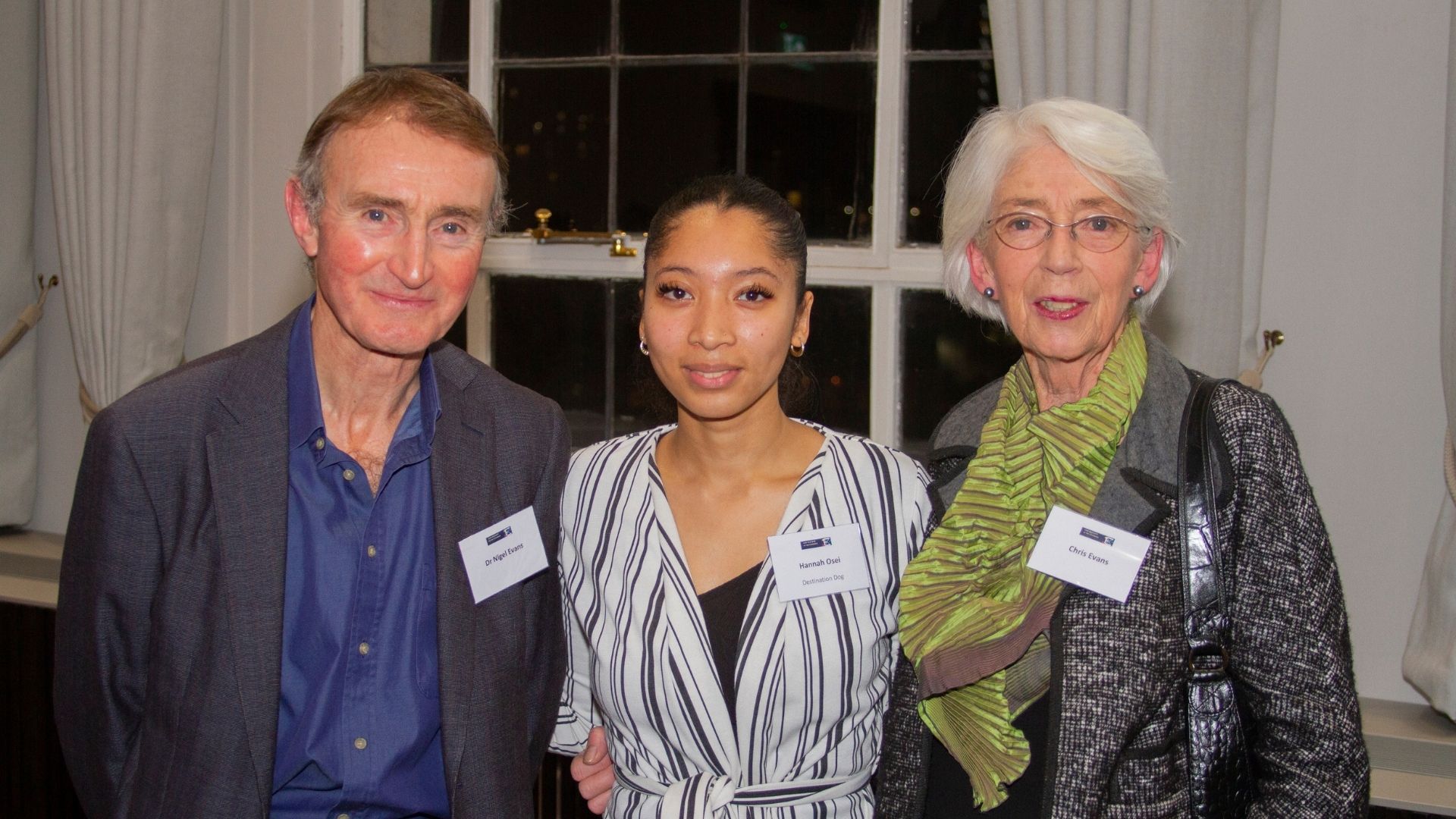 What's next for Destination Dog?
The Destination Dog online shop officially launched on 1 December last year. Hannah explains what is next for the business: 'We've seen a steady growth in organic sales from across the UK so far but hope to start advertising more widely, including at festival stalls throughout the summer where we can sell products in-person. We know how many people adopted their first dog during lockdown and may be looking for extra advice and support.'
We are so grateful to all alumni and friends who currently support UoB Elevate with gifts of time and money. Are you passionate about developing the next generation of entrepreneurs? You can support budding entrepreneurial students and graduates like Hannah by sharing your advice and expertise. You can also help fund scholarships to kick-start emerging businesses. Get in touch to find out more.
Win a University of Birmingham hoodie
For the chance to win a Birmingham hoodie, answer this question:
What is the name of the start-up incubator and business growth programme for students and graduates, based at The Exchange?
Send us your answer(s) with your name, address and phone number by 31 July 2022. Check our Old Joe competition terms and conditions.