Are you a recent graduate with a great business idea? Or an experienced entrepreneur, with expertise to share? Get involved at The Exchange.
Student and graduate entrepreneurs from the University of Birmingham now have a new and exciting base to develop their ideas. UoB Elevate is an incubator and business growth programme designed to support entrepreneurs to the next level of their growth.
Based in the new Graham Turner Entrepreneurship Centre at The Exchange in Birmingham city centre, the first cohort joined in September 2021, including an all-natural pet products business and a tool for artists to sell their work directly to customers, digitally and offline. Participants pitched their idea to an independent panel to be accepted.
UoB Elevate is helping more than 30 teams or individuals with high-potential early stage ideas and existing business or social enterprises looking to grow to the next level or prove their concept.
A package of support for new entrepreneurs
Businesses with at least 50% University of Birmingham student/graduate ownership are preferred, and those who take part will benefit from:
Being part of a cohort of growth businesses, learning from each other
Running their business from the city centre incubator within the iconic Exchange building
Access to the alumni mentoring scheme
Dedicated support and guidance to help grow
Access to regional business support schemes, funding schemes and investor networks
Being able to hire student interns and consultancy schemes
Receiving special offers and discounts from business service providers
Get up and running with a Start-Up Scholarship
In addition, final year students and graduates up to five years after graduation could apply for a £15,000 University of Birmingham Start-Up Scholarship.
Exclusive to participants who are enrolled on the UoB Elevate programme, the one-year scholarship is intended to support the business in getting started and scaling up.
The scholarship has been made possible thanks to generous gifts from donors like Michael Rawlinson (BSc Economics, 1991) - pictured with his wife Bozana.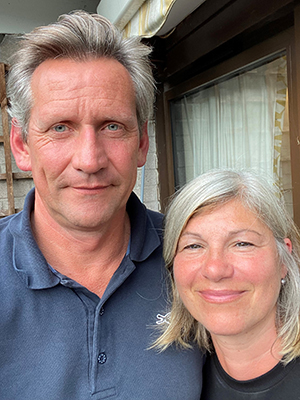 Michael says: 'I've decided to fund a scholarship because when I left University, I had a business plan but I didn't have funding or people I could ask about things. I ended up giving up and doing a Masters instead.
'I had a wonderful career in the city and ended up setting up my own business. But I always wonder what would have happened if I had that support back then. So this is my opportunity to give other people that chance.'
To find out more, email the B-Enterprising team.

If you would like to support student or graduate entrepreneurs, you can share your expertise as a mentor or support a scholarship. Email us to get a conversation started.