Jack Garner achieved more in four years at Birmingham than some do in a lifetime. The 2019 Alumnus of the Year tells his remarkable story.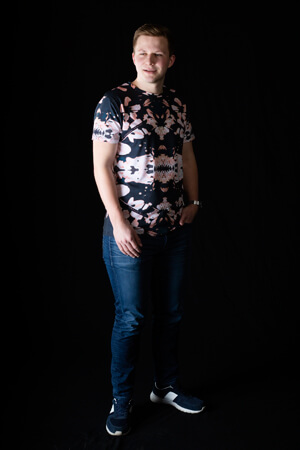 With more than 300,000 alumni, it would seem only natural to think that Old Joe has had many inspirational individuals pass underneath its famous archways following their graduation.
And yet your correspondent would be willing to bet that very few will have overcome the challenges that life has thrown at 23-year-old Jack Garner (MSci Mathematics, 2018), the 2019 Alumnus of the Year.
Left blind at the age of 11 by a genetic condition that was subsequently diagnosed, Jack is the first member of his family to go to University and shrugged off any obstacles to earn a First class degree.
But that's not the half of it. In October 2018, he became the first blind British person to climb Europe's highest mountain, the 5,642m-tall Mount Elbrus, a spectacular achievement to add to his previous treks up Mount Kilimanjaro and to Everest Base Camp (significant feats in themselves) - and earning him the Alumnus of the Year award.
Old Joe got in touch to welcome Jack back to campus for an interview and photoshoot – and that's when we found out mountaineering isn't even his most significant passion.
I want to ride my bicycle
It turns out he's seriously good on a bicycle too, and has been part of the GB Para cycling foundation programme, a development pathway programme aiming to train athletes up to Paralympic standard.
He explains: 'I have always been a sporty person but losing my sight put things on hold. The next year, I took part in a kids' "give it a go" triathlon through my school.
'That was my first experience riding on a tandem bike. I got my own a few months later, joined my local club and have been competing in triathlons since 2011.
'Cycling was my favourite out of the three elements of triathlon. In 2017 I got more involved in track cycling and that has become my focus – I enjoy the competition, and the adrenalin and sense of speed that comes from racing on the track.
'I've been on the radar of the GB Paralympics team and had the chance to compete in international events, like a World Cup event in December at the Olympic velodrome in London.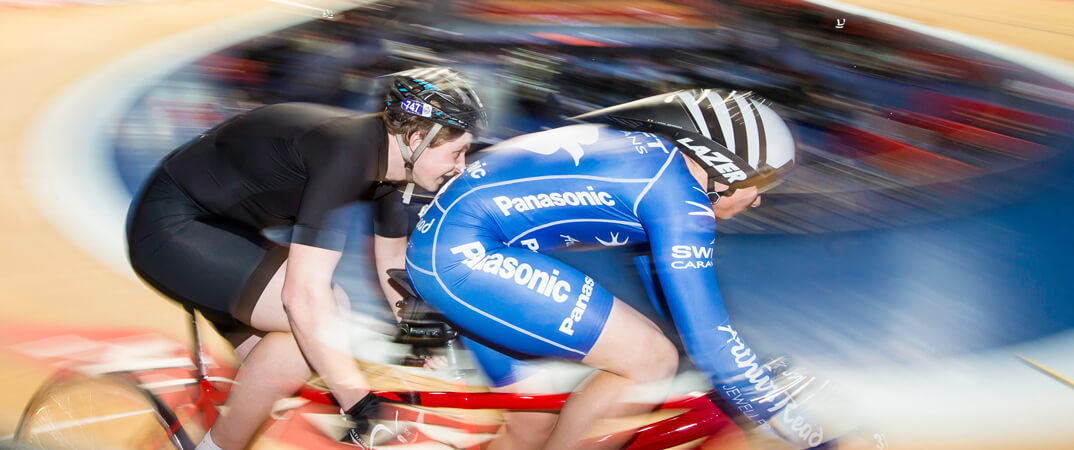 'I was racing alongside Olympic and Paralympic gold medallists in front of a few thousand spectators, which was amazing. I want to see how far I can take my cycling, and to represent Great Britain in the Paralympics would be a dream come true.'
Heading to the top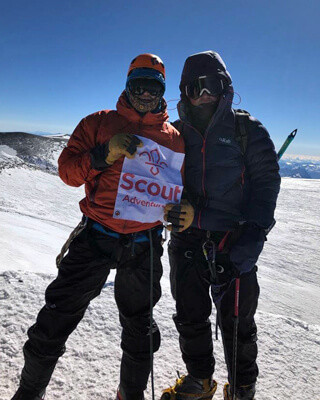 Jack's enthusiasm for triathlon and cycling gave him a strong base of fitness once his interest in mountaineering was piqued. That happened after he arrived at Birmingham and joined the student society Carnival RAG, when he had the chance to climb Mount Kilimanjaro in aid of the Meningitis Research Foundation.
He followed that up with a trek to Everest Base Camp but believes the trip to the summit of Mount Elbrus offered the most challenging and dangerous environment.
'The climb involved using a harness, ice axe and crampons. It was also much colder and a different environment,' he adds.
'We had sessions dedicated to learning how to perform an ice axe arrest, how to walk in crampons and when to be tied up, to fix ropes to people. With much of the walking done on ice, it didn't have to be too steep to become dangerous.'
Despite facing the severe cold and winds of up to 70mph, Jack and his guide Paul Etheridge were the first to reach the summit on the eighth day of their climb – which Jack humbly calls 'an amazing feeling of achievement'.
It's clear that Jack likes a physical challenge (he's completed sky-dives, bungee jumps and gone water-skiing for various charities, cycled from Lands' End to John o' Groats… oh, and run the London Marathon). But what is it about mountaineering in particular that excites him?
'I like the whole experience of it; from planning the trip through to the climb itself. The expeditions bring together people from all different walks of life, all committed to reaching the summit, one step at a time. You soon get to know the group very well and I've come out of each trip having made some amazing friends.'
Having such a 'can-do' attitude also ensured he was able to make the most of every opportunity at the University. While studying his A-levels at a residential college had given some experience of living away from home, moving to Birmingham was still a far cry from a college of 80 pupils.
Jack is believed to be the first blind person to study Mathematics at the University, necessitating some adjustments to the teaching of the course. With help from Dr David Leppinen, the Head of Education in the School of Mathematics, they ensured he could access lecture notes, submit coursework and take his exams without being at a disadvantage.
He threw himself into the social scene, joining a number of societies and serving on the RAG committee, and describes his days at University as 'a great experience'.
'I have great memories of my time at Birmingham. Initially I was concerned about getting about and involved with things as much as I would like. But the more clubs and societies I joined, the more I felt able to do. I really enjoyed my degree, met some great people and made friends for life.
'It feels great to be named Alumnus of the Year. I had a great four years and some amazing experiences. To be recognised so soon after graduating is extremely flattering.'
Do you know a graduate who has achieved amazing things? Let us know and they could be shortlisted for the 2020 Alumni of the Year award.