Four Birmingham alumni, who all graduated together with the same degree, are now working at St George's Park in Burton upon Trent. They explained to Old Joe what it's like to be based at the home of English football and how they use what they learned at University.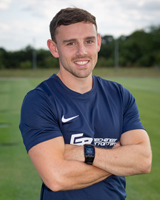 Adam Burton (BSc Sport and Exercise Sciences, 2013)
Role: Lead Physical Performance Coach, GameChanger Performance
Road to Burton upon Trent: Adam came to work at Burton after spells with various football clubs, including working at Leicester City FC – the club he supports – when they won the Premier League title in 2015-16.
'My job involves both sports science and strength and conditioning. I'm trying to improve the conditioning of players, whether that be fitness on the pitch or off their feet – on bikes, etc. I also do gym-based resistance training to improve their strength, and we can do some profiling of players to see what their physical characteristics are like.
'I could see professional footballers all the way from Conference to Premier League level. They've been injured at their club and come here to do their rehabilitation. Being injured is a challenging time mentally as well as physically, and a change of environment can help them work to get fit again.
'If you want to work in football, then St George's Park must be seen as the pinnacle. It's a great honour with access to so many facilities, compared to individual clubs. Ahead of the World Cup, the atmosphere was very positive. Players were excited and looking forward to the tournament and that showed in how they performed.'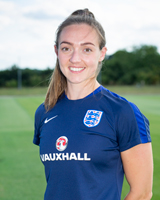 Emily Cain (BSc Sport and Exercise Sciences, 2013)
Role: Physical Performance Coach, England Women Under-19s & PhD researcher, Physical Performance Department, the Football Association
Road to Burton: After graduating from Birmingham, Emily worked as an intern at Sheffield United FC before combining an internship with British Swimming with her studies for a postgraduate degree at Loughborough University. A role as strength and conditioning coach with the Hong Kong Women's Lacrosse team followed before taking up her current position with the FA in 2017.
'While we all recognised each other from our lectures at University, I got to know Francis and Adam better in third year as we were all doing internships within Applied Sport – me with Bourneville Rugby Club, Francis and Adam with Birmingham City Ladies FC. We were doing the same kind of work and wanted the same kind of thing from our careers.
'When I started at St George's Park, I remember walking onto the indoor pitch one day and saw Vicky. We both said: "What are you doing here?" I just said: "I work here!" with my England kit on.
'My career has always been about working with the best people possible and putting myself in the best opportunity to develop. I'm happy working in any sport.'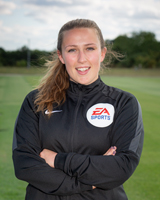 Vicky Smith (BSc Sport and Exercise Sciences, 2013; MSc Sport and Exercise Sciences, 2015)
Role: Sports Physiologist, Professional Game Match Officials Limited (PGMOL)
Road to Burton: Vicky's Masters at the University provided her with an opportunity to work at Burton through an internship with Perform, the predecessor to GameChanger Performance, where Adam now works. After a year at West Bromwich Albion FC, she returned to St George's Park to work for PGMOL, where she was soon joined by Francis Bunce.
'Francis and I were in the same undergraduate study group at University and we both started with placements at Aston Villa together. We both ended up working at West Brom, before I moved to the PGMOL, and Francis joined the team six months later.
'We're very good friends but we also work extremely well together. Having that trust in a game like football is huge. You trust and respect each other, and when we do differ on things we'll discuss it, come to the right conclusion and have a united front as a Sports Science department to our officials.
'Working at St George's Park has given me my career highlight: in my first spell as an intern with Perform, I had the chance to work with the 2014 World Cup squad ahead of their flight out to Brazil.'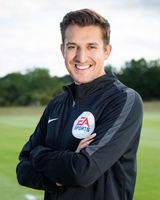 Francis Bunce (BSc Sport and Exercise Sciences, 2013)
Role: Sports Physiologist, Professional Game Match Officials Limited (PGMOL)
Road to Burton: Francis got his first experience of working in football during a third year internship with Birmingham City Ladies FC. Following graduation, he worked at West Bromwich Albion FC before starting his current role training English football's professional referees.
'Working at St George's Park is brilliant. We get to bring the match officials here every two weeks to train in a world-class working environment alongside other teams from the footballing world. Being based here means we feel part of the wider footballing family.
'Our job is to ensure that the referees who work in English football are at their peak physical condition to cope with the demands of the game. That in turn should help them to make the best decisions possible during a match.
'Studying at Birmingham meant I got an excellent academic underpinning to everything I do now in my career. I was also studying alongside other really talented sport scientists, who had a real drive to work in the field, and that was a real motivation to me. I also learned that it's really important to network, get out into the environment of sport science and meet people to see how the work is actually done.'
Are you working with friends and colleagues you studied with at Birmingham? Have you set up a business together? Let your Alumni Communications Team know.