The importance of looking after your mental health at home and at work has never been clearer. Two University of Birmingham graduates, whose start-up business promotes good practice in the workplace, share their tips for both employers and employees.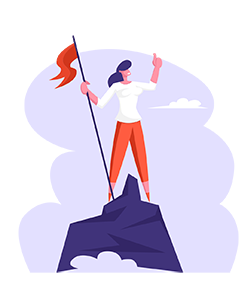 Bloomwise was created to provide proactive mental health support to people at work by current PhD researcher Frankie Lewns (BMedSc Biomedical Materials Science, 2019) and Dr Paris Lalousis (MSc Brain Imaging and Cognitive Neuroscience, 2017).
Bloomwise helps employers support their team's mental health in three ways: an in-depth Mental Health Plan; workshops to educate and empower people to feel confident when looking after and talking about their own wellbeing; and a mental health app that benefits both employers and their employees.
Personal stakes
Paris and Frankie have their own experiences with mental health. Paris was diagnosed with panic disorder at the age of 14 and adds: 'Now I work in the field, I have always tried to destigmatise the way people talk about mental health by being open about my personal circumstances.'
Frankie says: 'I have had more friends and family members experience poor mental health than not, and have also been in a workplace where I felt there were little to no initiatives, so the issue struck a chord with us as a topic we are both passionate about.'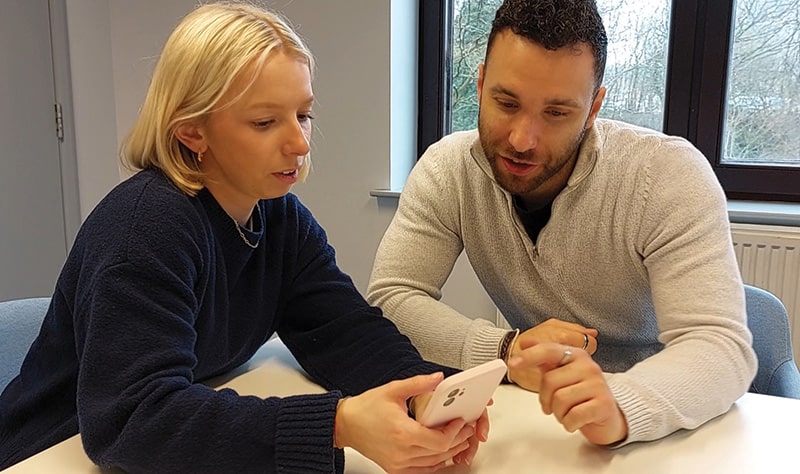 Paying forward the support to get started
Bloomwise was further developed as part of the UoB Elevate programme for start-ups, receiving funding to create the workplace app. Frankie and Paris are now returning the favour by offering their perspective and guidance to those thinking of setting up their own business.
Bright minds: the interns who became part of the Bloomwise family
Bloomwise took on two interns through the University of Birmingham Start-Up Scholarship, a programme funded by alumni donations.
Saba Shahzad (BSc Business Management, 2023) and Millie Cullis (BSc Psychology, 2023) helped create the mental health workshops so successfully that they both returned to the company to deliver the workshops as full members of the team.
Frankie adds: 'The interns were absolutely amazing in creating an entire product for us that is currently our biggest revenue generator, and for which we get terrific feedback from those it is helping in their workplace.'
Such was the success of the scholars that Bloomwise took on another three new interns through the scheme. Paris says: 'We highly recommend getting University students working for your business. The pool of candidates is outstanding, they're all highly motivated and the level of work they provide exceeds expectations. It's an amazing resource.'
Bloomwise's tips for employers
Lead by example
Use the right language, provide an inclusive environment, and share your own experiences that you've had with mental health. A culture of openness will give others the confidence and freedom to talk and act upon their experiences.
Emphasise the co-creation of mental health initiatives
Don't introduce ideas without consulting with your team, or create focus groups if it's a very large organisation. The interventions and initiatives that are co-created are the ones that are the most successful.
Keep it dynamic
Whatever you create can't just sit still for years. Keep thinking about what changes can be made that fit into the way the world is operating.
Bloomwise's tips for employees
In the workplace, initiatives should be led by management. It's the responsibility of the workplace to provide those things. However, individuals can still help themselves:
Self-monitor
e.g. by creating a journal. Our mental health is affected by many factors, and these will be different for your work and for your life at home. Self-monitoring on a regular basis gives a lot of insight into our own wellbeing.
Take regular breaks
It seems simple, but too many people do not do it. If it's not a habit, then schedule 10-minute blocks into your diary, or set alarms on your phone. Move away from your screen and ground yourself in the present moment while you make a drink or stretch your legs.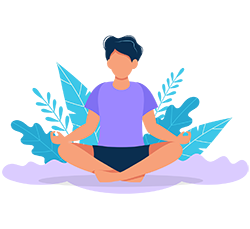 If you spend any time working from home, ensure that there is complete separation between your work life and your personal life
Ideally create a dedicated area for work (so not your kitchen table). If you cannot do that, then at the end of the work day shut down your laptop and get it away from your sight. Dress as if you are going to work and when you finish for the day, take a walk to clear your mind.