Meet the organisations generating more opportunities for black, asian and female talent – and the individuals supporting each other to succeed.
Whatever your ethnicity, gender or background, everyone should be able to fulfil their potential at work. So why isn't everyone getting these opportunities?
Sammy Li, Equality and Diversity Advisor for Students, says: 'A high proportion of black and Asian students at the University come from the most deprived postcodes, reflecting long-term inequalities. In 2020/21, 45% of students from these most deprived areas were black and 38% were Asian, while only 5% were white. These life circumstances mean students face more barriers in both their education and careers, and have fewer resources to help them overcome them.'
How scholarships can make a difference
Scholarships help break the glass ceiling. By attracting and supporting a diverse student body, the University can support increased diversity in the workplace, with targeted financial aid and mentoring that send a strong message of encouragement to them.
The business case for diversity
Organisations really need the talent and insights these students have to offer. In 2019, the 25% most ethnically and culturally diverse companies were over a third more profitable than those in the lowest quartile (McKinsey). Making use of the broadest range of talent, perspectives and ideas gives these companies an edge.
The graduates supporting the next generation of doctors and leaders
Two alumni have created scholarships to support students in entering key professions. Firstly, Victor Thomas (BSc Chemistry, 1963) has funded a medical scholarship for black and Asian students in memory of his father, Professor H Oritsejolomi Thomas, who studied medicine at Birmingham and was the first Nigerian to be admitted to the Royal College of Surgeons of England.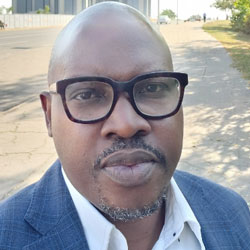 Secondly, an MBA graduate created an African MBA scholarship. Leke Akinkunmi (MBA Global Banking and Finance, 2013) was one of the first to be supported by it.
Leke says: 'I had saved up for years for the MBA while working in finance, but I took a bad hit when our national currency fell. Before this, I had never applied for financial help for my schooling but the course administrator encouraged me to apply for the African MBA Scholarship.
'The MBA went beyond academic learning, as it gave me practical tools and resources that remain relevant now. For instance, understanding the consultant's role has proven invaluable, as my most successful projects to date have involved working as an internal consultant.
'Since completing the MBA, my family and I have tried to pay forward the kindness we received by helping with the education of vulnerable young children in Northern Nigeria and supporting an agri-tech start-up company that aims to improve food distribution.'
Four companies that are diversifying their workforce through scholarships and bursaries...
Santander: black inclusion in finance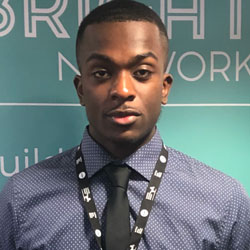 Santander Universities Black Inclusion Programme offers 3,000 students/graduates a free online course by Finance Unlocked. Topics include financial crises, green finance, cryptocurrency blockchains and more. Students who score highly on the online quizzes are entered to win one of 30 Santander Scholarships worth £1,500.
Ayo Ojo (final year BSc Economics student) says: 'The Finance Unlocked platform really exposed me to various career paths within the financial sector that I had little knowledge of. Programmes like these are definitely closing the racial gap within finance.'
Gowling: more diversity in law
International law firm Gowling WLG (UK) has launched its Black Talent in Law bursary scheme with the University. Gowling WLG will support black students at Birmingham Law School through work placements, mentoring from lawyers at the firm and financial contributions. The first three students enrolled on the scheme in September.
Andy Stylianou, Chair of Gowling WLG (UK) LLP, says: 'Black lawyers are under-represented in corporate law firms and we are committed to doing our part to address this and to promote the progression of black students to careers at our firm and the legal profession more widely.'
DeepMind: making AI fair to all
Artificial intelligence (AI) systems are becoming increasingly embedded in our lives. Obum Ekeke, Global Lead, University Relations and Education Partnerships at DeepMind comments: 'AI needs diversity of perspectives and representation from all communities to ensure it can effectively serve society.'
DeepMind is funding four scholarships for black and/or female students who would not be able to study the MSc in Artificial Intelligence and Machine Learning without financial support. Created in response to falling numbers of female postgraduate computer science students, the DeepMind Scholarships help with tuition fees, living costs, a laptop and attending an international conference.
The results: how Lloyds are broadening their workforce and helping communities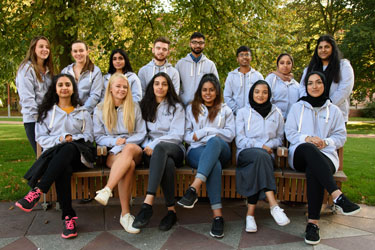 The Lloyds Banking Group has changed more than 100 lives through scholarships at Birmingham since 2013, through gifts totalling almost £1 million.
Students from low-income households receive annual bursaries, paid summer internships and a dedicated mentor, and in return commit to volunteer at least 100 hours a year to help their communities.
More than 30% of graduated Lloyds Scholars progressed onto the Lloyds Banking Group Graduate Scheme