The pioneering Access to Birmingham scheme has changed so many students' lives thanks to the support of visionary alumni.
Old Joe caught up with a few Access to Birmingham* scholarship recipient graduates to see where their degree had taken them and discover the significant long term impact the scheme and scholarship has had on their lives.
Judah Chandra
From A2B to Higher Education Progression Officer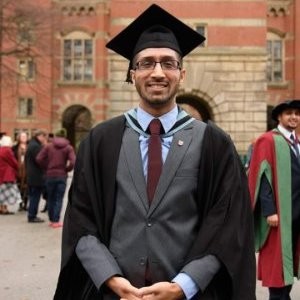 Judah Chandra (BA Hons Social Policy with a Year Abroad, 2016) is changing the lives of young people, helping provide opportunities like the ones provided to him.
Judah completed a local government Graduate Scheme immediately following graduation, gaining a breadth of experience and leadership training in placements including care home finance and education strategy.
Inspired by a desire to be in a more front line role providing opportunities for young people, last September he began working as a Higher Education Progression Officer.
He says: 'I give motivational talks, organise trips out to universities and help run a range of different extra-curricular workshops and activities for young people, to get them to start thinking about their careers and make informed choices for the future. I also work one day a week as a youth worker in South Leeds mentoring young boys.'
Judah says the A2B scheme helped him make the decision to go to university and inspired him to achieve higher grades than were required.
The scholarship meant he could focus on his exams at critical times and cut back hours at his job as a student ambassador. It also helped with his year aboard in Denmark.
'I helped to create this brand new option for my course and was the first in my family to study abroad,' he adds.
To the donors who give to the scholarships Judah says:
'Thank you for the opportunity. You are inspiring a generation of young people to inspire the generations afterwards. You are not just impacting an individual, you're impacting a family and then the wider family culture and then society for the long term. A small ripple in the pond makes a big difference.'
'I couldn't be happier in my career and it's been so rewarding to make a difference to these young peoples lives, especially when you receive positive feedback from parents or when you get comments from students about how much their confidence has increased. I hope to always continue to improve the lives of young people and maybe one day work in outreach in a University.'
Madiha Majid
A2B to Academic Clinical Fellowship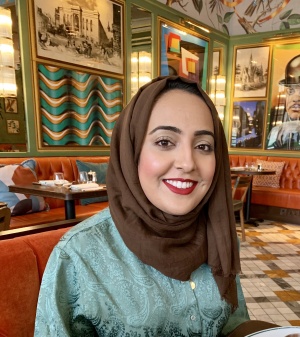 Madiha (MBChB 2016, BMedSc Psychological Medicine, 2014) is getting ready to start an academic clinical fellowship in Psychiatry helping patients and conducting research.
Since graduating Madiha has been working as a doctor, completing her first foundation year rotations in Psychiatry, Gastroenterology and General Surgery and her second foundation year in Ear Nose and Throat (ENT), Medicine and General Practice.
For the past few months she has been working as a locum doctor in ENT to decide what she wanted to specialize in.
'It was a difficult decision but I applied for Psychiatry. I think it was more of what I want from my life. Psychiatry affords a nice work-life balance and I feel that mental health is often overlooked and I think it is really important.
'I've just accepted an academic clinical fellowship, which is a run-through training job. I'm looking forward to doing something that I enjoy and studying again. Hopefully I'll be making a difference in an academic sense on top of the clinical difference I can make for patients.'
Madiha says receiving the A2B Scholarship made it possible for her to travel to placements and buy textbooks and the things she needed for her course, especially as she was studying for so long. In her fourth year it helped with her elective in Malaysia.
'My intercalation year was also funded, which was crucial for my application for Psychiatry and helped to build my confidence and teach me valuable skills which will continue to be beneficial throughout my career.'
'I love what I do, it's very rewarding and I'm very grateful to be in this position where I am able to make a difference to patients' lives. In the future, I hope to be able to help students like I was helped.'
Emma James
A2B to HR International Associate at Deutsche Bank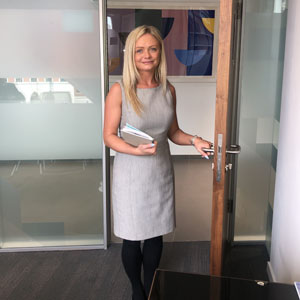 Emma (BA Theology and Religion, 2014) recently received her second promotion at Deutsche Bank and returns to campus every year to help at the Academic Enrichment Programme summer school that once helped her.
Just before graduating Emma started work at Deutsche Bank as an intern, an opportunity provided to her through networks she made at the University and the A2B scheme. She has stayed there for the past five years in HR roles, receiving two promotions, most recently to HR International looking after employees that go on business travel.
Emma has become an ambassador for the A2B scheme and speaks passionately about the difference it has made to her life and the opportunities it has provided her.
'The A2B scheme made me realise there was a place for me at a university like Birmingham. Coming from a background where my parents hadn't been to University, it really broadened my horizon. When I joined the university, it made such a difference to my student experience.'
'Without the support of donors to the scholarship I highly doubt I would be where I'm at today. It's had a massive impact not just on my career but on my life in general and I can not say thank you enough.'
Every summer Emma returns to campus to speak to students at the Academic Enrichment Programme summer schools**.
'I want to encourage students in a way I was encouraged when I was younger and help give them to confidence to know that they can attend the University of Birmingham.'
'My future careers goals are to progress in HR, taking on a leadership role with a strategic focus. I'll continue to promote and support A2B to help others see what a life-changing opportunity it can be.'
Thank you so much to all donors who give to scholarships to support students. Your generosity is truly changing lives for students at Birmingham and beyond.
Find out more about the A2B programme and scholarships (soon to be part of the Pathways to Birmingham programme) at the University website.
Definitions:

*Access to Birmingham: The A2B scheme inspires bright students in the West Midlands to apply to University and succeed where they hadn't necessarily thought it was an option. A2B scholarships and bursaries ensure that financial support is available to those who have shown a commitment to achieve at university but who otherwise may not move into higher education.
**Academic Enrichment Programme Summer School: weeklong residential summer schools for Year 12 pupils in the West Midlands to break down some of the barriers of what going to University is like.
Pathways to Birmingham: This new umbrella programme will bring together A2B, summer schools, scholarships, routes to professions, etc so those aspiring to University can find them all in one place.