Recent graduate Molly Schiller took to Twitter to share the touching motivation behind her Masters research; saving others from the heart condition that her little brother died from.
Molly Schiller's (MSc Biochemistry, 2021) tweet about her Birmingham dissertation went viral on social media this summer, gaining over half a million likes from people around the world.
In 2015, Molly suddenly lost her younger brother Max to an undetected heart condition called hypertrophic cardiomyopathy (HCM) when he was just ten years old. She dedicated her Masters dissertation to researching the genetic causes of the condition.
She says: 'I'm honoured that so many people feel Max's story is worth sharing. Everything I do is to try and keep his memory alive. He was a happy and caring little boy loved by so many, and we all miss him every day.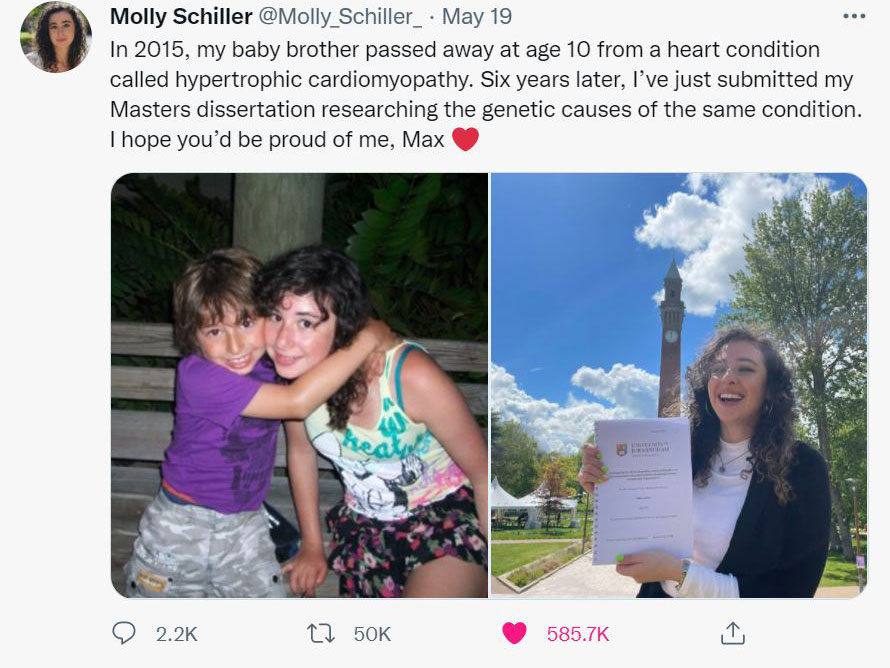 'I've had responses from so many people sharing their story with me, many with the same condition. It affects 1 in 500, so is fairly common but not enough is known about it. In children it is hard to pick up as their hearts are underdeveloped, which is what happened with Max.
'My research focused on confirming whether a specific gene caused the condition – and it has produced a very promising result! Finding the right gene means we may be able to screen children for it in future so they get treatment faster. I've just received my results and achieved a First overall. I want to thank my supervisor Dr Katja Gehmlich for all her support and the chance to study the condition. It means so much to be able to make a difference to other families going through something similar.'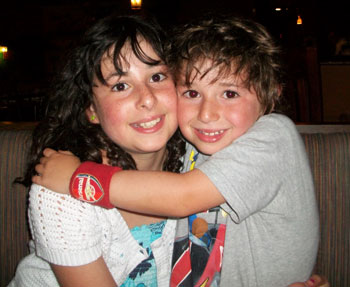 Molly has also spent her time at University raising awareness for the charity her family set up in Max's memory. Max's Foundation funds research and supports those affected by genetic heart conditions in children. They work closely with Great Ormond Street Hospital, fund a research nurse to predict HCM in young children and work with Cardiomyopathy UK to fund a Youth Services Manager who finds ways to support young people affected by cardiomyopathies.
To balance the intensity of her studies, Molly's creative outlet during her time at University was being involved with the Guild Drama societies. She even wrote a play during lockdown called Shadow's Shadows, a modern adaptation of Hamlet that was then put on with the Article 19 Theatre Society.
What next for Molly? She says: 'As it's been so emotional doing the research and helping with the charity, I'm going to take a little time to myself and hopefully do some travelling and teach English in Japan. When I'm back I'm planning to get back into the research and explore getting my PhD.'
Everyone at the University is incredibly proud of Molly and we know that Max would be as well.