Since 1947, students and alumni have been congregating for outdoor adventures in the stunning landscape of Coniston Water in the Lake District. Seventy years since the first tent was pitched, Norman Beech (BSc Geography, 1981), Manager of the Raymond Priestley Centre at Coniston, looks back on the history of this pioneering centre.
Outdoor education offers students so much more than just physical adventures – an awareness of the environment, practical problem solving, seeing fellow students in a new context, benefits to mental health, and much more.
Today, visitors to the University of Birmingham's Raymond Priestley Centre can enjoy conditions much improved from when the centre first opened in the Lake District in 1947.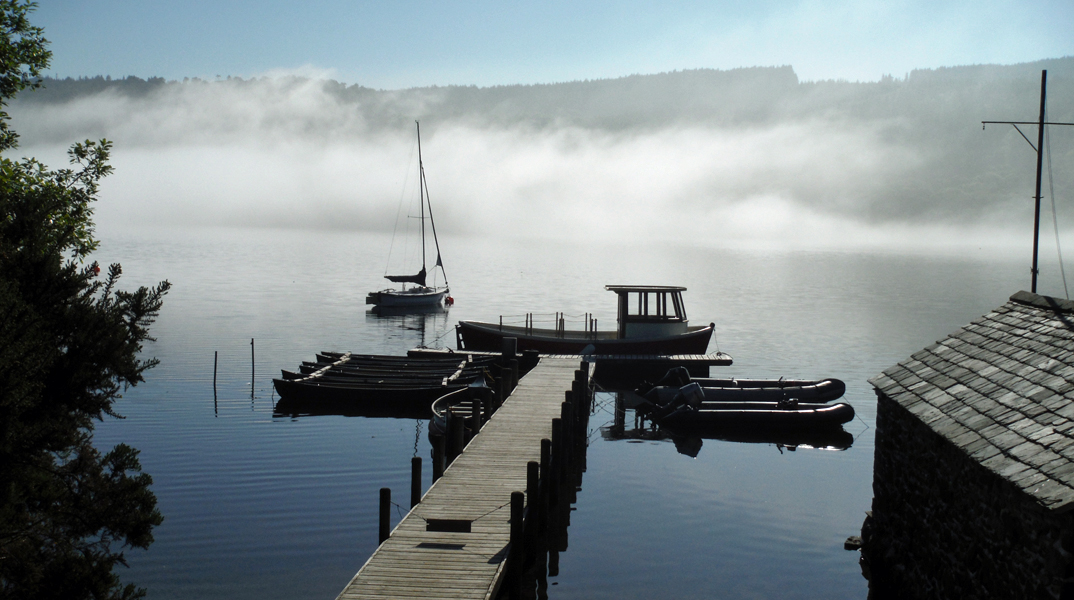 That summer saw the first group visit from the Physical Education Department, organised and led by Max Madders, the Assistant Director of Physical Education. Students stayed in ex-army tents and with very few people owning a car, many hitch-hiked the 186 miles from campus to Coniston.
Norman says: 'In 1947 residential outdoor education was very much in its infancy and the University was certainly among the leaders in the pioneering development of outdoor education that took place in the United Kingdom.'
The camps at Hoathwaite were part of the PE Department's work every summer, growing to include a schools camp when a number of students graduated and took up teaching posts from 1956 to 1970.
Building a permanent home
Student demand for this innovative form of education meant Coniston Water soon needed a purpose-built outdoor education centre, created with the purchase of three acres of land in 1972.
Norman adds: 'George Cooper was the member of the department responsible for outdoor pursuits and he produced the excellent brief for the design of the centre. His dedication and management took the provision of outdoor education to new levels, building on the excellent work that had gone before.'

The centre was named after Sir Raymond Priestley, a geologist who was Vice-Chancellor at Birmingham from 1938-52. He took a personal interest in the development of outdoor pursuits at Hoathwaite, perhaps inspired by his part in expeditions to the Antarctic with famous polar explorers Shackleton and Scott.
Modern-day studies
Now, as Norman explains, the centre has a full time staff to provide residential outdoor education programmes. 'Courses are designed to complement academic studies, and while the Physical Education Department is no more, students studying Sport, Physical Education and Coaching Science visit Coniston as part of their first year teaching.
'And across the University, students in the School of Engineering, Business School, School of Education, Liberal Arts and Natural Sciences, Bio Sciences, Physics and Space, Mathematics, Birmingham International Academy and Sports Scholars all stay at Hoathwaite.'
A special occasion
Alumni, current and former staff gathered at Coniston last summer for a special event celebrating 70 years of outdoor education in Cumbria. Guest of honour was Max Madder's son Graham who was invited to officially open the Max Madders Yurt, which will provide accommodation for up to six people.
'The day was filled with conversation as people remembered their experiences visiting and taking part in various adventures,' says Norman. 'Some people remembered more about their visits than about their lectures!
'All were appreciative of the work that Max Madders had started and the tremendous opportunities it has provided over the years.'
Outdoor adventures at Coniston Water, 1947-present
Have you visited Coniston Water?
The Raymond Priestley Centre continues to provide dynamic outdoor education programmes and prepare people for life's adventures. Did you visit the Centre during your studies? Send in your memories and pictures.
If you would like to find out more about the work being done at Coniston and how you could bring a group to the Centre then please contact the team by email.
The Raymond Priestley Centre runs a Family Camp programme during the school summer holidays for University staff, alumni and their families. The week provides a taught activity programme each day. Families share the Centre and the programme is self-catered, with scope to stay in the main building or to camp in the grounds if you prefer. Email the centre for more information.