If you're visiting campus in 2018 for reunions or events, you will be welcomed by the first stages of a striking new parkland at the heart of the University.
Opening in 2019, the Green Heart will stretch over 12 acres and open up campus for the local community, staff and students to enjoy: a place to study, meet old friends and relax.
Work began in August 2017 and phase one of the University Square redevelopment is complete, with the installation of new lighting, benches and pathways, plus the first of 160 new trees introduced.
The Vice-Chancellor Professor Sir David Eastwood ceremonially planted the first carefully selected mature tree in November, which will join 144 protected trees already on the site.
Director of Estates Trevor Payne says: 'In my role, I have the pleasure of overseeing some truly transformational projects. I would suggest that the Green Heart is the most transformational of all. Its vision and scope have the potential to create a positive impact on students, staff and the community decades into the future.
'I cannot wait to see the next phase of the Green Heart come to completion, and look forward to seeing the remainder of the trees being planted.'
The Green Heart team have planned carefully to create a sustainable, natural and environmentally friendly landscape for both people and wildlife.
An array of wild flowers, native plants and nesting sites will encourage local species to make campus their home. The parkland will also include water features, zoned lighting, rain gardens and energy generating paving. Read more about these exciting features.
Phase two will be finished in June 2018 and University Square will completely reopen. Then work will continue on the former library and North Car Park site to create the final areas of the Green Heart which includes a grass auditorium, new cafe and a lush grass square outside the new library.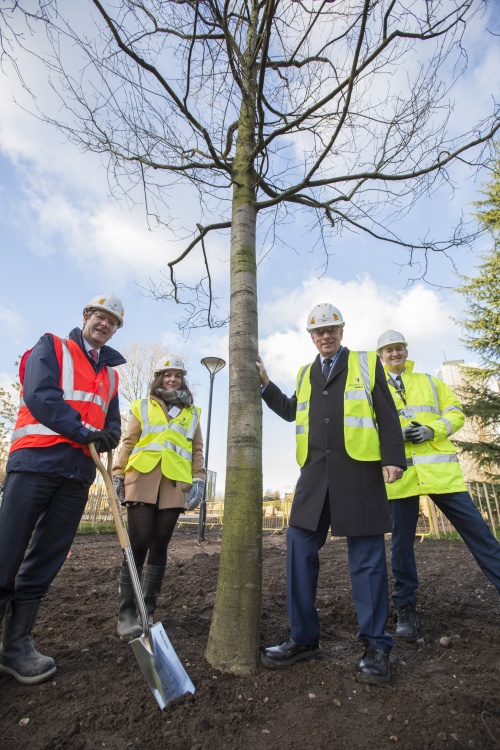 Photo L to R: Willmott Dixon representative Ed Reynolds, Ellie Keiller, Professor Sir David Eastwood, Trevor Payne
Thank you to donors helping students follow in their footsteps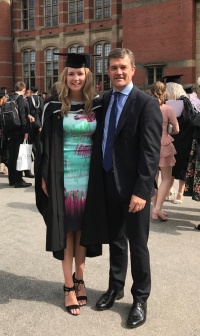 A prominent pathway in the Green Heart will be made up of bricks with the names of donors that have supported the Access to Education programme with a gift of £200 or more.
Father and daughter alumni Martin and Katie Evans both have bricks in the donor pathway, after Martin (BSc Geography, 1987) bought Katie (BSc Accounting and Finance, 2017) a brick for Christmas.

Martin says: 'I was incredibly proud when Katie decided to study at the University. I saw this as an opportunity to give something back by assisting those needing financial support to experience the same fantastic learning that Katie and I both enjoyed.'
Thank you to the group of more than 1,000 donors who have sponsored a brick and helped bright young people achieve their potential.