Do you remember the huge amount of work you put into your Masters or Doctoral thesis? Whether you took your research further or not, your work could help today's students narrow down their research question, find a niche that few others have explored and add something new to the debate.
Preserve your work to be read by today's students and future generations
Until recently, if students wanted to see what researchers before them had written a thesis on, they needed hundreds of hours to look through fragile original copies by hand. Today's digital copies can be searched in seconds, even including typewritten text.
Thomas Jenkins, Digital Assets Assistant Team Leader in the Library, says: 'We are starting with our oldest theses as these are often the most delicate.
'But we are sure there are many hidden gems we haven't got to yet, that hold real insights for today's researchers. We want to hear from you if your thesis might provide useful background context for current students.'
A second chance to discover her father's work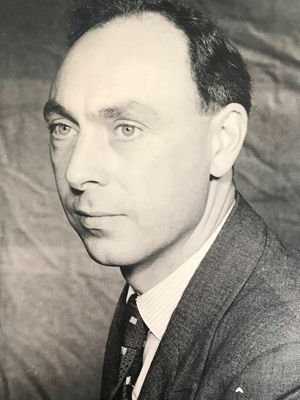 Penny Hunking didn't get the opportunity to talk in detail with her father Dr Edmund Wright (BSc Mechanical Engineering, 1954; PhD Mechanical Engineering, 1961) about his University days during his lifetime. The digitisation gave her a second chance to learn about his studies.

'It was wonderful news that I could find my father's PhD thesis, submitted in 1961. My father suffered motor neurone disease in later life and, after a brave battle, passed away peacefully in April 1991 at the age of 67 years.
'I knew my father had attended Birmingham as a student (and subsequently had been a lecturer at the University) when I was a little girl; however, I wanted to know more. I was delighted to know that as a result of making contact, his thesis is now digitised and preserved online. This now offers the opportunity for others to easily access it online today and add to historical enquiry in this area of mechanical engineering and machinery.'
Recovering the key findings he could not afford to print
Dr Malcolm Higgins (BSc Biochemistry, 1966; PhD Biochemistry, 1969) immediately thought of his 1969 thesis when he was invited to write a major historical review of the development of our understanding of the biosynthesis of isoprenoids (a process in the body that builds complex structures out of simple ones). This diverse and important group of substances (such as cholesterol) are produced in plants and animals, all starting with the same few chemical steps.
His PhD work examined the early steps in the biosynthesis of these compounds so we don't need to take them from plants and animals, which after his studies at Birmingham, led to early investigations into the biological control of the process, with applications in everything from medicines to nutrition. Malcolm says: 'It was pointed out that I am one of the few people left alive involved from the very basic biochemistry to the modern era. My PhD thesis comprehensively reviewed the early work, but I did not have a copy – as a student, I could not afford to bind more than the minimum number.
'When I asked the University Library about obtaining a photocopy, they told me about the digitisation service. I am impressed. Remember, the original was produced on a typewriter long before personal computers and even word processors, but the quality of the scan is very high. So I now have all 370 pages on my computer, a memory stick and instantly accessible to anyone via the British Library.'
Follow two simple steps to nominate your thesis for rapid digitisation
Check the library catalogue to see if your thesis is retained by the library
If it is there, and you would like to see it digitised, get in touch with your Alumni Communications Team