After finding academia 'a bit too slow', Dr Amrit Chandan was named on Forbes Europe's list of 30 under 30 in Science and Healthcare within a year of starting a sustainable energy business.
For many of us, turning on a light or running a refrigerator is as easy as flicking a switch, but in developing countries it's not that easy. Power is mainly generated from oil or solar panels, but energy storage can be problematic and appliances are often run using lead acid batteries that are expensive to import and inefficient.
Amrit (BSc Chemistry, 2010; PhD Hydrogen Fuel Cells and their Applications, 2015) and his business partner Carlton Cummins are working to solve this problem with their business Aceleron. They hope to recycle used lithium-ion (Li) batteries found in electric cars and laptop computers and repackage them for sale in countries where energy storage is an issue.
'The potential impact this could have on the world is huge. That's what excites me about this idea,' Amrit says. 'I want to make a positive change to the planet and to people's lives.'
Aceleron's work will be wide ranging, from helping to keep schools and hospitals running, to powering computers for businesses and home use. Reusing Li batteries will also benefit the environment. Currently, they are not widely recycled and are classed as hazardous materials, meaning companies that replace laptops every two years often store the used batteries because they have no safe way to dispose of them.
Amrit has developed a way to test the batteries' remaining life and is working on a prototype battery pack, which will eventually be exported or franchised out to partners in the developing world. The idea has won support from UK innovation agency Innovate UK, and alongside the accolade from US business magazine Forbes, Amrit and Carlton have won a Shell LiveWIRE Smarter Future Award and a James Dyson Award.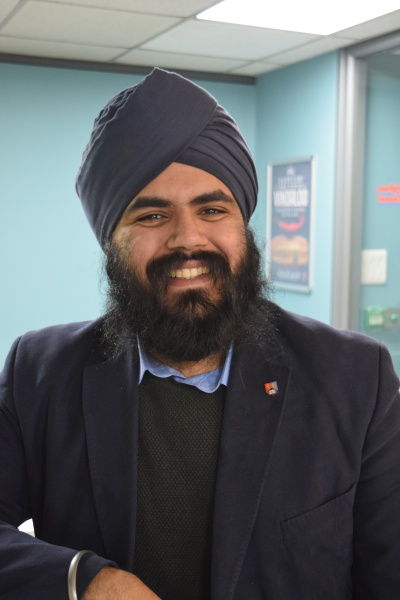 For Amrit the leap from research to entrepreneurship has been fairly straightforward, although it was only when he started his PhD at Birmingham that he realised he wanted to start a business.
'I was really inspired by the extra-curricular activities around entrepreneurship and innovation the University offered, particularly hearing business leaders speak and trying out working as a consultant,' he says. 'I was also very fortunate to work with a range of inspiring academics and mentors.'
These mentors included Professor for Fuel Cell and Hydrogen Research, Robert Steinberger-Wilckens, whose post was made possible through alumni fundraising. Aceleron has also been using the University's BizzInn service, which offers incubation space and business growth support for entrepreneurs, start-ups and academics.
Amrit's top advice to fellow Birmingham alumni inspired to start a business is to get a mentor, and also to never give up. 'Sometimes it feels like we work 24/7, but persistence is key; my PhD really hammered that home for me. You have to believe in what you're doing and if you're persistent it should work out. We don't think there's anything to stop Aceleron going global.' he says.
Aceleron is currently looking for investors to help the business develop. If you can help, contact Amrit.