She's a journalist, television producer, leadership coach, mother, and feminist. Now Marilyn Comrie is turning her attention to equality in motorsport.
Motorsport is a male dominated area. There are few women drivers and often the only female presence is the 'grid girls' seen at the start of Formula 1 races.
Marilyn (BSc Chemistry, 1984) wants this to change. Launching early in 2018, Formula Girl is a clothing range that will support Marilyn's vision of a 'motorsports sisterhood' by using 40% of its profits in sponsoring a female racing team.
'Motorsport is very much about guys with powerful cars,' she says. 'Girls are seen as an adornment when they should be the engineers and drivers.'
Marilyn first got into motorsport through her sons, Blair and Nile, who run a social enterprise in Wigan called The Blair Project. When Nile saw his younger brother Blair unable to pursue his passion for motorsport due to the costs involved, he decided to help young people from all backgrounds build and race cars.
The Blair Project helps students use technology including 3D printers to create cars to compete in the Proto GP Schools Kart Challenge. The organisation is about to expand and has recruited a team of former servicemen to help teach teenagers the skills they need.
'This project can really turn around kids' lives,' says Marilyn, who is Director of Business Development for the project. 'They learn about teamwork, science and engineering and take responsibility for their own cars. It makes motorsport much more inclusive and will plug the digital skills gap.'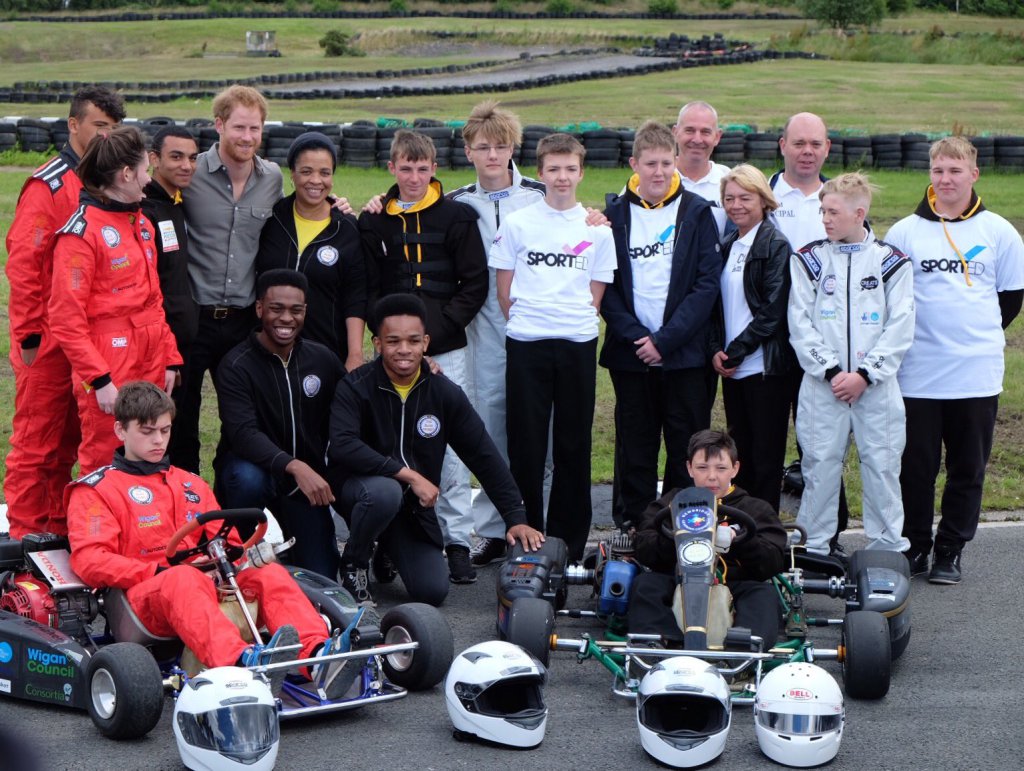 Marilyn (back row, fifth from left) with Prince Harry and her sons Nile and Blair at The Blair Project in Wigan
Marilyn has been an influencer from a young age. As a student at Birmingham she remembers causing a coup when she became the first female president of the Afro-Caribbean society. During 17 years as a television journalist and producer, she was renowned for her calm, analytical mind, which she puts down to her Chemistry degree.
'I've always been somebody who wants to change the status quo,' she says. 'I enjoy leadership and persuading and influencing others. Science taught me that it's okay to get it wrong before you get it right and being imaginative is in the DNA of everything I do.'

Marilyn was awarded an OBE in 2009 for services to women's enterprise, and received the prestigious Kofi Annan African Leadership Excellence Award for contributions to trade and investment into Africa. Her work is driven by feminist values, which she will explore in her forthcoming book Leaderene.
'We need to move away from a system created by men to a more feminine system, and that's not to say men can't be feminine,' she says. 'Society needs a more life-sustaining position that is less about wealth and more about health and well-being.' Her advice to female leaders is to question everything.
'Challenge conventional wisdom and just be you,' she says. 'Young women have so much pressure to look good and conform when they should just have the courage to say "I love me." Discover your talent and then work out how you can develop that talent to contribute to society.''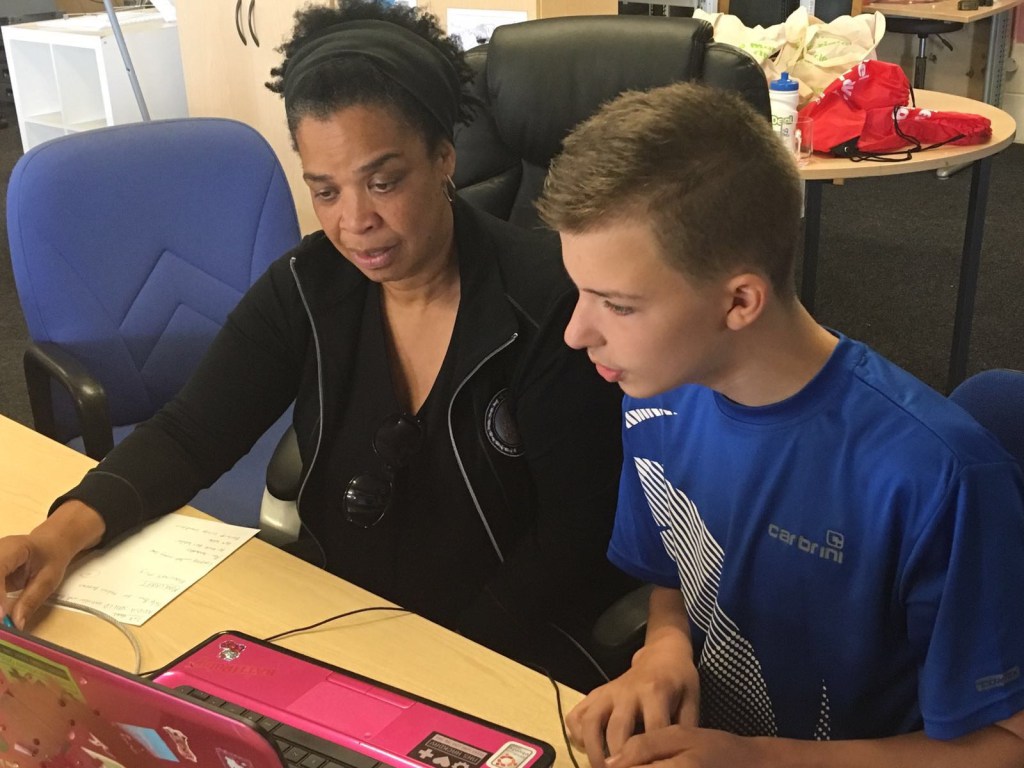 Marilyn passes on her expertise to a student involved in The Blair Project
Follow Marilyn on Twitter @leaderene
#UoBwomen
On International Women's Day (Wednesday 8 March, 2017) we celebrated the diversity of experience of our alumnae, staff and students by asking them to tweet their day on social media. Visit our Storify of the day to find out more.