The recent cost of living crisis has had a huge impact on students, with statistics suggesting nearly half are struggling with financial difficulties and worsening mental wellbeing. While continuing to support less advantaged students longer-term through targeted Pathways to Birmingham scholarships, wider help is available through initiatives including the Community Pantry based at the Guild of Students.
Community pantry and evolving support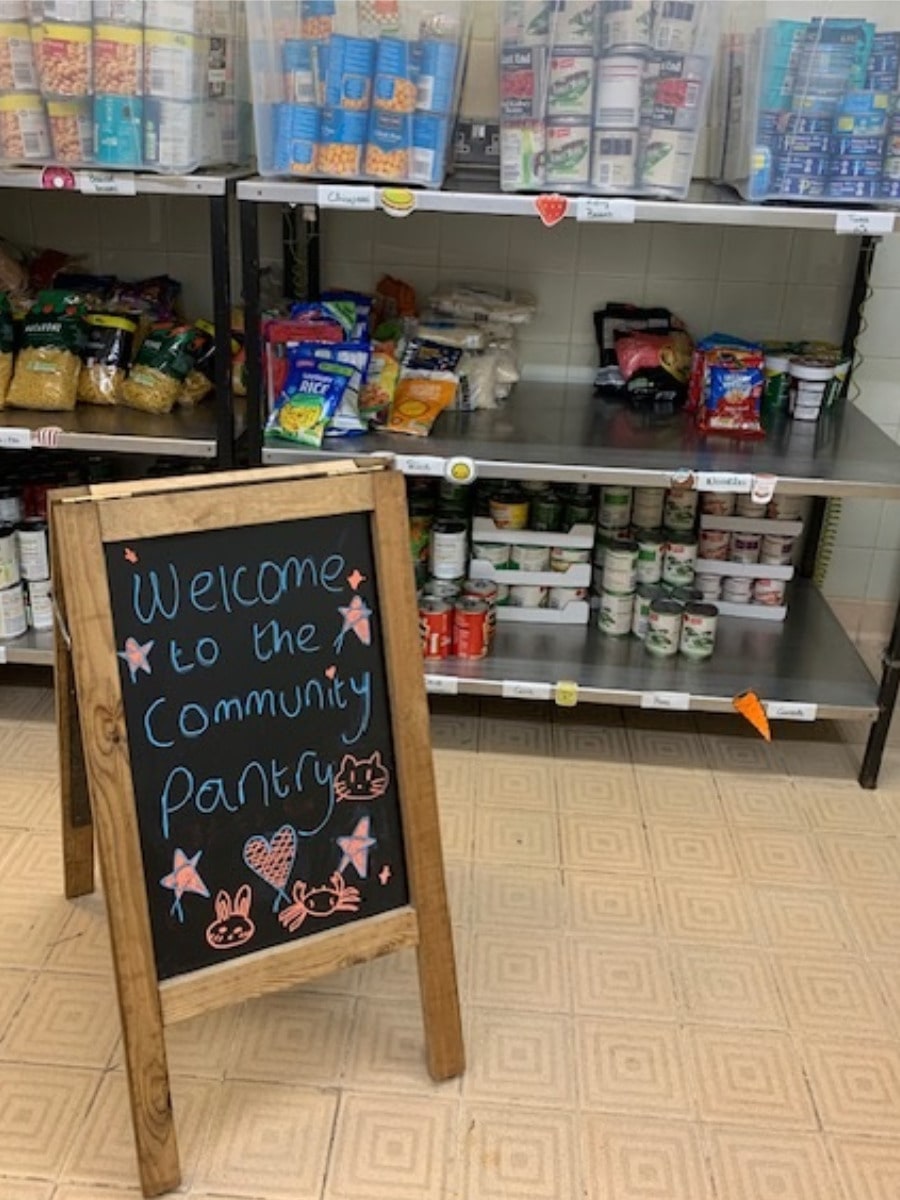 'We don't want people just to grab and go,' says Reeve Isaacs-Smith, Welfare and Community Officer at the Guild of Students, describing their Community Pantry. Initially set up to offer a one-off parcel containing five days' worth of food to struggling students, now additional help from a Money Advisor funded through the University is available when students collect their parcels.
'This is an opportunity to speak to students about what they are going through, offer help and advice and signpost them to other services. Many students find the experience of poverty lonely and isolating. We see it as the start of their journey with us.'
Students helping each other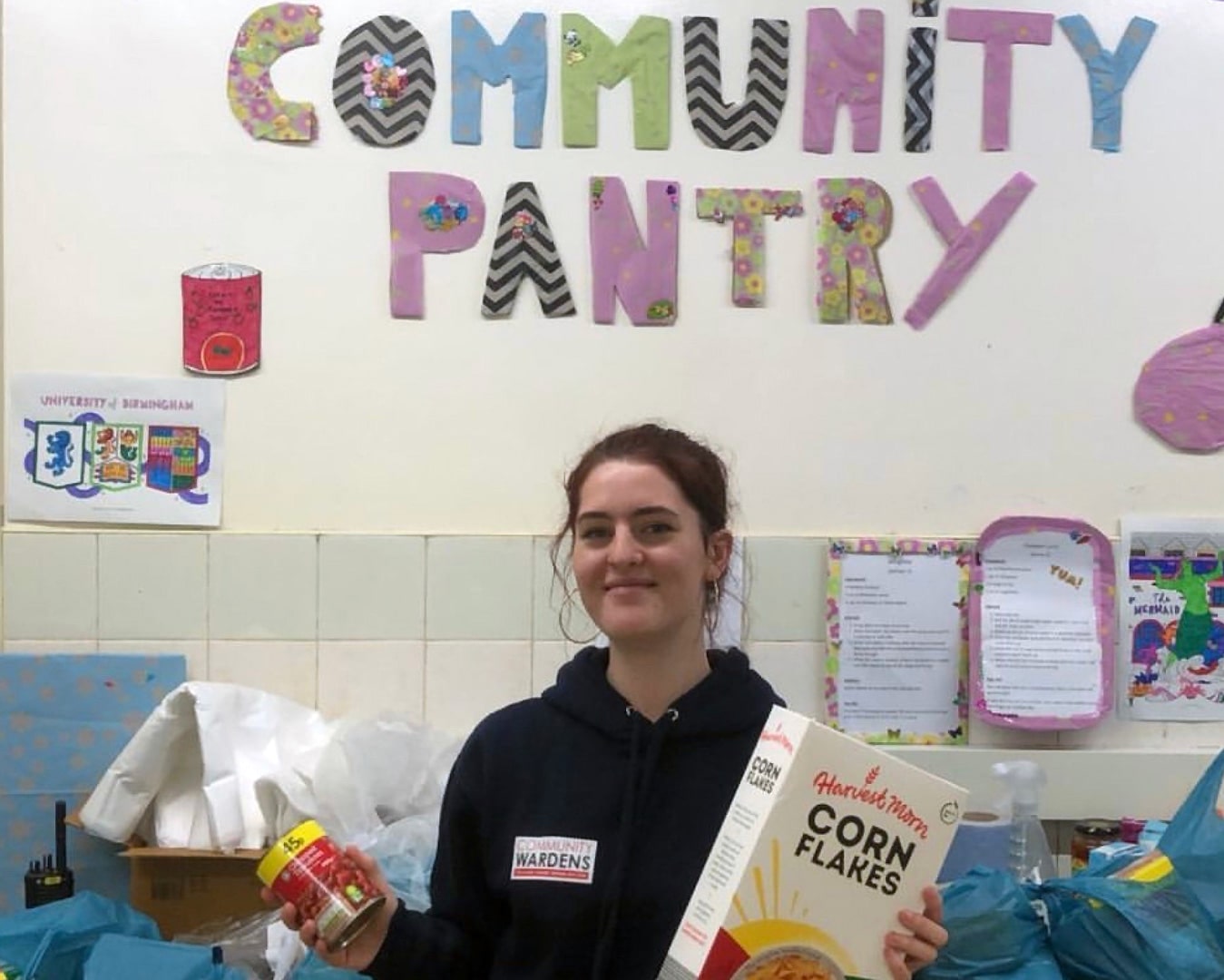 As well as help from Guild Officers and University staff, peer-to-peer support through student volunteers has been a vital part of the offer. Final year student Molly Kenyon, who volunteers in the Community Pantry, explains: 'As someone who started University in 2020, the peak of COVID-19, I know many students struggled - being unable to get support from parents, make friends or find a part-time job.
'Although many parts of life have returned to normal, the cost-of-living crisis means budgeting is so much harder. Many are choosing between eating, heating or having a social life, making it significantly harder for us to focus on getting a good grade.'
Delivered by the University community, supported by you
Despite the University more than doubling its support for students in need, the scale of the problem has meant financial support from alumni raised through the hardship appeal has really helped to bridge the gap. Reeve describes how grateful the student community are for the support: 'Financial help from alumni has been amazing, students are so grateful for help from graduates who may have been in a similar situation. Students struggling for money isn't new, but the scale of the problem is - it's affecting so many people in such a fundamental way.'
Molly agrees: 'Students are incredibly grateful; it is more than just food but a breathing space to regain balance when life is difficult. I have gained a new understanding of how much a week's worth of food and a chat can mean to someone struggling.'
Looking to the future
While help is available now for students who need it, Reeve has an eye to the future and is determined that the support will continue as long as it's needed. 'We will be there as long as students need us, and I think we all realise now that this crisis won't be over quickly. We are already talking about a summer solution for international students and those who may be here all year. We need continued support and sustainable solutions that will be in place to help in the longer term.'
Help from the University of Birmingham community
A huge thank you to all the alumni and friends who have supported students during this difficult time. Here are just some of the ways you are making a difference: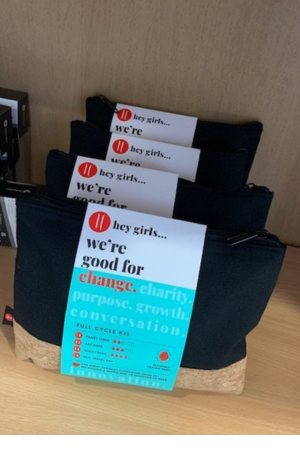 Sustainable period pants
Alumni have funded packs of washable period pants for students who may be suffering from period poverty. This offers a sustainable solution which saves money and is environmentally friendly.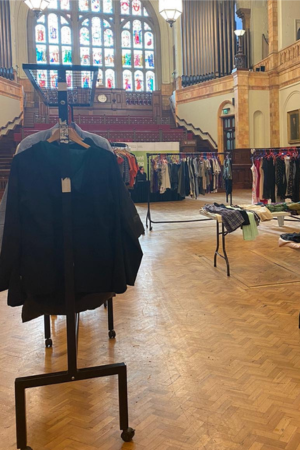 Cost of living fair
More than 500 students attended a cost-of-living fair at the Guild of Students. Advice was on offer from a range of providers, and guidance talks on money and energy saving were offered throughout the day. A free clothing swap allowed students to update their wardrobe without having to pay retail prices.