Acclaimed natural history broadcaster Sir David Attenborough has narrated a virtual reality (VR) exercise to help hospital patients developed by a student at Birmingham.
Patients will be transported into an immersive simulation of the natural world using the latest VR technology. Sir David, who is famous for bringing nature to millions of people through programmes including Planet Earth and Blue Planet, says: 'How splendid it is that all these extraordinary advances in virtual reality should be deployed in such a worthwhile way.'
Electronic and Computer Engineering student Elza Mathew created the exercise when she was studying for her Masters degree. Elza's supervisor Professor Bob Stone says: 'I was thrilled to bits when I heard Sir David had agreed to narrate the project and when I told Elza I could see tears welling up in her eyes.'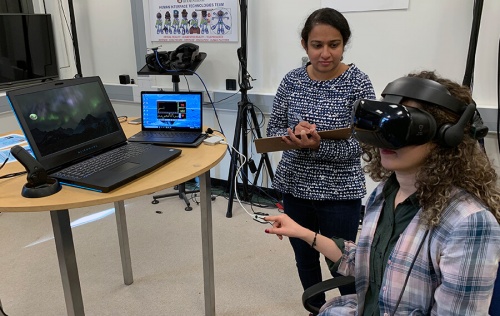 Originally developed for palliative care patients, the project will be trialled as a pain distraction activity at Torbay Hospital in Devon. The spectacular mountain scene moves from dusk to night and features a campfire, fireflies and even the Northern Lights.
Elza says: 'Having no prior experience with virtual reality, it was a steep learning curve but was well worth it. To see my VR project being used in an actual hospital environment would be the ultimate achievement for me.'
Professor Stone's Human Interface Technologies Team is also supporting more virtual reality projects for healthcare, including coastal scenes to help rehabilitation patients regain limb mobility and gastro-intestinal patients improve post-operative lung capacity. As part of a new project for 2019, the team will be working with their colleagues at Torbay to develop virtual domestic scenes to help train care in the community specialists to recognise signs of neglect in the elderly.
Win a pop-up virtual reality viewer
Want to experience virtual reality for yourself? Our pop-up viewer can turn most smartphones into a VR headset. To win, tell us:
What hospital will Elza's virtual reality be trialled in?
To enter, email your answer with your name, address and telephone number by 30 June 2019.
Usual Terms and Conditions apply.