School of Sport, Exercise and Rehabilitation Sciences Lecturer Dr Melrose Stewart was one of three experts involved in an ambitious televised intergenerational experiment this summer.
Channel 4's Old People's Home for 4 Year Olds followed the daily lives of ten four-year-olds over six weeks as they shared school lessons with 11 elderly people in a Bristol retirement village.
While the experiment was inspired by a similar scheme set up 25 years ago in the USA, this was the first in the UK looking at the impact on the health and happiness of older people when children visited their residence.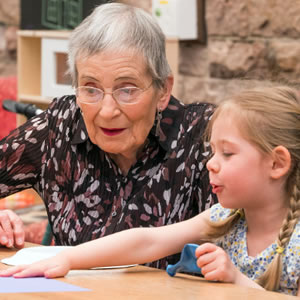 Results showed a positive effect on the behaviour and mood of the adults and Melrose says: 'The sense of worthlessness and isolation that some older adults experience can be offset by participation in organised intergenerational activities.
'The groundswell of goodwill and empathy triggered by the programme is laudable, but insufficient in managing the problem.
'The opportunity exists for government and local authority to take action and to make intergenerational activities part of mainstream education, health and social care strategy.'