The Principal of the University's acclaimed high school has retired after five years in post.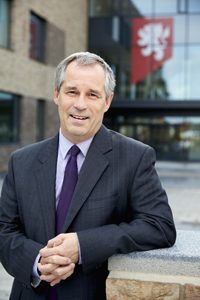 Mike Roden joined the University of Birmingham School in 2013 with a unique vision to welcome pupils of all backgrounds from all over Birmingham. His innovations included developing a character education programme with the University's Jubilee Centre for Character and Values to promote spiritual, moral, social, and cultural development and British values through learning. The school also offers an extended school day, giving pupils the opportunity to expand their learning through enrichment activities.
Thanks to the generosity of donors, the school building was enhanced to provide the best experience possible for pupils. For example, the school's classrooms now have the latest technology fitted.
'My proudest achievement as Principal is seeing the impact we've had on our young people,' Mike says. 'There's the opportunity for every child, from whatever background, to develop social and cultural awareness and that, for me, is a unique thing.'
Grateful students bid Mr Roden farewell, describing him as "kind", "supportive", "special", and "caring" in a video they made for him below.
Colin Townsend, former Head of Denby High School in Luton (rated "Outstanding" by UK school inspectors OFSTED), is the school's new Principal and will take its mission forward.