'Amazing staff and inspirational patients,' motivate the healthcare leader among seven outstanding individuals awarded honorary degrees this summer.
Sarah-Jane Marsh (MA Russian and European Studies, 2000; PGDip Healthcare Management, 2002; MSc Healthcare Management, 2005) has lead Birmingham Children's Hospital since 2009, when she became the youngest ever NHS chief executive.
She successfully managed its merger with Birmingham Women's Hospital earlier in the year, and is proud to have achieved a partnership that is the first healthcare trust of its kind in Europe.
The focus of Sarah-Jane's role is making the hospital a great place to work for its 6,000 staff.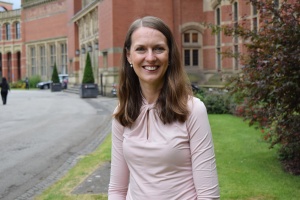 'Organisations don't have two cultures so if we've got happy staff who are working well together we're going to get happy patients,' she says. 'I want families who come here to be confident that they're receiving some of the very best care in the world.'
Sarah-Jane is also chair of the NHS England Maternity Transformation Programme, and is working hard to make maternity care safer, including additional support for women with mental health issues.
She describes her role as 'the most amazing job on the planet.'
'It comes with its challenges as you have to make difficult decisions, but it allows you to make a difference every single day,' she adds.
Other honorary graduands were:
‭Professor David Thouless and ‭Professor Mike Kosterlitz ‭– winners of the Nobel Prize for ‭Physics 2016 – Doctors of Science
‭Tony Garnett – Actor/producer ‭– Doctor of Letters
‭Mirga Gražinyt‭ė‭-Tyla – City of ‭Birmingham Symphony Orchestra ‭music director – Doctor of Music
‭Joan McGregor – Conflict ‭transformation specialist – ‭Doctor of the University
‭Cilla Snowball (BA French, 1981)

‭– Advertising industry leader and ‭founder of the University's Alumni ‭Leadership Mentoring Programme ‭– Doctor of the University
‭