More and more Birmingham students are benefiting from guidance and support from graduates to prepare for working life.
The University's employability service Careers Network is reaching out to even more alumni to ensure that every student who wants to learn from a mentor can find one.
This academic year, 570 mentors are working with Careers Network across various programmes, helping students and graduates with their future development and next steps.
Mentors on the programmes share knowledge, act as role models and promote the growth of employability skills, making a significant contribution to a student's personal and social development.
Introducing an intern to the creative industries
Alumnus James Bunting (BA English and Philosophy, 2011) is an enthusiastic advocate of the University's mentoring programme after being paired up with a Birmingham student in 2017.
He explains: 'My student Grace was interning with a start-up, where part of her role was to launch a podcast series and talk to others within start-ups about how they got their big break and provide careers advice.
'It was really interesting for someone who didn't yet have that kind of career or a permanent job to be interviewing people who had been in industry for 5, 10, 15, 20 years and have done incredibly interesting things.
'I introduced her to various people and was on the podcasts as well. What was really interesting was talking to her throughout that process and trying to open up the right networks and help her navigate the weird and wonderful world of the creative industries.
'Her scrutiny of all those different roles reminded me of some of the things people don't know when they start out. I think we both learnt a lot from it.
'She's now at the Birmingham Start-Up Society and I've offered advice on various projects that she was trying to run: how to pitch it, how to structure a budget, etc. So that was the very functional end of things but I think – I hope – that it was quite useful for her.'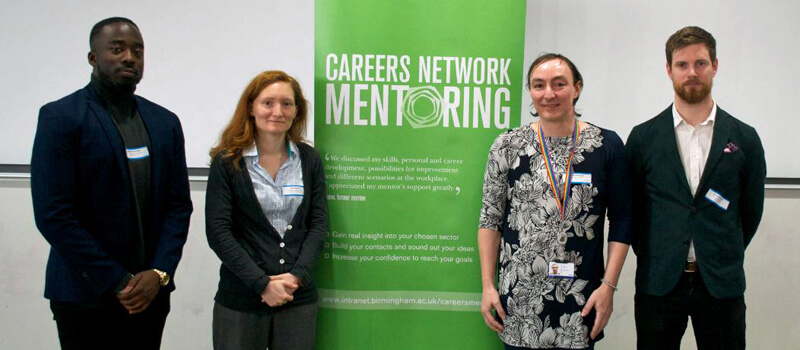 Ademide Adenaike (Company Director, Sons of Pitches), Kate Stewart (Immigration Compliance Officer, University of Birmingham), Rose Taylor (Rail Systems Engineer, Arup) and James Bunting (Senior Account Director, Hope&Glory)
Benefits for both graduate and student
Acting as a mentor offers a range of benefits. The mentor gains a new perspective from a Birmingham student and has a rewarding experience knowing their advice has helped the student progress; while the mentee can offer support to the mentor's business as part of the process.
All career paths are suitable for mentoring: mentors can take many forms, from senior figures in business and industry through to family members.
Alumnus Ademide Adenaike (MPharm Clinical and Experimental Medicine, 2017) is now pursuing a career in music through a capella group The Sons of Pitches but was able to call upon advice within his family for his Pharmacy degree.
He says: 'My first year at Birmingham didn't go to plan exam-wise. I had a mentor within the family who works in healthcare and he gave me lots of different ways to look at how to study and tackle the degree.
'He got to know the kind of student I was and gave me specific tips and advice: "OK, in reality you're probably going to want to revise like this, you're probably got this amount of time to do this".
'Even being held accountable to other people can be really, really helpful, and I'd like to be able to offer similar support for current students myself.'

Support for both career and individual
Careers Network also offers support to LGBTQ students by matching them with mentors from a range of occupations to receive guidance and advice about the choices they made in their careers and coming out in the workplace, in a scheme run jointly by the Equality and Diversity team, the Guild LGBTQ Association, Careers Network and Sean Russell Consulting.
The mentors offer advice on how to be happy and fulfilled as an out lesbian, gay, bisexual, transgender and/or queer employee. Now in its sixth year, it is believed to be one of the longest running LGBT university schemes in the UK.
Rose Taylor worked for Jaguar Land Rover for almost 20 years before starting an LGBT network, coming out transgender and transitioning in the workplace. Rose now works in the rail industry for Arup and volunteers for a number of organisations, as well as offering mentoring support to a current student.
'It's interesting to understand my mentee's journey and what they want to do. I try to just share my journey and what I did, how I felt – that sort of side of it – and very much they'll make their own decision as to where they want to end up.
'I think I'm on a personal journey myself so there's many things that I benefit from. It helps some of my skills, it helps educate me as well. I'm sure I learn off the students as much as they learn off me, absolutely.
'I'm transgender so I know many trans people and they have each contributed something to me, just by sharing their story and their journey. There's a lot of worries that I have about the future. Having them share where they're at and occasionally scream and shout is brave. At the same time they're also helping me, because sometimes that's what I want to do.'