The University's pioneering approach to teaching and research was highlighted again this summer with the announcement of our new Dubai campus.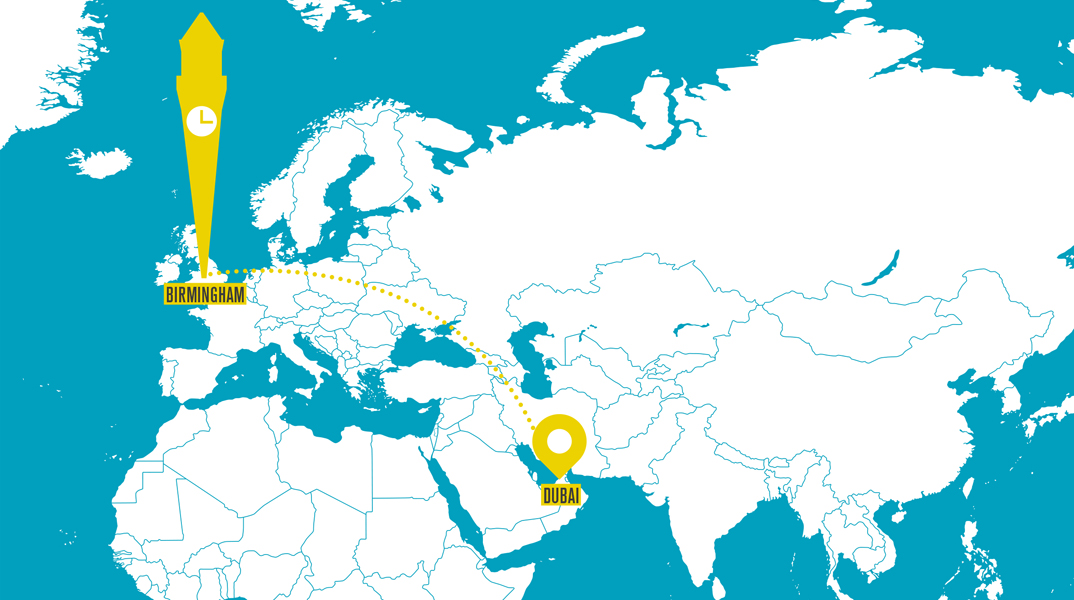 The bold announcement of the University of Birmingham Dubai campus again demonstrates our status as a truly global university, continuing a legacy of connecting talent from across the world. We will be the first top 100 global university and member of the Russell Group to establish ourselves in the Emirate's international education hub.
A new, full-scale campus based at Dubai International Academic City (DIAC) will be teaching 4,500 students by 2024. Its establishment builds upon the existing teaching activity in Singapore and China, plus extensive international research collaborations.
Alongside a new partnership with Jinan University that will allow Chinese students to study in China and receive degrees from both institutions, the news demonstrates the scale of our international plans.
Speaking at the announcement, Vice-Chancellor Professor Sir David Eastwood highlighted Birmingham's existing strategic partnerships in the USA, Australia, China and Brazil and adds: 'Opening a campus in Dubai is the next step in our global mission and demonstrates our ambition as an outward-looking, world-class institution.'
Degrees will be taught, examined and accredited to the same recognised high standards as those delivered in Edgbaston. An initial range of undergraduate and postgraduate programmes, including Economics, Teacher Education, Computer Science, Mechanical Engineering and Business will be offered to the first cohort of students, who will arrive in September 2018.
The new campus offers a great opportunity for innovative methods of teaching and assessment, as Director of Educational Enterprise Ian Myatt explains: 'This is an exciting opportunity to try out new ways of working, which we believe will have a real benefit for all of our students.
'The core syllabus and learning objectives will be consistent with the existing Birmingham-based programmes.
'But we will carefully consider the student experience and expectations, and maximise the use of technology enhanced learning (TEL) during the course development process.'
While world-class teaching facilities will be vital to the campus, research will also play a key role and suitable areas of study that can be distinctive and excellent in Dubai are currently being assessed.
The ambitious international vision of the University is also clear from the new partnership with Jinan. Chinese students will be receiving a full Birmingham undergraduate programme in Mathematics, with a physical presence on the Jinan campus.
Professor Robin Mason, Pro-Vice-Chancellor (International), says: 'Both Dubai and Jinan are a natural extension of what we've been doing for many years already as a leading university; extending our reach outside of the UK.
'The best universities in the world take their foundations and spread them to work internationally.
'To tackle global issues and challenges, we must have the capacity to address them up close.'
The Dubai alumni community
We have hundreds of alumni living in Dubai and a new alumni group has recently started that will hold regular events in the region. Do you live in the Middle East, or have a connection with the area? Could you help students at the Dubai campus to support their career and employability prospects through lectures, workshops and mentoring? If so, please get in touch.