​From marathons to sponsored haircuts, people fundraise for the University's life-changing projects in many ways, all raising vital funds for pioneering projects.
'Thank you to all of our community fundraisers, your generosity goes a long way and supports the University's research aiming to tackle society's biggest challenges.' 
Laura Fairbanks, Deputy Head of Development

​'With the help of your generous donations, we are able to pilot our research in the field and help health workers to save lives. Thank you!'
Dr David Lissauer, Clinical Lecturer in Maternal and Fetal Medicine
Click on the photographs to read more about this edition's Featured Fundraisers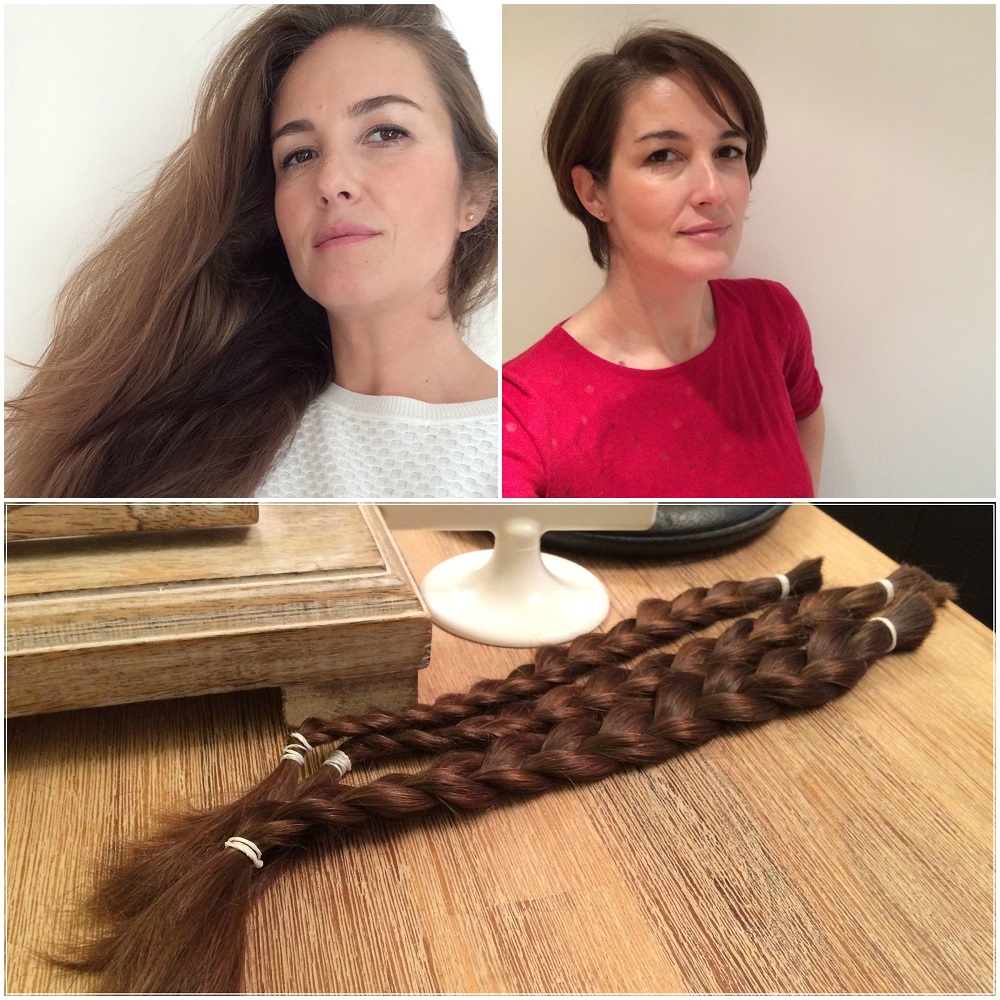 Bengi Bingol Yalcin's Story
Fantastic fundraiser and alumna, Bengi (MSc Marketing, 2003) decided to raise money through a sponsored hair cut to give back to the University and help aid research into children's brain cancer. Bengi explains what motivated her to fundraise: 'I am very lucky to have two healthy children, and my heart always aches when I see a child suffering, be it poverty, illness or anything else. If donating my hair would mean just a little bit more progress in children's brain cancer research, then I'll gladly do it again. Being an alumna of the University I feel I have strong ties to this wonderful community and wanted to give something back to it by choosing to fundraise to one of its amazing areas of research.'
She smashed her original £50 target and raised an incredible £674.41 from her generous family and friends. Her donation will make a big difference to children's brain cancer research at the University.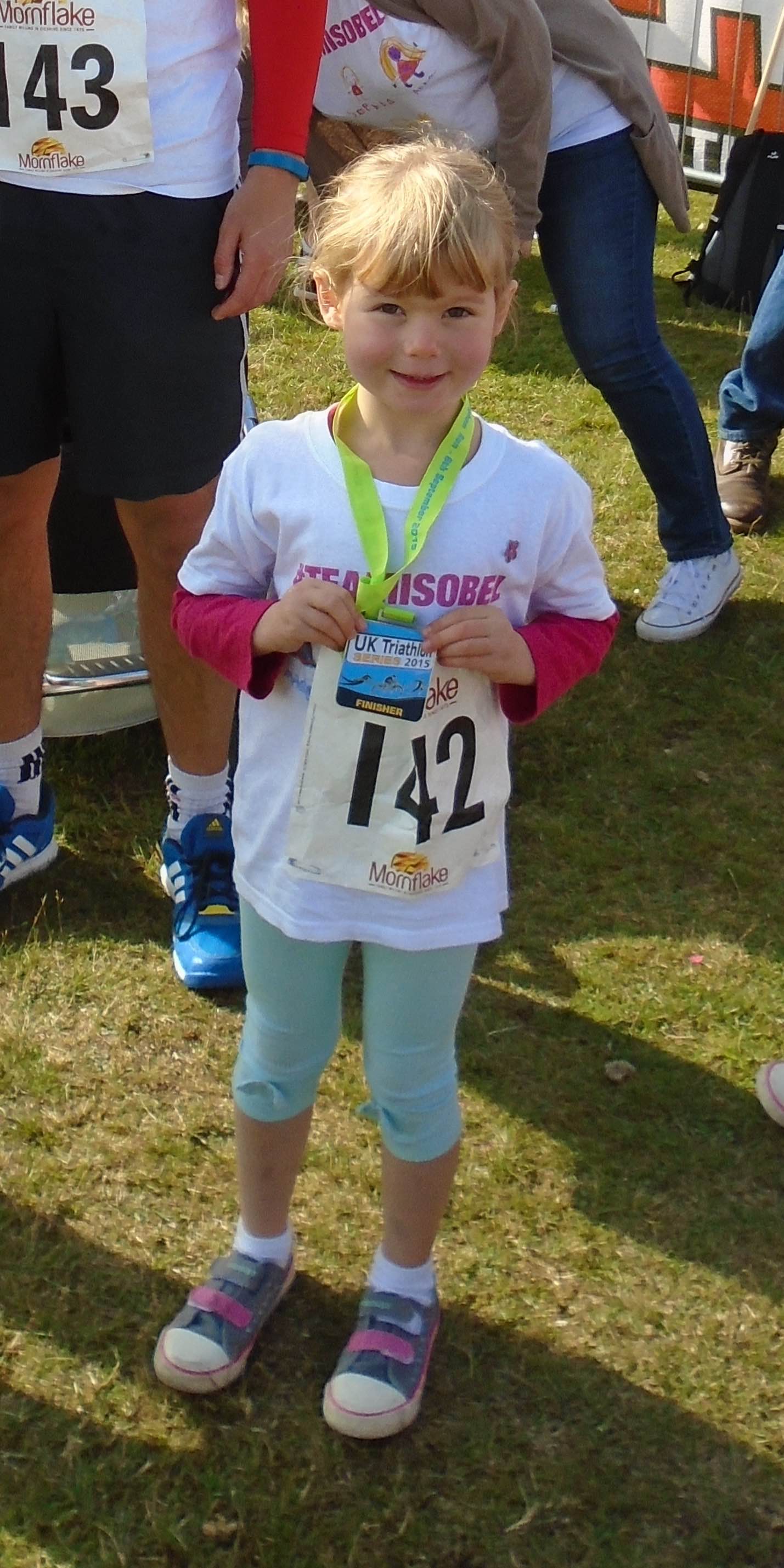 Lois' Story
Lois, at age 5, has achieved something that not many adults can say they have done. Lois decided to fundraise in support of her very brave friend, Isobel, who was diagnosed with neuroblastoma, a rare childhood cancer.
Lois and her father entered the City of Birmingham 5k with the hopes of raising £250 for Dr Frank Mussai's research into children's cancer at the University. On the day, Lois did an amazing job with the run, even starting off at a fast pace that worried her father whether he would be able to keep up! Despite feeling tired after a mile and wanting a piggyback, Lois pushed on and managed a sprint finish to cross the line in a respectable 47 minutes 30 seconds to collect her medal.
Lois' father, Andy said: 'Obviously as her parents we're really really proud of her, but she received such a lot of support and kind words from so many people I think she was a bit overwhelmed by it all. I still don't think she understands just how much money her little legs raised by doing this run.'
Lois raised more than six times her fundraising target generating £1,538 in total! Her final comments on the day were that she was "really happy to do [the race] for Isobel."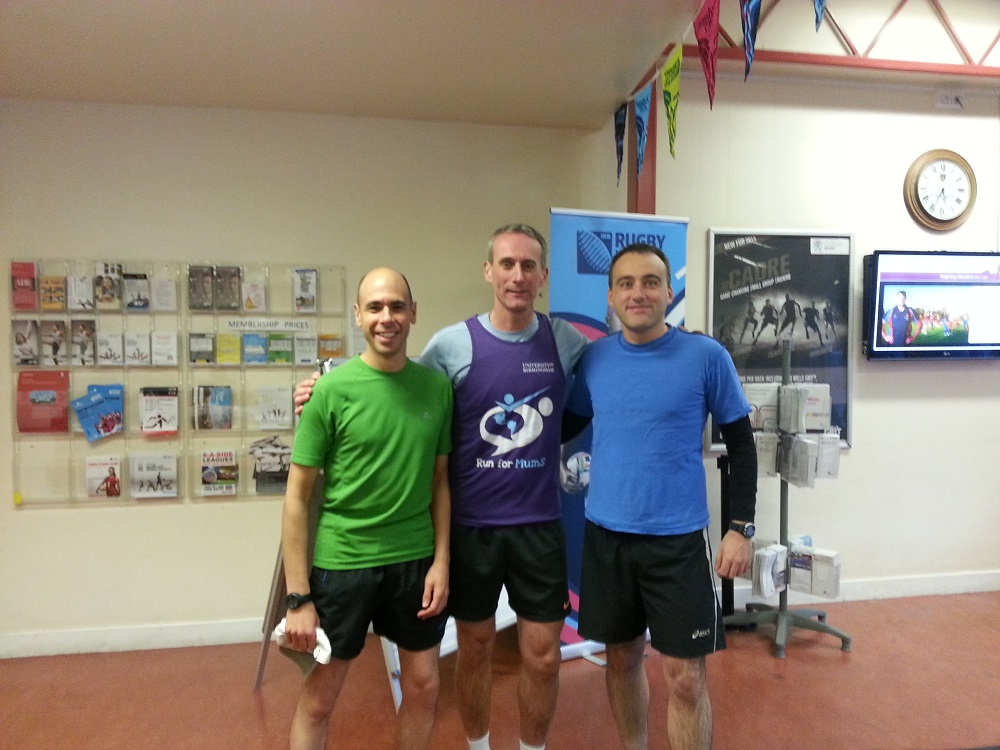 Research and Innovation Services (RIS) Staff Fundraising
Super staff members Steve Taylor (BSc Physics with Astrophysics, 1994), Paul Edwards and David Coleman from the University's RIS department decided to run the Great Birmingham Run half marathon last October for global maternal health research at the University.
As experienced runners, the team were slightly apprehensive about asking friends and family for donations towards their hobby. However, they set themselves a specific time goal of under 5 hours collectively – approximately 1 hour 40 minutes per person, which is quicker than the average running speed. They successfully fundraised £400 to help save mothers' lives in the developing world with a few minutes to spare.
Together with 11 other runners, Steve, Paul and David helped to raise over £2,500 for global maternal health research. The money will go towards enabling women to survive maternal sepsis; tackling crucial malnutrition problems and providing emergency transport in countries such as Malawi, Pakistan and Tanzania.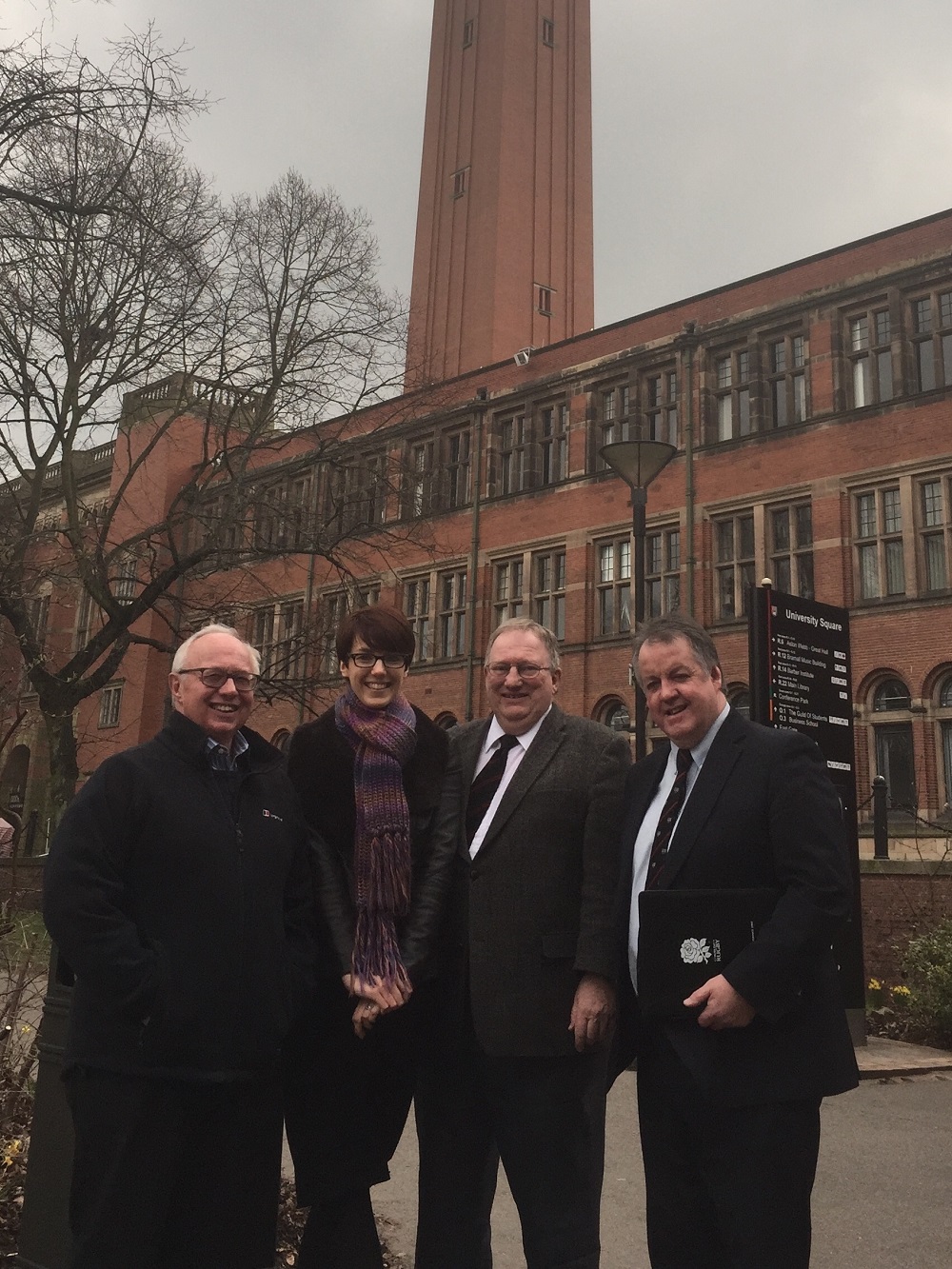 Moseley Rugby Club Players' Association
The University also benefits from funds raised by local community groups such as the Moseley Rugby Club Players' Association.
'Moseley Rugby Club Players' Association are proud to support the University of Birmingham cancer research programme, specifically prostate cancer research, because the cause is dear to our hearts. In the last three years we have lost two friends to prostate cancer and several more have tested positive and required treatment.'
The Association has raised £1,000 for prostate cancer research through a series of annual events.
Pictured L-R: George Walters, Andy Arnott (BEd Social Sciences, 1976), and Andy Johnson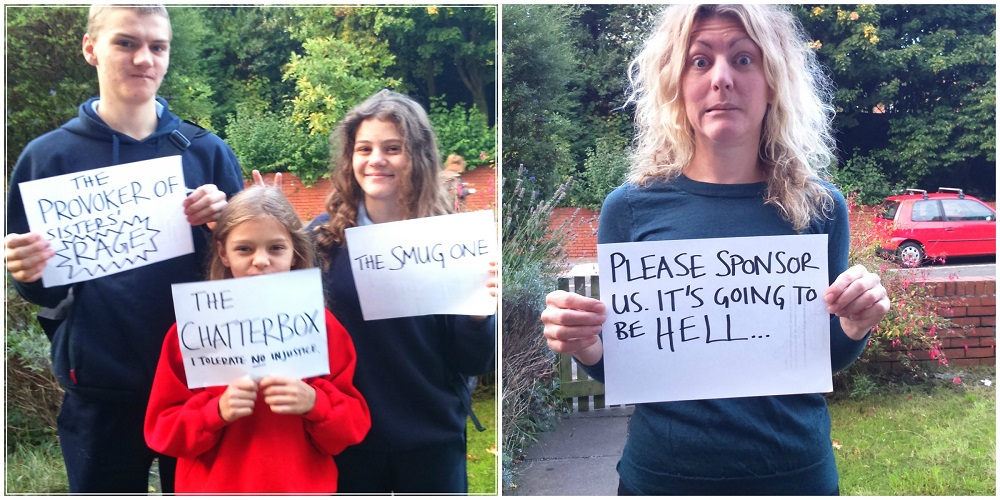 Kerrie's Story
Keen runner and Deputy Head of Alumni Relations at the University, Kerrie Holland, took on the Great Birmingham Run last year to save women's lives.
Kerrie commented about what inspired her to put on her running shoes: 'I want to support some really inspiring research happening here at the University of Birmingham, which will change the future for mothers and their families in some of the poorest countries in the world. I've been lucky enough to hear our researchers talk about what they are doing and it's beautifully simple - stopping women dying after childbirth from sepsis by developing a practical Sepsis Bundle of equipment and guidelines.
'This research will save women's lives and change the future for their families. In short, it'll mean more women will be around to love, chastise and grumble about their children as they grow up, just like I do. And without this research, some of those women just won't be there to do that.'
As if that was not enough, she also involved her children (Dylan, Evie and Liv) in an effort to raise more funds with the second part of her challenge - a family sponsored silence with provocative challenges on for the length of time it took Kerrie to complete the run. Kerrie and family completed both parts of the challenge while raising £385 that will make a huge difference to mothers around the world.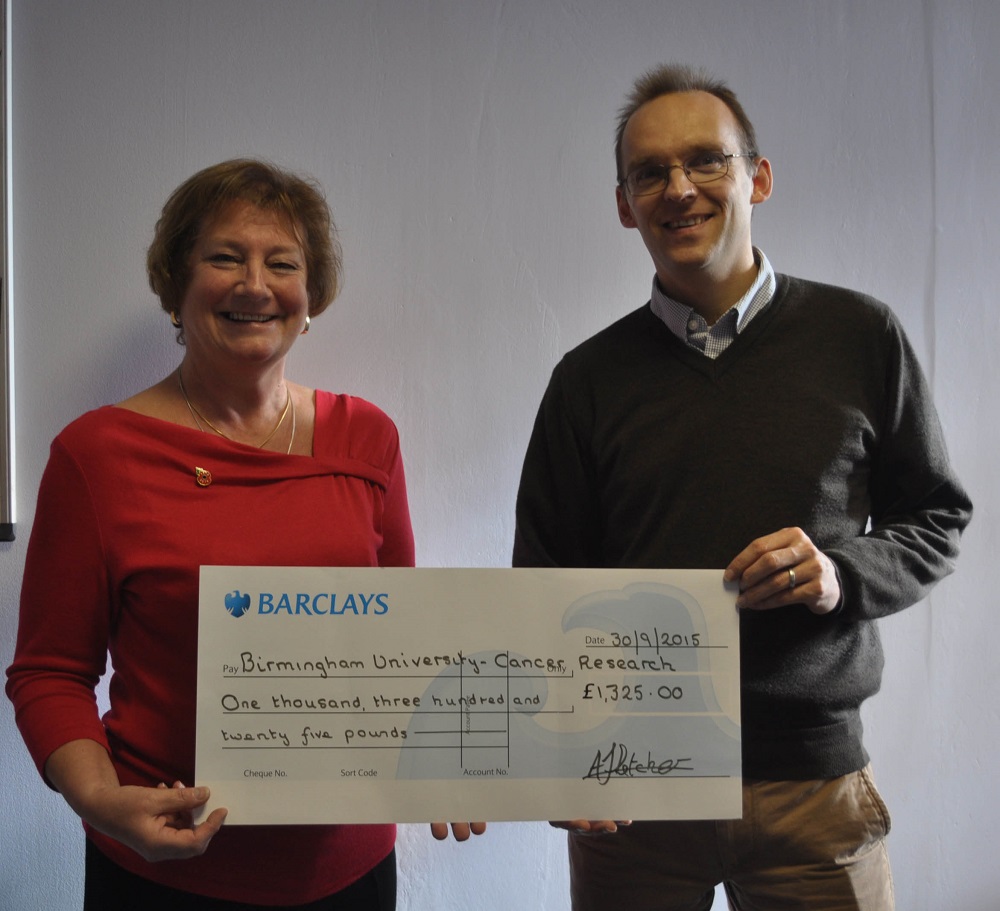 Mollie's Story
Mollie White is a chartered accountant who has worked for the last 42 years for a large farming concern on the Warwickshire/Leicestershire border.
In March 2014 Mollie was diagnosed with breast cancer; fortunately it was a small tumour that was easily removed by a lumpectomy, and after a session of radiotherapy Mollie was fit and well again.
Following her treatment Mollie had a lot of time on her hands and wanted to spend it doing something worthwhile. Two colleagues has been taking wildlife photographs, mainly of birdlife, as a hobby; impressed by the quality of the images Mollie asked if she could use them to make a calendar.
Mollie said: 'I wanted most of the money to go to cancer related charities. My husband Paul is an alumnus of the University so we decided to give 25 percent of the money raised to Professor Ben Willcox's immunotherapy research. We felt that this area of research is on the cusp of something really big and we would like to help it along.'
Mollie raised an astonishing grand total of £5,300, of which £1,325 was donated to the University's cancer immunology project.
Pictured: Mollie with the University's Professor Ben Willcox