​Femi Oke (BA English, 1988) is a broadcast journalist currently presenting on Al Jazeera English, and a moderator at a number of international conferences.
Femi's interest in journalism grew from an early age and led to her becoming a junior reporter on London Broadcasting Company (LBC) radio at the age of 14. Prior to this she would perform simulated news bulletins to her family every Friday evening at the kitchen table, mimicking ITV's News at Ten, including the 'bongs of Big Ben' from the programme's opening credits.
During her time in Birmingham Femi continued to develop her skills in broadcasting working for local radio stations such as BBC WM and joined the BBC at graduation. However studying the classics during her time at the University also prepared her for a career as a journalist. 'Looking back, my degree didn't seem that significant at the time but I have come to realise it was a really valuable experience and I discovered a lot about myself. The exchange of ideas and interrogation of a story are applicable to both literature and journalism. The social aspect also shaped me, discussing the meanings of texts in the pub added to my experience of university. I am not sure I could tackle Middlemarch on three hours sleep nowadays though!'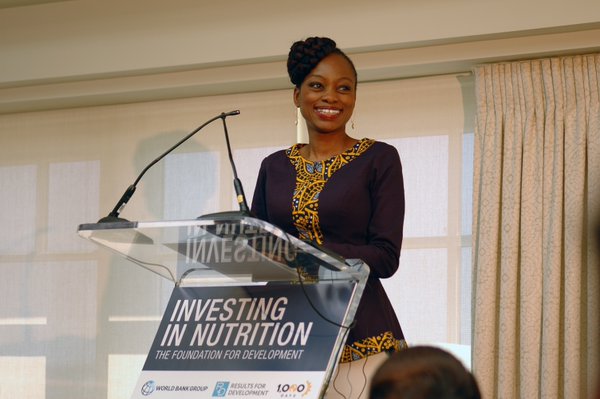 Femi has worked extensively in network television and radio in the UK, reported from South Africa for CNN and is currently based at Al Jazeera's Washington DC bureau. Four days a week she hosts The Stream, a live news show that interacts with viewers via social media.
Presenting live TV does not appear to faze Femi: 'I love it! It's exciting, you cannot make a mistake and if you do you need to think quickly it can be really positive, it brings out the journalistic instinct and guests can be incredibly candid on live TV.'
Femi is also a moderator for global causes and organisations; a role that involves a lot of international travel. In the space of a few weeks she shared the stage with the United Nations' Secretary General, Ban Ki Moon at the World Humanitarian Summit in Istanbul, Turkey, and spoke at the Women Deliver conference, in Copenhagen, Denmark. For Femi the travel is worth it as she enjoys being involved in projects that address world issues and support human rights. Pushed to name her favourite place to visit she said: 'Egypt. It has ancient and modern side by side. I'm fascinated by how the ancient monuments were built and I feel catapulted back in time.'
Her work in broadcasting and her time travelling have led her to meet people from different backgrounds across the globe and hear their often inspirational stories: 'People inspire me every day. I've covered Ebola and Zika virus and in the midst of pain and sadness those who have lost someone appear on TV to give their account, this inspires me to be a better journalist. It is a privilege to find their story and help them to share it.
'I recently interviewed a father who had lost his teenage daughter following a concussion received during school sports. He talked about his daughter and told parents and schools what to look for to identify a concussion. He did not want others to lose a child as he had. I hope that by communicating these stories I can help make a better, stronger and wiser world.'