Birmingham is regularly named as one of the best cities to live in, for its culture and community and quality of life. Meet three alumni who are helping to better Birmingham through supporting those in need, sharing its highlights and making the city greener.
Showcasing the best of Brum
Katy Drohan, Editor I Choose Birmingham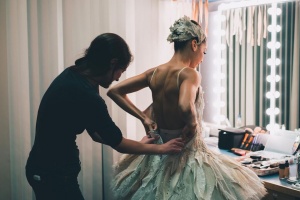 Each week I Choose Birmingham magazine brings its 18,000 readers the latest in culture, entertainment, food and drink in the city.
From swimming with sharks, to making her own beer, to helping a Principal Ballerina in the Birmingham Royal Ballet get ready for the Nutcracker, editor Katy Drohan (LLB Law, 2008) never has a typical day on the job.
She experiences the best things to do in Birmingham so she can share them with the city she loves.
'At University I learned independence, initiative and it really built my confidence, all of which help me now and lead me to my current role. My time at University also made me proud of Birmingham and I've gone on to make my full time career advocating the city,' she says.
'I think people really engage with the tone of I Choose Birmingham and we give people insights into parts of the city that they don't have time to find out about.
'We've also built up really strong relationships with creative people in the city and that allows us to know about things first and sometimes even create opportunities or events for them. It's those niche and unusual events that get people opening it each week.
'I love the way big cultural institutions are going in the city, they're really making an effort to get really accessible, interesting exhibitions to engage younger people. They have realised that they need to change with the city and evolve and stay relevant. I love that I get to tell people about what they're doing.'
Photo credit: Thom Bartley
Brummie of the Year
PJ Ellis, Director Lightbox Digital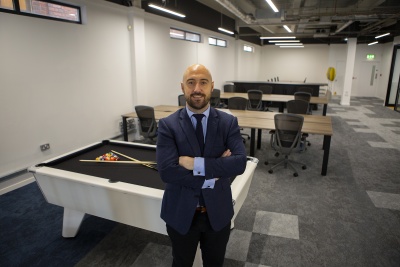 Co-founder of innovative charity LoveBrum and recent winner of the Birmingham Awards Brummie of the Year, alumnus PJ Ellis (LLB Law, 2000) has created opportunities to give back to the city he cares about.
'I was a trustee for local brain cancer charity Help Harry Help Others for two years and in that time I helped to raise just over £750,000 for the charity. That made me realise that I could do more with my life than just the commercial side of things. I saw an opportunity for something unique in Birmingham, so together with my partners, we came up with the idea of LoveBrum.'
In its fourth year, LoveBrum is a charity that discovers the hidden gem projects, mainly volunteer led organisations, in Birmingham that are helping to improve the city.
'Every month we profile three projects to our nearly 3,000 members and they pick which project they want to support with funding. We aim to support more than 36 projects each year from across Birmingham. One of my personal main reasons for LoveBrum was to restore a bit of civic pride back into the city.' PJ and his co-founder Tim were awarded a Point of Light award from the Prime Minister in recognition of their volunteering efforts in the city.
PJ was also recognised as the 'Brummie of the Year' at the Birmingham Awards. He says: 'Being named Brummie of the Year is really special and it's given me a bit of confidence that people are recognising me for the things that I'm doing.' As well as LoveBrum and running Lightbox Digital, PJ sits on various boards, mentors start-up businesses and has created his own tech start up Toppa.
'The community here in Birmingham is amazing. Through my journey with LoveBrum, we get to see so many different projects and meet so many welcoming, friendly and helpful people who are selflessly giving up their time to help others. I'm proud to call it home and to be able to give back.'
From trees to blue plaques: Giving back to Brum
Amelia Ladbrook, Marketing Coordinator, Leonard Curtis Business Solutions Group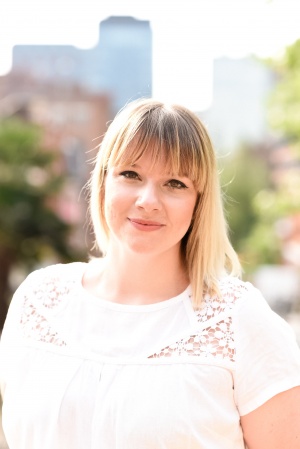 When Amelia Ladbrook (BA German and European Studies, 2014) isn't at her day job in marketing, she is volunteering with various charities across the city. She is the youngest chairman of the Birmingham Civic Society and gives her time to Lets Feed Brum and the Birmingham Hippodrome.
Last year she was selected for BirminghamLive's 30 under 30 campaign, which highlights inspiring young people in the region.
She says: 'When I was at University I was always encouraged to get involved with committees and societies. I was very well supported in doing that so that's something that I've taken forward into my life now.
'To be acknowledged that you've contributed to the city is really rewarding. I get a lot out of the city so it's nice to put something back into it.
'My role in the Civic Society is to oversee all our committees and make sure as a charity we are sustainable and that we'll be here for another hundred years. Many people know about our heritage work that looks after blue plaques, but we also have Birmingham Trees for Life which has planted more than 70,000 trees in the last few years, and a planning committee that is consulted on any project going on in the city, as well as public art and citizenship committees. My aim for the society is to work with groups across the city to build up a wider awareness and engagement with our work.
'At the Civic Society we also work on the Next Generation Awards; where students from local schools create a project about something they would like to improve or change in their local area. Last year a school in Northfield pitched a project aimed at giving back to the elderly and used their prize money to run events for elderly people in local care homes. The look on their faces when they won was priceless, those moments remind me just how rewarding giving back can be. You never know the changes you can make.'
Tile image (cropped): Neil Howard, Flickr (CC BY-NC 2.0)