The sun shone on the summer 2018 graduation ceremonies, as proud families welcomed more than 6,000 new members into our alumni community.
A University of Birmingham degree runs in the family for many recent graduates
Geology graduate Charlotte Storey is pictured (middle) with her grandmother, Elaine Goodwin. Elaine graduated in 1960 with a Maths degree, which included a geology module. Elaine also met her husband on campus on their first day in the Guild. He studied Physics and they are pictured below on their graduation day, as well as their graduation ticket from 1960!

Three generations of chemical engineers!
The Williams/Wood family celebrated their third generation of chemical engineer graduates. Mervyn has three Birmingham degrees, his daughter and son-in-law met as lab partners and his grandson Hywel graduated this summer.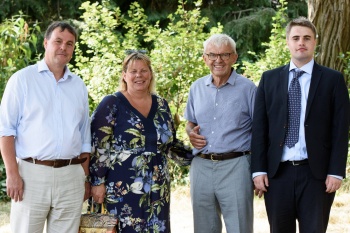 Alumni shared their advice for the future to recent graduates
Fran Broomhall (LLB Law, 2002)
'The steps off the stage are the first steps of your next adventure. Don't worry if you don't know the destination, the journey is often the most rewarding part.'
Andrew Laughland (BSc Physics, 1980)
'Don't plan too much. Try to do things you enjoy and take unexpected opportunities that come your way.'

Renu Prashar Prinjha (BSc (Hons) Planning and Public Policy, 2004)
'I've just seen my sister graduate with her PhD, 14 years after I graduated with my degree. My advice would be to seize every opportunity that comes your way no matter how small. They all lead somewhere.'